Te whakahaere i te paraurehe ātea
Kei te piki haere ngā amiorangi e amio haere ana i te ao i ia tau, ā, e whakarite ana ki te whakarewa anō i te maha noa atu. Engari nā te maha ka puta ko te paraurehe ātea me ngā mōrearea tuki mō ngā amiorangi me ngā waka ātea.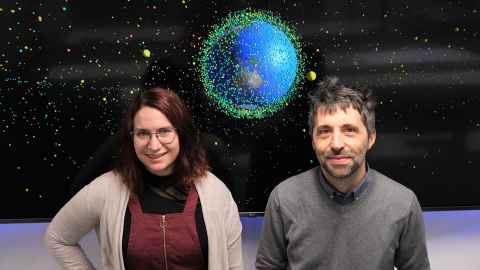 Hei whakaheke i tēnei mōrearea, e mahi ana a Ahorangi Roberto Armellin rāua ko Tākuta Laura Pirovano o Te Pūnaha Ātea i Te Kura Pūhanga o Waipapa Taumata Rau me ngā hoa mahi o te ao whānui ki te whakarārangi i ngā wāhi whai paraurehe ātea.
Āhua 30,000 ngā mea 10 henemita te nui, neke atu rānei kei te rārangi ātea o nāianei.
"Engari ki te heke mā te henemita kotahi, nui ake i te 700,00 ngā mea kei te ātea," te kī a Ahorangi Armellin. "Ka tukitukia tētahi amiorangi mataono iti 10 henemita te nui e tētahi paraurehe pēnei te nui."
Ka haurapa te rārangi i ngā mea o te ātea i te nekehanga amiorangi, ā, koinei i whai wāhi te rapu i ngā nekehanga amiorangi ki te rangahau a Pirovino.
"Ki te kore mātou e mōhio e amio pēhea ana tētahi mea, ko te āhua nei he matā e rērere haere ana," tāna kī. "Ka tukia pea ki tētahi amiorangi kātahi ka tukitukia, ka pūrikiriki katoa ki ngā para ātea maha.
Ko te paraurehe e haurapatia ana e rātou e puta mai ana i ngā mahi a te tangata i te ātea. Ko ngā amiorangi hōngongoi ēnei, ngā wāhanga waka ātea kua tukuna atu, kua makere rānei, ngā pūniko, ngā tīwiri, ko ngā kongakonga peita hoki, e āhei ai te whakamōti haere.
Me pēhea e karo i ngā tukinga?
I te tuatahi, me tae mai te mōhiohio ka puta pea tētahi tukinga. Ka whakatūpato ngā tari tūmataiti, kāwanatanga hoki i ngā kaiwhakahaere amiorangi ka puta pea tētahi tukinga, engari kāore e tino tika ana, ā, ka pūrongo tonu atu ahakoa ehara kau i te mōrearea.
"Ki te whakapiki ake i te tika, ka heke ngā pāohotanga parau, ka kaha ake te whakapono ki te pūnaha, ā, ka whai tikanga te whakahaere i ngā paraurehe ātea", te kī a Ahorangi Armellin.
Kia tika ake te matapae i ngā tukinga, ko te wero ka aha mātou i te mea ka tuki noa, ahakoa te wā, ā, ko ngā kaiwhakahaere kāore e hono ana tētahi ki tētahi, kāore hoki e kōrero i te reo kōtahi.
Ko te otinga ko ngā nekehanga motuhake.
E mahi ana a Ahorangi Armellin me Tākuta Pirovano, he mātanga matai arorangi taineke rāua, ki ngā hoa mahi e whakamahi ana i te atamai hangahanga me te akoranga mihini ki te whakawhanake i tētahi pūnaha e neke aunoa ai ina whakatata atu ētahi mea.
Kei te titiro hoki te rōpū ki ngā rongoā kia pai ake ngā mahere-mutunga mō ngā amiorangi.
Ko te aratohu o nāianei mō ngā amiorangi e tata ana ki te ao kia whai kora i tōna mutunga kia pai ai tana kukume ki te kōhauhau o te ao otirā te wāhi e tahuna ai ngā amiorangi iti, ā, ka nekehia ngā mea nui kia ākina ki te moana. Engari ka moumou te kora.
Mō ngā amiorangi e amio tahi ana me te ao (35,786 kiromita i runga ake i te ao), ko te whakaaro kia nekehia kia amio ki tawhiti. "Engari he raruraru tonu tēnei," te kī a Ahorangi Armellin. "Mēnā ka whai whakaaro ngā whakatakanga o anamata ki ēnei wāhi, ka raru pea i ngā paraurehe ātea."
Ka whai te otinga o ngā kairangahau i ngā ārangi a ngā amiorangi ki te whakaheke i te kora mō te ākiri whakamutunga, e āhei ai te whakaroa i te whakatakanga me ngā whakahaerenga haumaru hoki.
"He nui ngā mahi," te kī a Tākuta Pirovano. Otirā he nui hoki ngā āheinga."
Space junk "traffic control"
The number of satellites orbiting Earth grows every year and there are plans to launch tens of thousands more. But with this proliferation comes space junk and collision risks for working satellites and spacecraft.
To reduce this threat, Professor Roberto Armellin and Dr Laura Pirovano, both from the Auckland Space Institute – Te Pūnaha Ātea – in the University of Auckland's Faculty of Engineering, are working with international colleagues to catalogue space junk locations.
The current space catalogue includes around 30,000 objects of 10cm and above.
"But if you go down to a centimetre, there are at least 700,000 objects in space," says Professor Armellin. "A piece of debris this size would completely destroy a small 10cm cube satellite."
The catalogue also keeps track of space objects as they move orbits and for this reason part of Ms Pirovano's research is about detecting satellite manoeuvres.
"If we do not know an object is in a certain orbit, it's basically a wandering bullet," she says. "It may hit a satellite, destroy it and create thousands more pieces of space debris. That's why it's very important to have an accurate catalogue of objects in space."
The junk, or debris, they are tracking comes from human activity in space. It includes satellites that are no longer active, spacecraft parts cast off by design or fallen off, springs, screws, even flecks of paint, which can all cause catastrophic damage.
So how can collisions be avoided?
First off, information must be received that a collision is likely. Private and governmental bodies warn satellite operators of a potential accident, but accuracy can be low and incidents that actually pose no danger are regularly reported.
"If we improve accuracy, we reduce false alarms, increase trust in the system and space 'traffic control' will become practical", says Professor Armellin.
Once collisions can be predicted with more accuracy, the next challenge is what to do about them considering they could occur with little notice, at any time, with operators who aren't in contact or who don't speak the same language.
The solution is autonomous manoeuvring.
Professor Armellin and Dr Pirovano, both experts in astrodynamics (the study of motion of man-made objects in space), are working with colleagues using artificial intelligence and machine learning to develop a system that will automatically make optimal manoeuvres when objects approach too closely.
The team is also looking at solutions to improve end-of-life plans for satellites.
Current guideline for satellites in low Earth orbit (those closest to our planet) is to have enough fuel at end-of-life to be pulled into Earth's atmosphere where small satellites burn up and larger ones can be manoeuvred to crash into the ocean. But this involves wasting propellant.
For satellites in geostationary orbit (35,786km above Earth), the idea is to move them into further-away graveyard orbit. "But this doesn't remove the problem," says Professor Armellin. "If these regions become of interest to missions of the future, the space junk out there may interfere."
The researchers' solution will use orbit perturbations to reduce the propellant needed for end-of-life disposal, enabling extended mission lifetime and safe operations at the same time.
"There's a lot to be done," says Dr Pirovano. "And that means there's a lot of opportunity."