Teachers use the arts to help students reconnect after Covid-19 lockdowns
While repeated Covid-19 lockdowns have brought stress and uncertainty to adults around New Zealand, the pandemic has also taken its toll on children across the country.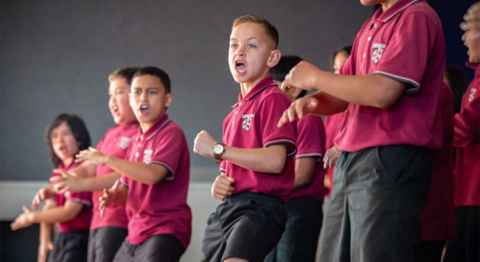 Separated from their school friends for extended periods of time and forced to learn online, lockdowns can be a confusing and challenging time for Kiwi kids.
One resource making the transition back into the classroom easier for both children and teachers is Te Rito Toi.
Developed by the Faculty of Education and Social Work's Centre for Arts and Social Transformation, Te Rito Toi is an online resource created by a group of academics, artists and educational practitioners providing arts- and research-based classroom support for teachers on their return to school after difficult events such as a Covid-19 lockdown.
It was made possible with funding from the Chartwell Trust, Cognition Education Trust and Chelmer Ltd, with partnership support from the Sir John Kirwan Foundation.
The resource was developed during last year's level 4 Covid-19 lockdown and shortly after its launch had over 250,000 visits and was utilised by more than 30,000 teachers, according to a research report that analysed how Te Rito Toi was used in 2020.
By drawing on the research and experience of academics such as Professor Peter O'Connor, Director of the Centre for Arts and Social Transformation, and Dr Carol Mutch, Professor of Critical Studies in Education, Te Rito Toi gives teachers the tools they need to help children re-adjust and re-connect when returning to the classroom after traumatic and life-changing events.
Based on the experience that O'Connor and Mutch have working with schools in the aftermath of tragedies such as the Christchurch earthquakes and the Australian bushfires, Te Rito Toi uses the arts to help children come to grips with what they have just been through in a supportive and fun way.
"It opens up places for dialogue, it opens up places for kids to process their emotions and their feelings and at the same time it also provides an escape," says O'Connor. Not only do the arts offer an opportunity for students to reconnect with each other and their teacher after being away from school for an extended period of time, research also shows that engaging in artistic activities is conducive to sparking more meaningful interactions.
"At one level it distracts from what's happened and brings you back into a classroom full of joy and possibility," says O'Connor.
"And also, when you're busy with your hands making things you can have all sorts of other kinds of conversations with your teacher…and children open up to those in an art-making process in a way that they can't in any other process."
Another advantage the arts have, says O'Connor, is "you can talk about the really big things in life through fiction".
And it's not just children Te Rito Toi helps. After last year's level 4 lockdown, many teachers said the site, which provides lesson plans and other invaluable resources, helped take the pressure off teaching staff when classes resumed.
"It also gave teachers permission when they came back to school to focus on building relationships in classrooms and catching up on that rather than catching up on that idea of lost learning," says O'Connor.
He says the generous funding the project received enabled University research to be translated into "practical projects that make a difference in the community".
"Te Rito Toi wouldn't exist without philanthropic support to the University. And so we wouldn't have been able to do really, really important work for children around the country and the world without philanthropic support."
For more information visit the Te Rito Toi website.
Media contact
Helen Borne | Communications Manager
Alumni Relations and Development
Email: h.borne@auckland.ac.nz