Chemistry could be key in fight against kauri dieback
As the battle to control kauri dieback continues, scientists at the University of Auckland are hopeful new chemical compounds can be developed to protect the precious trees.
Caused by the spread of the tiny but aggressive pathogen Phytophthora agathidicida, kauri dieback attacks kauri roots and damages the tissues that carry nutrients and water within a tree. The result is deadly, with trees effectively starving to death.
Despite the ecological, economic and cultural costs of kauri dieback, there are currently no effective options for controlling its spread.
One project seeking to find a cure to the disease is being led by Associate Professor Viji Sarojini, from the School of Chemical Sciences. Sarojini is part of an inter-disciplinary team of researchers who have expertise in chemical synthesis, plant pathology, mātauranga Māori, soil and ecosystem science, biosecurity, and formulation science.
The team is investigating how natural products, including those from several native New Zealand plants, can be used to develop an environmentally benign solution to kauri dieback.
Their research has been aided by the Freemasons Foundation, which has provided funding to support a postdoctoral research fellow.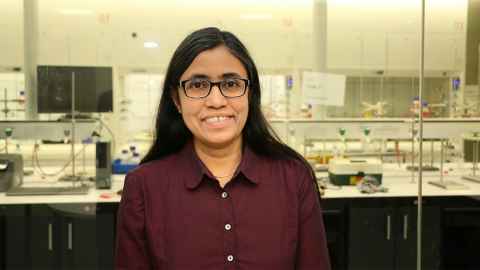 Sarojini and her team hope to utilise naturally occurring antimicrobial peptides and biologically active molecules from native plants to protect our kauri and prevent the spread of the disease.
"Our focus is to develop environmentally friendly anti-Phytophthora compounds to protect kauri from this devastating pathogen, thereby also reducing environmental impacts from the commonly used chemical pesticides," says Sarojini, who has previously led projects using antimicrobial peptides to fight bacterial diseases in apple, pear and kiwifruit.
"Current activities to control the spread of the pathogen and to reduce its impact on kauri trees include closing of tracks and forests, setting up cleaning stations, using disinfectants, and injecting phosphite, which is a phytotoxic chemical, into kauri trunks. Despite extensive research on phytophthora species, there is no effective treatment to eradicate the pathogen, making the development of an effective solution for kauri dieback an urgent unmet need for New Zealand."
The work being carried out by Sarojini and her team is part of a wider effort to protect our forests from kauri dieback and builds on support given through the George Mason Centre for the Natural Environment, as well as the Freemasons Foundation.
"This philanthropic funding is crucial to support key researchers to conduct the necessary laboratory work," says Sarojini. "Success of this activity is crucial for delivering transformative environmental solutions to tackle kauri dieback."
Media contact
Helen Borne | Communications Manager
Alumni Relations and Development
Email: h.borne@auckland.ac.nz