Neurological Foundation of New Zealand celebrates 50 years of funding
For the past 50 years, the Neurological Foundation has been providing vital funding to help researchers across New Zealand investigate and gain a deeper understanding of a range of neurological conditions.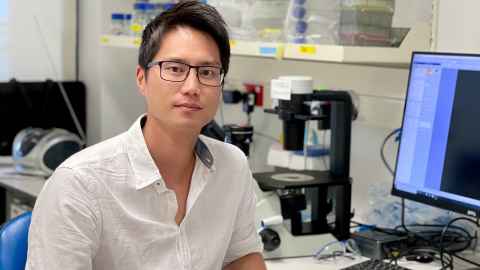 Much of the research carried out with the Foundation's support has taken place at the University of Auckland. Not only has the Foundation provided funding for the Neurological Foundation Chair of Clinical Neurology and the Neurological Foundation Human Brain Bank but, since 2015, it has also provided critical support that has led to the establishment of a research platform focusing on glioblastoma (GBM), a highly aggressive and incurable brain cancer.
One of the first researchers to receive funding to investigate GBM as part of this platform was Dr Thomas Park, a senior research fellow in the Faculty of Medical and Health Sciences. Park is a part of the Centre for Brain Research (CBR), directed by Distinguished Professor Sir Richard Faull, and uses patient-derived neurological specimens – obtained from the CBR Neurological Foundation Human Brain Bank and the CBR Hugh Green Biobank - to gain a greater understanding of the disease.
"My goal is to investigate brain tumours from a neuroscience perspective and to collaborate with cancer biologists and oncologists to develop better tools for personalised diagnostics and disease-modifying therapeutics," says Park.
"With the biological data obtained through these studies, I am working with medicinal chemists and bioengineers to develop novel therapeutics and predictive algorithms that can be personalised for individual patients."
Park is ultimately hoping to develop a predictive algorithm based on laboratory data derived from patient neurological specimens, which he believes could "provide greater diagnostic accuracy, enable personalised medicine and aid in data-driven therapeutic development".
He says support from the Neurological Foundation has not only been invaluable for his own work but has also led to a greater focus on brain tumour research in general. "The funding has been pivotal in establishing GBM/brain tumour research in the Centre for Brain Research," he says.
"With regards to the wider university, there has definitely been more interest in GBM and brain tumour research in recent years. It's great that more researchers are getting involved and collaborating to solve this terrible disease."
Another researcher working to investigate GBM is Dr Scott Graham, a senior lecturer in the Faculty of Medical and Health Sciences. He says even with the best clinical care, including surgical resection, chemotherapy and radiotherapy interventions, the median survival time of someone diagnosed with GBM is just 12 to 15 months.
Because of the aggressiveness of the cancer, research into the disease is crucial, not only to one day find a cure but also to make it possible to "identify potential therapeutic targets to buy patients valuable time, as there is very little currently that improves survival".
His own research, which has also received funding from the Neurological Foundation, focuses on understanding the cellular and molecular mechanisms employed by GBM cancer cells to suppress the anti-tumour immune response.
Essentially, says Graham, GBM has a highly effective "cloaking" device that makes it invisible to the immune system, meaning the body is unable to defend itself. The immediate goal of Graham and his team is therefore to understand exactly how GBM suppresses anti-tumour immunity so they can turn that invisibility cloak off and "switch the balance in favour of the immune system".
"We are particularly interested in how to kill the GBM cancer stem cells, as these cells give rise to the tumour and reseed it post-surgery and chemotherapy." Graham says although progress has been made by researchers in recent years, much work remains to be done.
"The ultimate goal for any given disease is to identify therapeutic targets to reduce the severity of the disease or in some cases cure it.  In reality, for highly complex neurological diseases and a range of cancers this path begins with the advancement of knowledge to understand the disease and then target discovery, which can often take ten years or more."
Graham says the ongoing support of the Neurological Foundation, not just for GBM research but also for the Neurological Foundation Chair of Clinical Neurology and the Neurological Foundation Human Brain Bank, as well as a range of other grants for researchers, clinical scientists and graduate students, has had "major benefits to neuroscience research both across the University and the country".
Media contact
Helen Borne | Communications Manager
Alumni Relations and Development
Email: h.borne@auckland.ac.nz