Kupe Scholarships create leaders for fast-changing world
If the 2021 cohort of Kupe Leadership Scholars is anything to go by, then New Zealand's future is in very safe hands.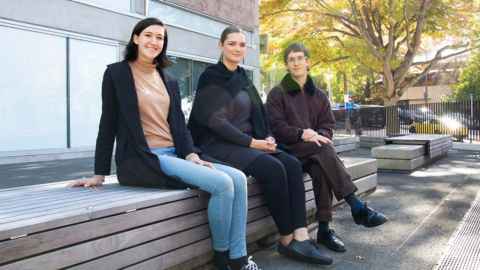 Kupe Leadership Scholars are among the University's most exceptional postgraduate students.
Up to 20 are selected each year from a range of disciplines, with the intention of building a community of future leaders across all sectors for the betterment of Aotearoa New Zealand.
Now in its third year, each scholarship is funded by an individual donor, and each recipient receives bespoke one-on-one mentoring from some of New Zealand's living national treasures.
When Beth Schuck was selected for the Feigin Kupe Leadership Scholarship, she was blown away when she learnt her mentor would be Distinguished Professor Sir Peter Gluckman, arguably New Zealand's most eminent scientist.
Beth, 20, is completing her Honours in Engineering with a research focus on transport emissions and how to better manage this contributor to climate change.
"I had hoped my mentor would broaden my thinking, and help me to understand the challenges around making significant societal change. Sir Peter is all of these things and more, his incredible mind and experiences are invaluable to me," says Beth.
Her scholarship is funded by American businessman Stuart Feigin, who has sponsored a scholar each year since the programme began.
Connecting with the previous Feigin Kupe Scholars has provided further inspiration and mentorship for Beth.
"The Kupe Scholarship has had a huge impact on my life. Last year I was working three jobs while trying to manage my studies, hobbies and work," she says.
"I simply wouldn't have been able to do my honours year without this support, not only financially, but also being surrounded by these incredible people."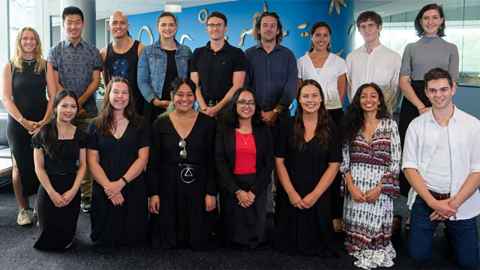 The Kupe Leadership Programme is named for the legendary Pacific explorer Kupe who, together with his wife, Kurumārōtini, is credited with discovering and naming Aotearoa.
Their sense of adventure and courage exemplifies the kind of spirit needed by leaders in today's uncertain and fast-changing world.
That spirit is certainly reflected in the Woolf Fisher Kupe Leadership Scholar for 2021 Jazpah Tata (Ngati-Ranginui), a mother of two young children who is completing her Masters in Education.
Jazpah grew up in Tauranga with her six siblings, mother and police officer father, moving frequently from school to school in rural areas often with high gang populations.
"My experiences growing up in marginalised communities, where racism and cultural misunderstanding was often the norm, sparked a desire and interest to want to see change in the way we teach, particularly in how we teach our own histories," she says.
Her mentor is Hoana Pearson QSM, a leader and advocate for cultural responsiveness and inclusion in schools.
Like her mentor, Jazpah hopes to help address the well-documented achievement-disparity in New Zealand which disproportionately affects Māori and Pacific students.
"This programme constantly challenges me. I've found it so beneficial to learn from critical thinking and problem-solving leaders such as Hoana, as well as the passionate and idealistic scholars within the programme."
Her scholarship, which is funded by the Woolf Fisher Trust, has allowed her to juggle the responsibilities of being an academic, as well as a wife and mother.
From influence in education, to building better environments to live in, the Kupe Scholars are set to contribute to a better, more inclusive New Zealand in multiple sectors.
Master of Architecture student Tom Collins is funded by the William Chick Trust, set up by the late architect William Chick to support younger generations of architects.
"I can trace my interest in architecture back to my childhood full of Lego, Star Wars and building treehouses. However my first sublime memory of architecture was getting lost in the Christchurch Town Hall as a kid," says Tom, 22.
His early fascination with building form and design has developed into a deep interest in the politics underpinning built environments and the crucial role of architects in demanding more democratic and liveable cities.
If there is one insight I've gained so far, it is that there is no one
'correct' way to lead, and the most meaningful ideas and discourses
come from a multiplicity of diverse voices. A valuable learning is that
behind almost any solitary leader figure is a lot of collaborative, less visible leadership.
Tom says the scholarship has allowed him the immense privilege of time to explore ideas and to be able to invest in materials and drawing tools.
This creative freedom is enriched by the mentorship of Pip Cheshire, whom Tom describes as a sort of custodian for the discipline.
"Pip's had a dazzling career of designing stunning residential architecture and city-defining civic architecture and master-planning," Tom says.
"He's always pushing architects to be more ambitious, critical and visionary. I'm excited to explore with Pip how to advocate for ideals in architecture without necessarily demonstrating them in a building first, such as through discourse or publications."
Developing leadership is an important aspect of the programme. Scholars engage in leadership workshops throughout the year, drawing on the expertise of a range of professionals with diverse experience across the public, private and not-for profit sectors.
"The programme has been a journey of meeting many different leaders and reflecting on their often extremely varied approaches to leadership," Tom says.
"If there is one insight I've gained so far, it is that there is no one 'correct' way to lead, and the most meaningful ideas and discourses come from a multiplicity of diverse voices. A valuable learning is that behind almost any solitary leader figure is a lot of collaborative, less visible leadership."
There were 117 applications for Kupe Leadership Scholarships this year, and only 17 were awarded.
Media contact
Helen Borne | Communications Manager
Alumni Relations and Development
Email: h.borne@auckland.ac.nz