The Goldilocks Effect and a snapshot of death – our Research Showcase winners
An archaeological skull, a new forensic body fluid identification method, a brain hormone model and a unique exploration of home gardening took out the top prizes in the SGS Research Showcase 2021.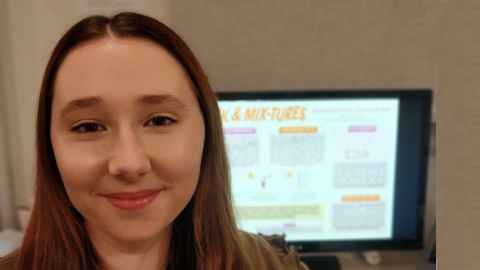 An online audience was captivated last night as doctoral candidates and masters students from across the University shared their research in a variety of creative forms: academic posters, research images, creative items and Pecha Kucha presentations.
While the showcase was moved online due to lockdown restrictions, the postgraduate research generated widespread interest online, with over 8,000 exhibition views from over 35 countries. Students, staff and supporters came together at the online prizegiving to find out who took out the coveted first place, runner-up and People's Choice spots.
Pick & Mix-tures: Decoding forensic stains with RNA
Faculty of Science PhD candidate Courtney Lynch won the most popular category, Academic Posters, with her research on decoding forensic stains with RNA.
"The development of new techniques for this purpose would assist in providing more information and having this available more quickly to the police. The sexual violence statistics in New Zealand are sobering, and I hope that my research contributes to better outcomes for these types of cases."
I enjoyed the creative process of summarising and presenting my research for a general audience in the SGS Research Showcase. My favourite part is looking at all the entries across diverse research areas, so I am glad we were still able to do that virtually!
Academic Poster category results
Winner
Courtney Lynch (Faculty of Science) | Pick & Mix-tures: Decoding forensic stains with RNA
Runner-up
Trevyn Toone (Faculty of Science) | Conserving Shellfish Reefs: A Systematic Review Reveals the Need to Broaden Research Efforts
People's Choice
Samson Nivins (Liggins Institute) | Association between size at birth and brain volumes at nine years in children born late-preterm and at term
A snapshot of death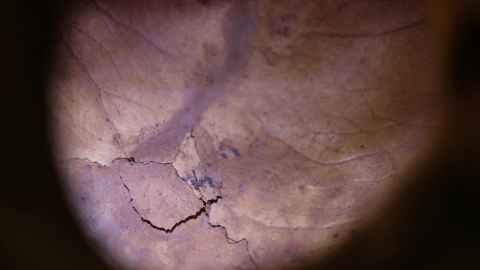 Top prize in the research images category went to Arts PhD candidate Yan Liu's striking yet startling image of an archaeological skull with perimortem fracture, which she took while working in Xinjiang, China.
"I love fieldwork and lab work, which is one of the reasons why I chose to do research in the archaeological field. Unfortunately, my fieldwork is postponed because of the COVID-19, so I really enjoyed connecting with the research community through the showcase. It is a rare opportunity to meet people from varied disciplines and explore research areas they are enthusiastic about. It also motivates me to keep positive and productive!"
Research Image category results
Winner
Yan Liu (Faculty of Arts) | A snapshot of death - an archaeological skull with perimortem fracture
Runner-up
Gina Hochstein (Faculty of Creative Arts and Industries) | Gender Impingement
People's Choice
Mary Spring (Faculty of Medical and Health Sciences) | Fetal Support Network

The Goldilocks Effect: Fine-tuning 'just the right' dose of hormones in the brain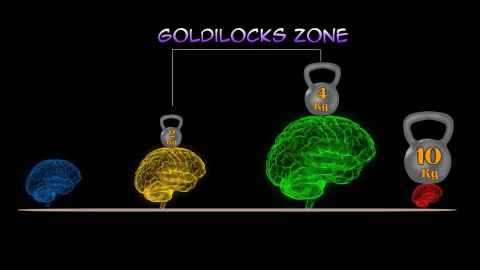 First place in the creative item category was awarded to Shree Kumar, a PhD candidate from the Faculty of Medical and Health Sciences. Shree's creative model demonstrated the hormesis principle, the idea that, for example, the brain develops by making new neural connections when exposed to 'just the right amount' of stress. Her research focuses on identifying the hormesis zone for the treatment of neurodegenerative diseases, stroke and obesity.
"The most significant part of my PhD is knowing that my contribution to obesity research would not only serve to combat the obesity epidemic but would also have ripple effects in limiting the mortality from several other diseases, including cancer, cardiovascular events, and Covid-19, for which obesity remains a risk factor. The SGS Research Showcase created the perfect platform to disseminate my research while also exploring my creative space."
Creative Item category results
Winner
Shree Kumar (Faculty of Medical and Health Sciences) | The Goldilocks Effect: Fine-tuning 'just the right' dose of hormones in the brain 
Runner-up
Ella Simkin (Faculty of Creative Arts and Industries) | Postcards of Home
People's Choice
Han Lee (Faculty of Science) | Haunted House

Home gardeners' adoption and use of social media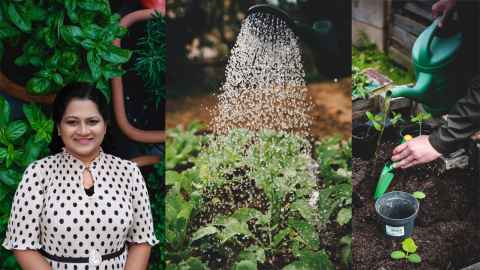 Business School PhD candidate Prasadi Jayasekara took first prize in the brand-new Pecha Kucha category, designed specifically for offshore candidates. Prasadi's research goal is to inform effective information channels for home gardener sustainability. Currently based in Sri Lanka, Prasadi used the SGS Research Showcase as a way to stay connected to the University's research community.
"The showcase was a great place to share my work with other research scholars and see what they are doing. Pecha Kucha was totally new to me, so it was challenging and interesting. It allowed me to show my creative side along with presenting my research."
Pecha Kucha category results
Winner
Prasadi Jayasekara (Faculty of Business and Economics) | Exploring home gardener's adoption and use of social media for agricultural information searching and sharing

Runner-up & People's Choice
Qun Ma (Faculty of Education and Social Work) | Early childhood teachers' (ECTs) professional identity in China and New Zealand: A case study 
View the virtual exhibition
Click the button below to explore the SGS Research Showcase submissions online, and watch the online prizegiving celebration.