Alumni scholarship helps student go from surviving to thriving
Growing up in a small town with limited job prospects, Demosson Metu knew pursuing a university education was his ticket to limitless opportunities.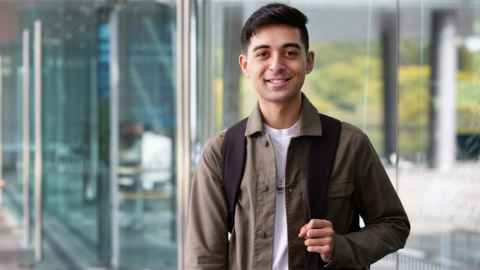 As a Year 12 student the Tokoroa local felt that the university dream was so close, but upon further research, he realised paying for it would be impossible.
Devastated, he lost interest in school and didn't attempt to gain UE as a Year 13.
He then spent a year living at home. Unable to find work, he moved to Papakura to live with his aunt before finding a job at a supermarket.
Two years into stocking shelves, Demosson knew he would rather be carving a meaningful career for himself.
"I thought 'I don't want to work at a supermarket my whole life. This isn't the life I had planned'. So I wanted to try university and do something more with my life."
Demosson then completed a Tertiary Foundation Certificate at the University of Auckland, which enables students who didn't gain UE a chance to learn the necessary skills for studying at a tertiary level.
Now in his first year of studying conjoint bachelors degrees in Arts and Commerce, Demosson will be the first in his family to gain a university qualification.
Thanks to the Alumni Scholarship for Tertiary Foundation Certificate Students, he was able to move from Papakura into an apartment in the city centre. The scholarship also alleviates his concerns about paying for basic needs.
"It gives me a sense of security in case any emergencies come up. When you're worried about financial concerns, you're not going to find it easy to focus on studying."
Demosson, who is of Dutch and Cook Island Māori heritage, says that growing up in an area where not many people complete tertiary study means that there are limited role models for students who need them most.
"I think a lot of people who grow up in situations similar to mine have this mindset that they can't do more for themselves. It's understandable because when you're raised in a certain environment where no one you know really goes on to do things, they just work at minimum wage jobs and are just surviving, you don't really picture much for yourself.
"It's like you've got to have your own individual mindset, to swim against the current…you have to fuel your own fire to do it."
The 21-year-old hopes that he will be an inspiration to his younger family members in the future, who will be at high school once he graduates.
"I asked one of my lecturers why most people like her and me, who were raised in a harsh environment, cannot make it out of the cycle of poverty. She replied: 'they are the rule, and we are the exception'.
"I think about what she said often and I've concluded that a considerable influence is that many kids in these situations do not have anyone to look up to. I go to university to show my nieces and nephews that if they want to, they can go to university too."
Media contact
Helen Borne | Communications Manager
Alumni Relations and Development
Email: h.borne@auckland.ac.nz