Marcia Leenen-Young: teaching Pacific history Pacific-style
Dr Marcia Leenen-Young is navigating a purposeful course through the Pacific's past.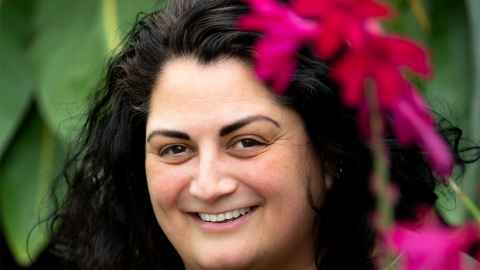 Dr Marcia Leenen-Young, who teaches Pacific history in the Faculty of Arts, says her approach to teaching can be summed up as "holistic".

"It's built from collaboration with my peers, as well as the wealth of knowledge from those who've come before us, along with the needs of students."

Marcia recently won an Early Career Teaching Excellence award from the University, and is known for being "a different type of history teacher". She prioritises primary sources by Pacific peoples, instead of just looking at what pālagi (non-Pacific people) have written or said, and promotes discussion in her classes. In non-lockdown times, she arranges as many trips as possible outside the lecture theatre.

"For example, about 45 of us had a workshop at the Auckland War Memorial Museum to search for memorials of Pacific soldiers from both world wars. We looked through archives and visited the Hall of Memories, trying to trace Pacific contributions to these wars, but we couldn't really find any. At the end, students were quite emotional, not having realised how much Pacific peoples had contributed to the country without recognition in our large memorials."

Marcia's Introduction to Pacific History is a sweeping survey through time.

"We start with the earliest settlement of the Pacific and usually end in the 1980s. My final lecture was on the Dawn Raids apology and what political apologies mean to Indigenous peoples. I keep a special lecture aside each semester if there's a current topic I want to talk about."

When Ihumātao was being occupied, her teaching team presented a collaborative lecture on land seizure and what that's meant to Indigenous peoples throughout the Pacific. Her second and third-year courses, taught concurrently, focus on New Zealand's colonial empire in the Pacific from 1900 to now.

"People are often shocked to learn how imperialistic New Zealand was in the Pacific throughout the 20th century," says Marcia. "But there are key examples illustrating that behaviour. In 1901, for example, New Zealand took control of the Cook Islands and then Niue. We can see clear imperial intent as far back as Governor George Grey, to not only colonise New Zealand but to look beyond to recreate a 'little Britain' in the Pacific; to increase its economic stability, control trade routes and prevent rival imperial powers, such as France and Germany, from increasing their influence."
People are often shocked to learn how imperialistic New Zealand was in the Pacific throughout the 20th century.
Marcia wants to "create a pipeline" of Pacific historians doing postgraduate research, and then researching and teaching Pacific history.

"If you're teaching Pacific history, it's important to understand that history for Pacific peoples is connected and intimate.

"One of the biggest influences on my teaching is the late Teresia Teaiwa, an I-Kiribati African-American scholar, poet and activist. She emphasised this connection and pointed out that a lot of Indigenous peoples don't see distinctions between the past, present and future, but rather see them overlapping. The past is not something that's finished, it's still with us every day. Our ancestors are part of who we are, and they walk with us and guide us in the present."

This connection is part of the reason Pacific peoples often ask where you are from when you meet, she says. "It's not so much a geographical thing, although there is a vital connection to land, but they're really asking who are your people, ancestors, connections? Our gafa, our genealogies are part of us."

Of Samoan and Dutch descent, Marcia always establishes her position at the start of each semester.
"I say that as a Pacific person, there are some things I'm going to talk about, like colonisation, that are going to be from that perspective."
As a Pacific person, there are some things I'm going to talk about [in the course], like colonisation, that are going to be from that perspective.
She believes a lot of history is taught as if it's an object you can analyse from afar, but that's not her view.

"My perspective is always going to be affected by who I am, my background and my education," says Marcia, who grew up in Auckland and is an alumna of the University. "I don't think that's something that's taught enough to our students."

Marcia says her teaching practice is "the end sum" of all the jobs she's done previously,
perfectly combining her own interests, experience and connection to her ancestry.

"I've taught a collection of things but my number one love is history. I have a PhD in ancient Roman history, so when I realised I wanted to work with Pacific students, Pacific history was a natural transition."

She also worked as a Pacific student support adviser in Tuākana Arts and MAPAS (programmes for undergraduate Māori and Pacific students) so when she came back to academia, she found understanding student perspectives was very helpful in her own teaching, especially considering the findings from a research project she did on Pacific students and how they learn at university.

"There were common things students were saying about how being in a Western-framed institution that wasn't really designed for them affected their ability to learn, how some assessments only promote the skills of rote learning and how much they learn outside the University, such as in church, their families and communities.

"And I thought that was really interesting because there are fundamentals to the way we teach and learn. We provide examples, explain detail and model process and application, so my teaching team and I are always attempting to show the way things should be done.

"With Pacific students, as with all students, it's also about recognising they have valid contributions to make, and that the specific knowledge they bring as Pacific peoples, such as what they've learned from stories being passed down, is important. We value them."

Story by Julianne Evans
OTHER 2021 TEACHING EXCELLENCE AWARD WINNERS

Teaching Excellence Award for Leadership in Teaching and Learning: Professor Richard Easther, Physics, Faculty of Science

Sustained Excellence in Teaching: Dr Emma Willis, Drama, Faculty of Arts

Early Career Excellence in Teaching:
Dr Laura Ann Chubb, School of Counselling, Faculty of Education and Social Work
Megan Clune, Faculty of Education and Social Work
This story first appeared in the November 2021 issue of UniNews.