Richard Easther: still embracing his childlike wonder at the universe
Physics isn't something you study just to get a job, says Professor Richard Easther. It can open up a world of possibilities.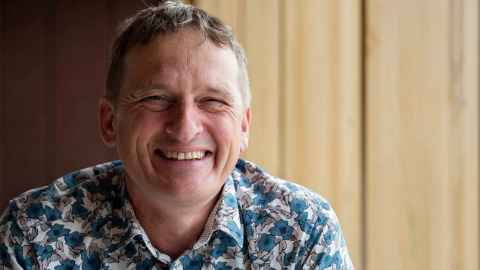 Come December, Professor Richard Easther will have been at the University of Auckland for a decade, much of it as Head of the Department of Physics, Faculty of Science.

He recently relinquished the role, handing the reins to Associate Professor Jan Eldridge.

"One of the interesting things about academia is if you tell people who are not academics that you've finished your term as head, there's a tendency to think you've done something wrong!"

Far from it. Richard was recently awarded a University of Auckland Teaching Excellence Award for Leadership in Teaching and Learning.

He says he was "chuffed" to win but, like many academics, gives credit to the whole department.

"There have been a lot of changes over the past decade and change can be fraught," he says. "But there has been a growth in research and we've also gone from about 12 PhD students to around 60.

"The HoD role means being a champion for the department and I think that's impossible without a passion for the field, which should flow into a passion for sharing it. Aside from not having the expertise required, I think I would be a lousy biology teacher because that's not my thing."

'His thing' is cosmology. Richard is a theoretical physicist whose research focuses on the early universe, including gravitational waves and the first seconds after the Big Bang that set the scene for the rest of the evolution of the universe. Throw in expertise in string theory, dark matter and black holes, but that's about as detailed as we'll get here.

"I'm interested in gravitational waves, ripples, that are in the fabric of space itself," he says. "That's something that makes sense in the context of relativity, which tells us that space is kind of bendy and stretchy. And there's a possibility that these waves are made in the early universe by processes that happened immediately after the Big Bang.
"About 15 years ago, I wrote a sequence of papers on ways that these gravitational waves could be produced in the early universe, and we're just getting to the point that the experimental community can think about the technologies needed to detect them."
Kids are really different these days. Our neurological hardware doesn't change between generations, but students access knowledge today in ways unthinkable a decade ago.
Richard has a lot of ideas and shares a few of them on Twitter and LinkedIn, proffering his thoughts for the virtual universe.

"Sometimes it's just an itch you have to scratch. I also have a blog which is another opportunity to share opinion in my field. Astronomy and astrophysics do get a bit of attention."

He has undertaken research with Professor Brian Greene, a noted physicist and mathematician from Columbia University in the US.
"Brian is a string theorist and we worked on the connections between string theory and cosmology.

"Brian has several books and TV shows and he and his wife Tracy Day set up the World Science Festival in New York. The interesting thing about astronomy is that children are interested in it, so there are lots of kids' books about it so it's a good entry into science. Collectively, many of us feel the need to take advantage of that opportunity."

Richard has never shaken off his childlike wonder of the universe. He says he was a bit of a loner as a child in Hamilton, and was extremely interested in scientific subjects.

"When I got to university I was in a community of people who were enthusiastic about the things that I was enthusiastic about. It was great."

Following his study at Canterbury, came postdoctoral fellowships at Waseda University in Japan and Brown and Columbia universities in the US. He then taught at Yale for eight years before taking up the role at Auckland in 2011.

His career trajectory was light-years from life in Hamilton where his mother, the late Shirley Maddock, had been New Zealand's first female TV producer and his father was a GP. His sister Elisabeth is a well-known actor, broadcaster and playwright. Richard definitely has an air of the theatric about him, which has served him well not just as a lively lecturer but also in media appearances.

"Mum was happy to see me chase my interests, but she often asked, 'How did I get a child who wants to be a scientist?' However, my background has really helped in knowing what the media wants … As a scientist it really helps to engage with people."

"Something that bugs me is when students say, 'Oh, I wish I'd done physics, but my parents or teachers thought I should do something else.
People who learn something deeply gain a lot just by mastering a particular body of knowledge. That's what we should be valuing. Anyone who gets a physics degree is in line for all sorts of interesting jobs.
"Physics doesn't have a single obvious career at the end of it. Often a child discloses their passion and enthusiasm for space early, and their family or society talks them out of it. That's something we have to grapple with – are we preparing people for their first job? Or are we looking to give them expertise and understanding in a particular domain from which they build the basis of a future career?
"The evidence is strong that people who learn something deeply gain a lot just by mastering a particular body of knowledge. That's what we should be valuing. Anyone who gets a physics degree is in line for all sorts of interesting jobs."

He cites his colleague Professor Shaun Hendy as a case in point.

"Covid modelling wasn't what Shaun was expecting to do when he did his physics PhD in something not dissimilar to what I do. What always surprises me is when an adult's first response to a child's dream is to ask, 'But how are you going to make money at that?'"

Richard's field of work is internationally collaborative, such as research funded by a 2020 Marsden Grant on understanding the early universe. There's also a Julius von Haast Fellowship, working with researchers at the University of Göttingen in Germany. He and Professor Jens Neimeyer from Göttingen recently created a simulation to look at the evolving structure of the universe in its first trillionths of a second.

But Richard still loves teaching, even by Zoom. In a portfolio submitted as part of the excellence awards, he recognised the changes in the way students have to learn and want to learn.
"Kids are really different these days. Our neurological hardware doesn't change between generations, but students access knowledge today in ways unthinkable a decade ago.

"If our pedagogy replicates our own experience, we cannot serve our students."

That said, he still believes nothing beats a live, in-person teacher experience.

"There's a lot to be said for interacting with someone who knows their subject well. The difference between learning physics from someone like me, or my colleagues, is that it's like learning how to fix a car from someone who has grease under their fingernails; there's a sense that they know what they're talking about. That comes across better when you're in the same room."

Denise Montgomery
OTHER 2021 TEACHING EXCELLENCE AWARD WINNERS

Sustained Excellence in Teaching: Dr Emma Willis, Drama, Faculty of Arts

Early Career Excellence in Teaching: 
Dr Laura Ann Chubb, School of Counselling, Faculty of Education and Social Work
Megan Clune, Faculty of Education and Social Work
Dr Marcia Leenen-Young, Pacific history, Faculty of Arts
This story first appeared in the November 2021 issue of UniNews.