Sound trial for Hayden Paddon EV rally car
When Hayden Paddon's electric rally car debuted at the Waimate 50 Hill Climb university researchers were hanging onto every sound coming from beneath the bonnet.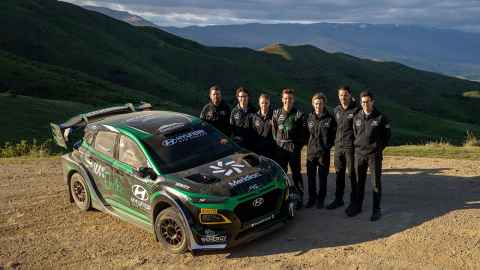 And they weren't disappointed.
"The car sounded great," says Dr Andrew Hall, from the university's Acoustic Research Centre based in the Faculty of Engineering.
Hall, and technologist Gian Schmid also from the centre, were listening to the sound produced by a mechanical device they have developed based on an original idea from Hayden Paddon's team to bring the loud engine roar associated with a high-power petrol rally car to the normally hushed EV.
"It definitely had volume and we received great feedback from people who were at the event and heard the car live," Says Hall.
The device, still at prototype stage, was used on four of Paddon's six runs. It was removed for the remaining two, to test if it had any effect on performance of the Hyundai Kona EV, and feedback so far indicates it made minimal difference.
"Those four runs were at full speed, so we were relieved the device passed the reliability test in such a tough environment," says Schmid. "Now it's a case of refining and modifying so its fits exactly with what Hayden wants."
Paddon, WRC rally winner, former PWRC world champion and multi-times winner of the New Zealand Rally Championship, has pioneered bringing electric vehicles into rallying, working on the concept with his team at Cromwell-based Paddon Rallysport Group since 2018.
Creating a spectator-satisfying sound for the car was always going to be crucial and acoustic experts Hall and Schmid became involved in the project earlier this year.
"Sound is essential to the excitement of racing," says Hall. "Spectators want to hear the car echo through the forests, building the anticipation. But it must sound real and natural, and relate to the car's acceleration and energy, and that's why a mechanical system was chosen, to bring that real sound component."
Sound is also important for safety. "When cars are going through forests, up hills and around blind crests with spectators close by, you need sound and volume so they can be heard," explains Hall.
The pair recognise that motorsport enthusiasts are a tough audience, there are limitations on what an acoustic mechanical system can produce, and it won't be for everyone. But they understand spectators will be more likely to accept a transition to electric cars in motorsports if the sound they make is acceptable and natural.
"It is the future," says Hall. "And after the weekend's event, we know we can achieve volume and resilience, so our development programme now is about enhancing the sound, so it reflects momentum and speed, and improve on its projection."