Frogs and reptiles benefit from alumnus' generous gift
In 2020 there were 18 generous gifts received from legacy donors, to support research and students across faculties and disciplines. One was from a US-based alumnus, Dr James Fawcett, who had a passion for herpetology – the study of amphibians and reptiles – and a special interest in the tuatara. His gift will support research into some of New Zealand's unique species, many of them considered at risk.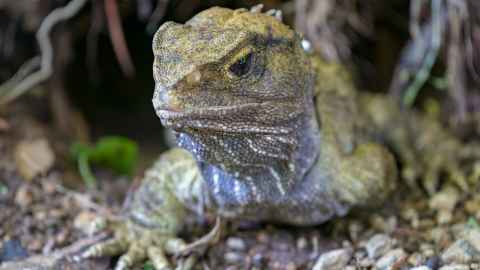 "New Zealand has an extraordinary endemic herpetofauna, including the iconic tuatara, more than 110 lizard species (skinks and gecko) and less than a handful of frog species," says Professor Allen Rodrigo, Head of the School of Biological Sciences.
"None are found anywhere else in the world, and most share unusual, distinctive features, such as live birth, resistance to low temperatures, low reproductive rates, small clutch sizes, and increased longevity. Sadly, about eighty percent of this fauna is currently regarded as threatened or at risk. Conservation efforts have focused on monitoring and translocations to islands, although the lack of herpetological research limits the effectiveness of these methods."
James Fawcett earned his BSc in 1960 and MSc in 1964 at the University of Auckland, then relocated in 1965 to the US to study under renowned herpetologist Hobart M. Smith at the University of Illinois-Urbana. In 1968 he followed Dr Smith to the University of Colorado, where he completed a PhD in Zoology. Throughout his career he maintained an ongoing catalogue of literature citations of New Zealand amphibians and reptiles and had a special interest in the tuatara.
Professor Rodrigo says Dr Fawcett's gift provides the University of Auckland with a wonderful opportunity to support further research on New Zealand's herpetofauna, potentially contributing to improved conservation of this group.
"Our students have been involved in a variety of research on our herpetofauna, including assessing the critical role that geckos play in pollination, evaluating the impact of habitat disturbance on lizards and understanding the gut microbes associated with gecko."
This generous legacy gift from the late James Fawcett and his wife, Georgene, was for $40,000 and was followed by a gift of the same value, to support research in Optometry and Vision Science.
Media contact
Helen Borne | Communications Manager
Alumni Relations and Development
Email: h.borne@auckland.ac.nz