AUSA president: 'I'm programmed to help others'
Alofa So'olefai has taken up her role as AUSA president. First task – boosting minority voices.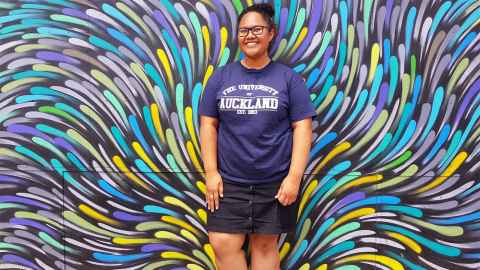 Alofa So'olefai, the new Auckland University Students' Association (AUSA) president for 2022, is on a mission to amplify the student voice.

Alofa, 22, is studying for a conjoint bachelors degree in Commerce and Arts, and is a Tuākana tutor and mentor, as well as a graduate teaching assistant. She has served as treasurer-secretary for the AUSA for the past year.

"I know the University has a problem with AUSA turnover. So one of my goals was to negate that by staying on the AUSA for another year. Having been in meetings for the past year, I know what's going on. I don't need to waste time catching up."

Behind a desk in her bedroom are a wall calendar and a whiteboard with a neatly written list of tasks.

Fresh out of exams when UniNews talks to her, she has already started the mahi of the AUSA presidency.

Alofa puts her victory, with more than 70 percent of votes, in part, to telling her "kids" in Tuākana to get out and vote. Tuākana means an elder same-sex sibling, and the position is a fitting role for the eldest of five children and 21 cousins.

"That's important – I grew up with my cousins. They were practically brothers and sisters. They were always at our house for sleep-overs and at the weekend."

Her West Auckland bubble is more than ten, thanks to living with her parents, grandparents and great-grandmother.

As a New Zealand-born Samoan, Alofa says she is "programmed" to help others. At church, she is a lay preacher, youth leader, Sunday School teacher and treasurer on various committees, putting her finance studies to good use.
I'm not Māori, but have been brought up alongside Māori ... I understand their needs are similar, but still different, to those of Pacific peoples'.
As a woman of colour, Alofa has a good understanding of issues facing Māori and Pacific students as well as those from other cultures.

"I'm not Māori, but have been brought up alongside Māori and worked in various areas with them. I understand their needs are similar, but still different, to those of Pacific peoples'.

"It's one of the things you notice when it comes to being president. You sit on a lot of committees and a lot of boards and you meet quite a few people, and it's very eurocentric.

"It's not necessarily a bad thing, but it is a bad thing when the minority voices are not at the forefront."

A big hope is for students to return to campus in 2022, starting with the AUSA Orientation Festival, to hype them up for the year.

Alofa plans to continue AUSA's strategic focus on 'student voice', 'student experience' and 'student support', starting with listening and responding to students.

"If they want a dumpling day, we'll have a dumpling day."

AUSA announced in May it would probably be leaving the national student union, the NZ Union of Student Associations (NZUSA). A big reason was feeling they weren't getting value for their around $45,000 a year, in terms of impact for Auckland students.

"In our minds, this money could be better spent elsewhere like our hardship grants, or boosting our period-poverty campaign among other things."

A decision will be made early 2022 about potentially leaving in June the same year.

She is also keen to ensure the revised Pastoral Care Code, coming into force in 2022, is more than just a 'tick-box' compliance exercise.

The code was reviewed after the 2019 death of Mason Pendrous in a University of Canterbury hall, and will make universities more accountable for students' welfare as well as involve students in university decisions.

"I'm hoping that there's where the AUSA can step in, working collaboratively and in partnership with university leaders, to help them action the policies in a way that is student-friendly," Alofa says.

Alofa will also spend time talking to international students, especially those stuck offshore and learning remotely.

As a child of Samoan parents, Alofa knows what it's like not to feel heard and to struggle to understand. She attended a Samoan kindergarten, and learnt English when she was five or six years old, so empathises with the difficulties of studying in a second language and wants to help in any way she can.

"I grew up with the value of helping and the philosophy of being a servant leader."

Jodi Yeats
This article first appeared in the December 2021 edition of UniNews.