Provost Valerie Linton: helping weld the University vision together
The University's inaugural Provost, Professor Valerie Linton, explains what the role is and what she brings to it.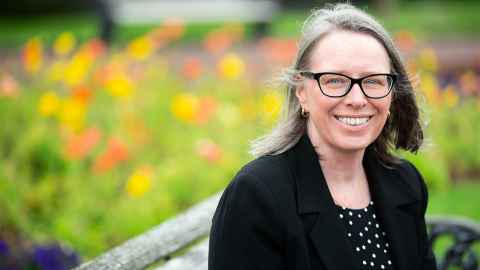 Expertise in welding may come in useful as Professor Valerie Linton negotiates her new role as the University of Auckland's first Provost.

 The role, second in charge to Vice-Chancellor Professor Dawn Freshwater, is to ensure strength in all parts of the University, including where faculties intersect and connect.

"As the Provost, I am working with the eight deans and the directors of the two large-scale research institutes, as well as the Dean of Graduate Studies, to build on the 'joined-up thinking' across the University. It's important that we're not a group of little universities."

 Valerie says the University of Auckland will become even more outward-looking as it maintains and enhances its place as a university of high standing in the South Pacific and globally.

 "The Vice-Chancellor sets and leads the strategy, but she has many other things to do and has a strong externally focused view. My role is to ensure we deliver on that strategy.

"In a way, Dawn and I stand back-to-back. She looks out and I look in."

 Valerie, who became the Provost in July, has a PhD in metallurgy. Welding is her specialisation, and she has used that in the energy sector.

"Back in 1980, there was the disastrous collapse of the Alexander L. Kielland drilling rig in the North Sea that killed 123. The rig toppled over and the cause was traced back to some of the welds in the platform. My PhD focused on what went wrong, so it was highly topical."

Her plan is to ensure that the many different parts of the University of Auckland that combine to give it a New Zealand and international edge have as few weaknesses as possible.

"A provost is kind of like the chief academic. My job is to make sure that in the academic side of the university, our guiding document, Taumata Teitei, is embedded in what we do. The strategy is divided up into five sections, and my priority is to deliver on the education and student experience focus. However, I need to ensure that each faculty is engaging with all parts of the strategy, not just the education piece of it.

 "I'm here for the translation, roll-out and implementation of Taumata Teitei. And also to try to bring the faculties and institutes together to have certain conversations and get some more 'whole of university' thinking happening."  

 Valerie, her engineer husband and teenage son came from New South Wales where her most recent role was at the University of Wollongong as executive dean of the Faculty of Engineering and Information Sciences.

 As a metallurgist, Valerie has worked in the engineering industry as well as being a consultant. She has had roles in several universities and was also the CEO of a research funding agency for energy pipelines.

 Like many women in male-dominated industries, she ended up in her field in spite of the expected pathway.

 "I went to an old-fashioned all-girls school in the UK where you could be a doctor, teacher, nurse or secretary. Those were your career choices. I shunned a suggested career as a physics teacher. When an organisation called WISE (Women in Science and Engineering), came into the school, that changed my options.  

 "I was lucky to be picked to go on an experience out of school, to be shown what engineering looked like. I loved it.

"I started being interested in becoming a civil engineer, but then decided I was more interested in what we build with, rather than what gets built."

She then took a material sciences degree at Sheffield University in England.

 "Sheffield is the home of metallurgy in the UK and it's where the steel industry is so I switched to a pure metallurgy degree. I got a sponsorship from British Steel and worked for them while studying."

 A project investigating the weldability of certain types of steel sparked her interest.
"That got me really interested in advanced welding, so I went to Cambridge to do an industry-orientated PhD with British Gas, looking at structural welding on offshore platforms."
In a way, the Vice-Chancellor, Dawn Freshwater, and I stand back-to-back. Dawn looks out and I look in.
That's the way Valerie's career has progressed – being able to engage with industry and academia, having knowledge of both.

 "I think it's really useful for universities to have people who can engage with industry; it doesn't matter whether they're career academics or not.

 "To be able to speak the language of both sides and see things from all sides is extremely important."

 Valerie is a New Zealand citizen, stemming from her time living in Wellington in the 1990s. While there, she and her husband ended up spending a lot of time going back and forth to Australia for projects, so in the end it made sense to move there.

 Valerie still keeps her hand in with research to an extent, to stay abreast of the changing face of the industry.

 "I think even when you are in a role like provost, it's natural to retain an interest in your foundation discipline. Also, engineering is often about problem-solving and trying to make the world a better place. That's really relevant to what we're trying to do here too."

 She says she is naturally thinking 'whole of university' rather than just engineering, of course.

"Yes, we have the huge faculties – Science, FMHS, Business, Engineering – but we won't lose focus on Arts, Creative Arts and Industries, and Education and Social Work, which have a vital role within the University. Education, for example, is critical to getting the teachers we need out there into the pipeline of the future."

 One of the most important things Valerie is working on is the curriculum transformation project.

 "One part of the project is looking at the teaching delivery mode," she says. "How do we bring together different elements of our teaching delivery, the on-campus experience and broader education components, into a framework to make the whole learning experience engaging and relevant?"

She stresses that while the University responded well to teaching in lockdowns, there's a difference between remote teaching and true online learning.

 "We've been remote teaching via Zoom, but it's not purposely designed online learning. We are an on-campus University and we're not trying to be a wholly online university, although we do have those offerings in some parts of the University.

"We have great resources on our campuses. We want students to come and engage with them, with staff and with each other and to come for a good block of time. We need to make that easy and worthwhile.

 "That also means we have to have good study spaces."

The University has a team looking at the best use of space on its campuses, as well as people looking at all aspects of the education delivery mode. There are also staff considering ways to help upskill academics to use new technologies and teaching-delivery methods.
We have great resources on campus. We want students to come and engage with them.
 Valerie says at this time of year both teachers and students may be suffering exhaustion, perhaps exacerbated by remote learning and uncertainty, so it's a challenge to think about the future.

"But it's always important to look at how we can move things forward positively. In the curriculum transformation project, we are looking at the structure of the curriculum and how we deliver it."

She says communication of any change or information in general is key and, in a huge organisation, is always a challenge.

"Dawn tries to speak to everyone through the all-staff Zoom, as an example, and I think the fact that you can ask anything, and get an answer, is really progressive. We also have communities of practice (COPs) who share ideas and information. Plus we work with students and make sure we engage properly with them, including the student consultative group.

 "It's crucial that we engage with the organisation at all levels. We can communicate top down and bottom up. But it's also key to get in to schools, disciplines, business units and other places to talk to people. They're all important."

 She isn't averse to giving a guest lecture in engineering, perhaps on one of her favourite topics – large-diameter natural gas pipelines.

 "I used to do talks on pipelines that the students enjoyed – largely because of the images. There was me standing by pipelines in the UK in a trench a foot-deep in mud in pouring rain. The Australian version of that was being in desert in 45 degrees!"

 For now, what's in the pipeline is planning for 2022 and beyond.

"There are lots of highly engaged people here ... it's an excellent University. The thing that most excites me is Dawn's vision. It's about that sense of the University in its place, engaging with its communities. That's quite a change for the University from the way it thought about itself in the past.

"Modern universities need to build on tradition, heritage and excellence and engage with communities to show what we're doing is relevant."

 "The world starts right here on our doorstep and with our communities. We need to make sure we help students no matter what their background. We want them to come back and do more research, and more training or qualifications. That's what excites me about the direction the University's moving in."

 While she has plenty of targets to achieve at work, she's also aiming for another kind of target once lockdown levels ease.

 "A few years ago, we did a fun archery course as a family. We all really liked it as something we can do together. It's a bit like golf, you're playing against yourself, but you can also encourage each other.

 "You have to find a way of calming your mind, so the target is the only thing you're thinking about. When you're very busy at work, it's important to take that stillness and clear your head – a bit like yoga, which I also like."

She also enjoys the arts.

"I love the theatre and I'm really looking forward to being able to go to a show."

Her other pastimes are gardening, cooking, and baking bread and cakes.

"I was baking bread long before lockdowns, but have baked plenty more in recent weeks!"
This story first appeared in the December 2021 edition of UniNews.