The rebrand challenge for National's new chief
Opinion: Jennifer Lees-Marshment looks at business and political leadership differences and how National's new chief must build a positive brand personality.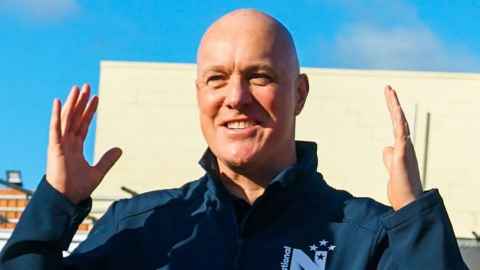 Back in 2020 when Todd Muller became leader of the National Party I cautioned that National didn't need a John Key 2.0. That advice still stands, and the need for new vision is even stronger in 2021 than it was a year ago.
Christopher Luxon has been seen as a potential leader ever since he became an MP because of his experience of leadership in business as a former CEO of Air New Zealand. Yet that business experience could lead him into a trap if he isn't careful.
Marketing and management tools can be used to good effect in politics, but politics is not the same as business.
Here are four key political marketing and management principles Luxon needs to follow despite – or maybe because of – his business experience:
1. Just as in business, National needs to offer a new distinctive product that meets market needs
Some things hold true in politics just as in business, and the first marketing lesson for National will be to design a new political product. Not the old one they lost the two previous elections with, and not one that just focuses on attacking the incumbent Labour government. Instead, one built on understanding public needs and wants that is proactive, substantial, distinctive from other parties, and wanted.
As former National Prime Minister Jim Bolger said, the party needs to think "What are we going to do that is different, what is our new vision?" National needs new ideas.
Given the changes we have faced in the last two years due to the pandemic, there is no better time for new thinking. The market is open to it – but the party has to meet demands with innovative, visionary new policies and positions that offer voters an alternative product. One that is better than Labour's. In other words, stop talking about Labour and start talking about how National will better serve New Zealanders.
2. Unlike in business, political leaders do not have as much management power as CEOs
Politics is not the same as business, as Luxon himself said. Political management is much harder because leaders have less power than CEOs and cannot simply issue orders. They are constrained by stakeholders, face more complex expectations/pressures, and profit is not a metric of success. They must manage conflicting views from within their own party as well as Parliament, manage ministers, coalition partners and opposition parties as well as processes which include debates, select committees and proposed amendments to build political support for their ideas.
To his credit, Luxon is aware of this. He has noted that while you can transfer some of what you've learnt from past leadership roles, politics is a "new world" and "you also can't underestimate that it is a completely different game … there is a lot to learn".
He is not alone in needing to learn. Politicians start their job at short notice and outgoing rivals have little incentive to pass on vital information or advice. We ensure doctors, lawyers, teachers, plumbers, builders and hairdressers get training, but our politicians are left to learn on the job. This is also true for staff. A Canadian PM's chief of staff once told me staff watched West Wing to prepare for their job as there was little professional orientation and development.
While business marketing and management offer important tools for politics, business skills need to be adapted to a political environment. A White House chief of staff once asserted that people with experience in business always fail in government because "all those normal management techniques go out the window". Politics does not work in the same way as business – for example, there is rarely a smooth transition from one political leader to the next. And while academics have produced political marketing research into how to win elections by appealing to the right market segments, there's little research into managing parties internally or marketing ambitious, transformative policy to the public in elections and government.
3. Unlike commercial products, the politician's personality and personal life is part of the political product
A politician's personal life affects their reputation and ability to sell their party product. Political branding research has shown a leader's brand personality is very important. In the 2020 election, New Zealand First's policies were closely aligned with public views, but their leader's lower likability let them down. The personality that a leader conveys can be very influential, as shown in 2017 when Labour's fortunes were transformed following the swap from Andrew Little to Jacinda Ardern without any change in policy.
The new National leader now needs to build a positive brand personality. This means trying to convey leadership and strength, alongside honesty, energy and relatability, while offering something unique to give voters a reason to switch from the Labour leader. The hard task for both politicians and their advisers is how to apply this to Luxon, especially given his socially conservative views on abortion and euthanasia. You can't redesign a person the way you can redesign an iPhone or a car: we know a good brand personality when we see it, but less about how to create it.
This also requires distancing himself from the old Key brand, which connects with the final point: the need to rebrand the whole party.
4. The National Party needs re-branding
The biggest challenge for the National Party is that it needs a complete re-brand. It is damaged, as our analysis in our book on the 2020 election shows. The party had a positive reputation for ability to govern in 2017, but completely reversed that in 2020. Much work is needed to rebuild brand competence to fit core political brand principles such as being aspirational yet reassuring and credible, and create an overall unique new vision that gives voters a rationale to switch from Labour.
We understand the need to blame Judith Collins for the bad result in 2020 and low polling in 2021, but the reality is all leaders who take over a failing brand are limited by that brand. Simply changing leader won't improve it. And worse still, this is a management exercise as well as a marketing one. As already noted, party leader power is less than a CEO and their position is dependent on other MPs. Yet the new leader needs to tell those MPs to behave differently; more emphasis must be put on lesser-known politicians to help convey that National has changed.
In this respect, business experience could be more hindrance than help. Luxon would do well to read a few political marketing and management books very quickly to be able to lead the National Party as he did as CEO of Air New Zealand. Using marketing and management skills for the benefit of the country as opposed to a company will take some serious adjustment.
Associate Professor Jennifer Lees-Marshment is from Politics and International Relations in the Faculty of Arts and is an expert in political marketing.
This article reflects the opinion of the author and not necessarily the views of the University of Auckland.
Used with permission from Newsroom The rebrand challenge for National's new chief 1 December 2021.
Media queries
Alison Sims | Media adviser
DDI 09 923 4953
Mob 021 249 0089
Email alison.sims@auckland.ac.nz