Kupe Scholar driven by desire to create more just society
For 2021 Kupe Leadership Scholar Jennifer Sarich, education is not only a chance to satisfy her own curiosity about the world, it's also an opportunity for her to create meaningful social change.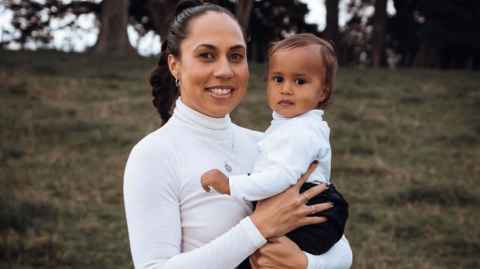 The former Air New Zealand cabin crew worker has just finished her Bachelor of Science (Honours) majoring in psychology and is now looking to continue her postgraduate studies, with an eye on becoming a clinical psychologist.
Sarich says she is especially focused on working with solo mothers and people in prison, and has a desire to use her education to contribute to a more just society for Māori in Aotearoa.
She was one of 16 postgraduate students to receive a Kupe Leadership Scholarship this year. Each Kupe Leadership Scholarship is funded by an individual donor, with recipients receiving not only financial assistance but also the support of a mentor with whom they are paired for the one-year duration of the scholarship.
Sarich's scholarship was funded by Heartland Bank, and her mentor was justice advocate Sir Kim Workman.
She says being mentored by Sir Kim, who is a former Families Commissioner and national director of Prison Fellowship of New Zealand, was "highly beneficial" and one of the highlights of the scholarship.
"He's done a lot of great work within the justice space…and is just a wealth of knowledge. And him being able to pass down that knowledge to me, it was incredible. Some of the stories I just hold close to my heart and always will – I really enjoyed that aspect of it."
Sarich says it was also an inspiring experience being part of a cohort of talented young people working to create positive change in the world.
"I found it so valuable just because of the connections that you make."
Sarich, who is herself Māori, says she first became interested in working to create a more just society in Aotearoa after spending a year living in Philadelphia and learning about the many challenges African American people face in the United States. After returning home, she was then inspired to take a deeper look at injustices in New Zealand and play a role in shaping our own society for the better.
"I changed to a double major of psychology and sociology and started diving into research and literature around injustices with Māori and Pacific people in New Zealand. And then there were just multiple doors that opened once I found my niche."
Being in the university environment has also fostered her curiosity, allowing her to gain new perspectives.
"I feel like once you start learning, you realise how much you don't know and become more curious, realising that you're just scratching the surface and there's so much more to learn and do.
"A lot of the conversations with people I had and all the different people I met – lecturers, friends – really just opened my eyes to the world that we live in."
After finishing her honours degree this year, Sarich has now applied to enter the Doctor of Clinical Psychology programme, which would mean – if she is accepted – another four years of study. Her current hope is that once fully qualified she will be able to work with the Department of Corrections as a psychologist helping people in prison.
As well as being driven by a desire to improve society as a whole, Sarich also hopes to make the world a little better for her own child, who was born last year.
"He definitely gives me a lot more motivation," she says. "All my studies aside he's my biggest focus and I just hope that I can raise him to be a kind, loving human and that he can lead by example. A lot of the stuff in this world is well beyond one person's control so I think the biggest gift that I can give is to just raise my son to be a kind, decent human so that he can give to the world, and I will just chip away at the rest of it where I can."
Media contact
Helen Borne | Communications Manager
Alumni Relations and Development
Email: h.borne@auckland.ac.nz