Long-term planning crucial to Tonga's recovery
Opinion: Relief activity immediately after disasters seldom results in long-term recovery, writes Sandeeka Mannakkara, and Tonga should take care to achieve both.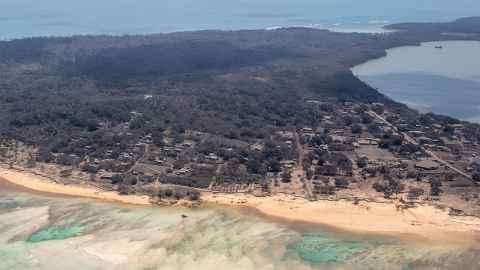 As recovery efforts began in Tonga, after the Hunga Tonga-Hunga Ha'apai volcano eruption and the tsunami that followed, the first priority will be to provide immediate relief to communities to save lives and respond to urgent needs.
While these activities are vital, it is also important for authorities to understand that what is set up in this early relief phase lays the foundations for long-term recovery and resilience of affected communities across the nation.
Successful recovery must incorporate long-term strategies of building back better and establishing resilience, mitigation, risk reduction and preparedness initiatives.
This means making plans to rebuild stronger homes, resettle communities in low-risk areas where appropriate, re-establish and rejuvenate livelihoods, restore psycho-social well-being and community cohesion, prepare for and reduce future disaster risk, and build capacity and skills to face and overcome future risks.
Post-disaster recovery efforts that do not take into account these recovery activities leave communities more vulnerable than before. Unfortunately, humanitarian agencies tend to focus on relief activities in silos, considering rebuilding and long-term recovery phases as completely unrelated post-disaster activities.
Haiti is a stark example. After the catastrophic earthquake in 2010, communities were still housed in temporary transitional shelters when subsequent disasters struck – Hurricane Matthew in 2016 and the earthquake of 2021 – which meant the devastation they suffered was even worse.
Tonga has the opportunity to learn from these mistakes, set up the right conditions for a successful long-term recovery and create positive long-term change.
So how can this be achieved? First, while administering relief activities, Tongan authorities need to begin comprehensive planning for short, medium, and long-term recovery phases. Exit strategies to transition activities from humanitarian development agencies back to local authorities are needed; clear roles and responsibilities for all stakeholders need to be established; needs assessments should be conducted; and project selection and monitoring and evaluation criteria need to be set up.
In short, Tongan authorities need to optimise local resources and capacity to enable a long-term recovery in partnership with external agencies.
The number of different local and international stakeholders partaking in recovery creates duplicity, discord, and misunderstandings. Therefore, secondly, it is important to adopt a single data management system starting from the relief phase to assist coordination between stakeholders and provide transparent access to necessary information.
Finally, it is important to get communities involved early. This will prevent poor decision-making and misallocation of resources, build community capacity and resilience, produce mutually beneficial outcomes, and have a positive effect on re-building social cohesiveness and well-being.
The figure below is a disaster recovery model showing the typical phases of recoveries. Each phase has a set of activities that respond to different needs along the post-disaster timeline. The durations of each phase vary, with the figure showing typical time periods. There are "transition periods" between each phase where recovery stakeholders enter and leave the recovery effort and recovery activities change.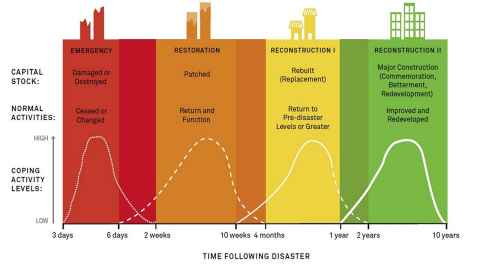 The first two phases in the figure represent emergency and restoration which typically last from a few days to three to four months. Haas, Kates and Bowden differentiated reconstruction into two phases of rebuilding and replacement in the medium-term and betterment and redevelopment in the long-term. Building back better for building community resilience and future risk reduction typically takes place in the two reconstruction phases. This last phase of reconstruction and recovery may take up to 10 years or more to complete.
But recovery efforts often don't go the distance –focus is on the first two phases of emergency and restoration, which is where international donor funding and attention is primarily concentrated. Long-term post-disaster recovery, which is significantly important for communities to recover, often gets drawn out and abandoned due to inadequate planning, lack of long-term funding, capacity and resource commitments, and changing priorities.
We discovered a lack of proper transitioning between the different post-disaster recovery phases and not considering long-term recovery needs in early phases were major contributors to failed long-term recovery.
One project in our research focused on investigating if and how recovery efforts transition into the long-term phase, and factors that contribute to positive transitions, from short-term to long-term recovery.
We looked at seven major disaster recoveries:
Gujarat, India – earthquake 2001
Aceh, Indonesia – Indian Ocean Tsunami 2004
Sri Lanka – Indian Ocean Tsunami 2004
Kashmir, Pakistan – earthquake 2005
Victoria, Australia – Black Saturday Bush Fires 2009
Haiti – earthquake 2010
Christchurch – earthquake 2010/2011
From our preliminary findings, we conducted two in-depth case studies of the 2010 Sindh Super Floods in Pakistan, and the 2016 and 2017 Floods in Sri Lanka.
We found post-disaster recovery in Sindh did not transition to long-term recovery at all. The recovery process came to a halt once the local and international NGOs completed their short-term relief and rehabilitation phases and departed. There was no local capacity to engage in further recovery activities or consider building back better or future risk reduction.
In Sri Lanka, transitioning to long-term recovery was perpetually interrupted by recurrent annual flood and landslide events. Local authorities and NGOs had to engage repeatedly in immediate relief and response activities in the emergency and restoration phases, and were unable to move on to long-term recovery activities.
Overall, we found several common factors that contributed to failures in long-term recovery in the different countries:
Unpredictable, long-term timelines following disaster events which made long-term planning difficult, especially considering the shorter-term cycles and agendas of local and national Government bodies
Lack of long-term funding to support recovery activities in later recovery phases
Insufficient coordination between teams and resources working in the different post-disaster phases to transition recovery activities
 Disconnection between relief activities in the emergency phase and long-term recovery and development phases
 Lack of information, knowledge and lessons transfer between post-disaster recovery phases working in these phases
These findings confirmed the narrative that in the immediate relief phase after a disaster, the need to set up the right conditions for successful long-term recovery of communities is usually overlooked and, as a consequence, vulnerability to subsequent disasters is heightened.
Tonga has the chance to change this narrative and use this immediate post-disaster time period to ensure that a long-term vision is considered from the outset. Early planning can ensure that Tonga's communities are built back better for a more resilient future.
Dr Sandeeka Mannakkara is from the Department of Civil and Environmental Engineering in the Faculty of Engineering.
This article reflects the opinion of the author and not necessarily the views of the University of Auckland.
Used with permission from Newsroom Long-term planning crucial to Tonga's recovery 25 January 2022
Media queries
Alison Sims | Media adviser
DDI 09 923 4953
Mob 021 249 0089
Email alison.sims@auckland.ac.nz