PM highly engaged in vaccine briefing
The Prime Minister, Jacinda Ardern, was enthusiastic about a private briefing on vaccine research and development projects at the University of Auckland, describing it as "a great visit".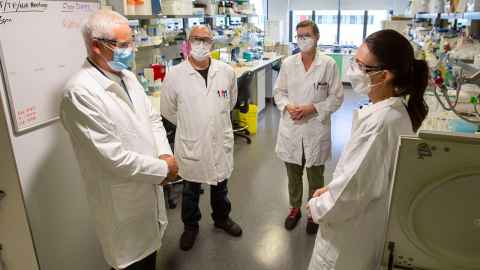 Ardern's visit to the Faculty of Medical and Health Sciences (FMHS) on Thursday, 10 February highlighted the University's contribution to international vaccine development and safety efforts.
"It reinforced that New Zealand is a centre of research and innovation and that our approach to Covid has put us in a unique position to make a contribution globally," the Prime Minister, whose accompanying entourage included Chief Science Adviser Dame Professor Juliet Gerrard, said.
Associate Professor Helen Petousis-Harris described the Global Vaccine Data Network (GVDN), a planetwide collaboration to collect big data and identify potential safety issues arising from Covid-19 vaccines.
When she introduced Dr Janine Paynter as lead epidemiologist for the project, the PM quipped, "Like everyone in New Zealand," to which Dr Petousis-Harris replied, "Yes, but Janine has a card."
UniServices CEO Dr Andy Shenk spoke about a national programme researching an expected resurgence of influenza this year, following two years of low case numbers, thanks to COVID-19 restrictions.
The Prime Minister asked whether, given the relatively low efficacy of influenza vaccines at around 60 percent, the Government's investment in two million extra flu jabs this year was going to be worth it.
Shenk affirmed it is the best tool available, albeit using old technology.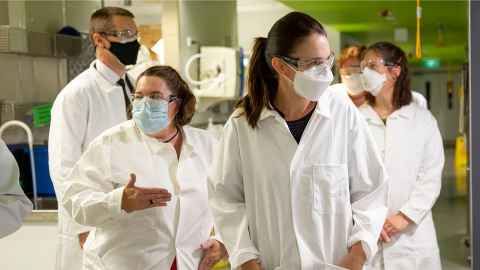 Dean of FMHS, Professor John Fraser, said work was being done on a pan-influenza vaccine, which could use the mRNA technology employed in COVID-19 vaccines and that would be a 'game-changer'.
Fraser also described an innovative project he was leading researching how mRNA technology could be used to combat Staphylococcus aureus.
Professor Fraser said he was delighted that the University group had been chosen as one of 17 leading organisations globally, including the likes of Cambridge University, to take part in the Wellcome Leap Foundation's mRNA vaccine-development project. The group will receive a share of $60m funding over three years.
"We were the only group from this region to be part of the project and we have just started," he said.
Staphyloccocal infections can occur in hospitals after surgery, but are also common in the community.
"The first challenge will be minimisation of RNA technology, so vaccines can be developed in a small area, as opposed to the huge facilities operated by global companies, such as Pfizer," Professor Fraser said.
"New Zealand has comparatively high rates of staphylococcal infection. It is serious and can be life-threatening and is increasingly antibiotic-resistant. It is also a big equity issue, as we have higher rates in Māori and Pacific people," he said.
The Prime Minister also heard from Associate Professor Nikki Moreland, Dr Rachel Webb and Dr Anneka Anderson about a StrepA and rheumatic fever vaccine initiative, being run in collaboration with Australian scientists. The Ministry of Health has supported the project with $10 million in funding.
The visit ended on a cheerful note with the PM signing the team's tamariki's COVID-19 vaccination certificates outside the lab.