Top industry award for earthquake and fire safety research
Almost four decades of research with fire and earthquake safety in mind has brought highest industry honours to Dr Charles Clifton from the Faculty of Engineering.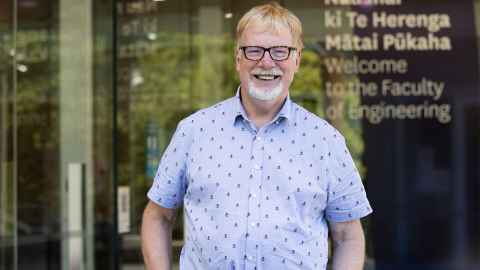 Dr Charles Clifton from the Faculty of Engineering has been made a Distinguished Fellow of Engineering New Zealand in recognition of 38 years of research making steel and composite steel/concrete structures and buildings in New Zealand safer from fire and earthquakes.
The award also acknowledges his contribution to earthquake engineering research in structural steel systems and to earthquake engineering practice in New Zealand.
The design guidance he has produced is used by all New Zealand structural engineers and he is a major contributor to new and revised standards and codes of engineering practice for structural steel design and fire engineering.
He is seen by his peers as the "go-to person" for all aspects of structural steel design according to Engineering NZ.
"It is extremely gratifying to receive this recognition from the engineering profession," says Charles, an associate professor in the Department of Civil and Environmental Engineering.
"My work has always been exciting and rewarding – from helping New Zealand make the change from using reinforced concrete for multi-storey buildings to structural steel, to teaching the next generation of students and professionals the joys, challenges and opportunities of designing with steel in all its many applications."
"I have been able to challenge misconceptions, sort fact from fiction, and watch our steel fabrication industry become world-leading and our consulting engineers routinely produce world class steel frame buildings," he adds.
He witnessed first-hand the practical application of that expertise on 22 February 2011 when the extreme earthquake struck while he was presenting a seminar in Christchurch CBD on seismic assessment of existing buildings.
"All the steel framed buildings that had been designed to these new design procedures were thoroughly tested and they performed very well."
Charles's work with structural steel in buildings began in 1983 after graduation from the University of Canterbury with his Master of Engineering in 1979 and a stint overseas.
"At university I learnt much about reinforced concrete under the late, great Professors Bob Park and Tom Paulay and I wanted to be a designer of outstanding reinforced concrete buildings.
"I got that wish in the early 1980s, working for a joint UK-Saudi Arabian company in London where I designed the structure for several landmark reinforced concrete buildings in Saudi Arabia, including the Entrance Gate to the King Saud University in Riyadh. This made me realise my real passion was developing new, improved design methods and implementing these into practice," he explains.
On returning to New Zealand in 1983, he joined the New Zealand Heavy Engineering Research Association (HERA) as the HERA Structural Engineer in their new structural division.
"My job was to build the technical foundation that would grow the market share for steel, with an emphasis on multi-storey buildings". This was quite a leap into the unknown. I was working with a material I had little experience with, for an organisation I had not heard of before and on a material which in 1983 had effectively zero market share in non-industrial multi-storey buildings.
"At that time, all such buildings were built in reinforced concrete. Structural steel was considered unsuitable because of doubts over its reliability in earthquakes, the general expectation was that it would collapse in severe fire and not being suitable for external applications, because it rusts."
These were not just 'common wisdoms' in the profession, some were enshrined in codes. For example, NZS 1900 Chapter 5 required multistorey buildings in city areas to be built from concrete or masonry for dependable performance in fire.
With an interest in earthquake engineering that had already been stirred at Canterbury University, Charles set about developing seismic solutions that would enable steel structures to be used for multi-storey construction. He did the same for fire and durability, sorting negative perception from reality and developing solutions.
He brought this focus of research interest to the university's Department of Civil and Environmental Engineering which he joined in 2008.
"When I started my work at HERA, earthquake, fire and durability were the three biggest barriers to the use of steel in structures. As a result, these continue to be my three areas of principal expertise as a researcher and teacher," he says.
Describing himself as "an engineer who works at a university rather than an academic, to quote the late Professor Tom Paulay", Charles says he has deep gratitude to the Faculty of Engineering for the support he has received over the years for his work.
"The University does many things differently to industry which can be challenging, but also exciting and rewarding and the Department of Civil and Environmental Engineering is an excellent place to work in."
Closer to home, Charles gratefully acknowledges the very strong support of his wife Linda, daughter Emma and son-in-law Shahab, which he says has been and continues to be critical to his achievements.