Bioengineers get on their bikes for Cure Kids
Four bioengineers from the Auckland Bioengineering Institute (ABI) and five of their friends have got on their bikes to ride the length of Aotearoa New Zealand, as a Riding for Cure Kids team in the Tour Aotearoa Brevet event.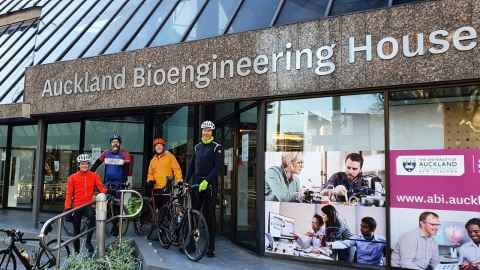 The team of four are all keen cyclists and scientists from the Implantable Devices Group, which is developing an implantable device for the brain to remotely monitor spinal fluid pressure in people with hydrocephaly.
"Cure Kids is kindly supporting our research so our team wondered how we could 'give back'," says Dr Daniel McCormick, Senior Research Fellow at the ABI. "So in a mad rush of blood to the head four of our research team decided to cycle 3000 kilometres, from Cape Reinga to Bluff, to help raise money for Cure Kids." They persuaded five friends to join them.
Hydrocephalus is caused by a build-up of fluid in the brain. The excess fluid puts pressure on the brain and can be life-threatening. Approximately 100 paediatric patients in New Zealand are diagnosed with hydrocephalus every year.
The good news is that hydrocephaly is treatable, by the installation of a tube (shunt) to drain the excess fluid. The bad news is that the shunt often blocks; within the first two years there is a 60% chance it will fail and need replacing.
There is currently no way of telling if and when the shunt if blocking, until symptoms occur, and typical symptoms are common (nausea, headaches) and may or may not be related to the shunt failing. Unsurprisingly, the prospect of shunt failure means living with fear and anxiety and can lead to trips to the hospital and unnecessary scans.
The team at the ABI is developing an implantable device, which will allow parents and caregivers of those with hydrocephaly to monitor the pressure of spinal fluid in the brain remotely, via a tiny sensor that could be implanted in the brain alongside the drainage tube. It would provide a pressure reading that can easily shared with health care professionals electronically.  
The team has been working on the implantable device for several years. At every stage of their research and development they have been acutely aware that their device needs to be manufacturable, one they aim to get market and used in the real world. If successful, it would be the first Class 3 medical device developed in New Zealand, and would be a 'game-changer' for those living with hydrocephaly and their caregivers.
"It will reduce hospitalisations, radiation exposure from CT scans and the anxiety of parents around the care of their children," says Professor Malpas, who is leading the team's research into the implantable device for hydrocephalus.
The team from the IDG group cycling the length of New Zealand for Cure Kids include Professor Malpas, Associate Professor David Budgett, and Drs Bryon Wright and Daniel McCormick.
Follow the Riding for Cure Kids team on Facebook.