International Women's Day: women at the forefront of bioengineering innovation
One of the themes of International Women's Day 2022 is the championing of women forging innovation through technology, a theme exemplified by research led by women at the Auckland Bioengineering Institute (ABI) at the University of Auckland.
Professor Merryn Tawhai, deputy director of the ABI, has for 20 years led work on a digital human lung model, to create computer models of human respiratory physiology that accurately mirror the function of the real organ.
Her research has helped put New Zealand research on the global bioengineering stage. It aims to help clinicians identify how well a patient will respond to a specific treatment plan, whether lung function will be compromised by the treatment, and how to detect specific types of pathology on lung imaging.
"What we're doing requires expertise in solid mechanics, fluid mechanics, software engineering, and electrical engineering, as well as a thorough understanding of lung physiology".
Associate Professor Kelly Burrowes' research is also focussed on the lung, and more recently the impact of vaping. For this, she and her team has created an automated 'vaping robot'– to enable lung cells to be exposed to vape and then studied.
Her research group has also used virtual lung models to simulate where vape particles go. "This will help to inform experimental work and show 'hot spots' of deposits," she says. "The final piece of the puzzle uses functional MRI to take pictures of healthy volunteers' lung function before and right after vaping. Eventually putting all these pieces together should help us to understand a bit more about the impacts of vaping on the lungs."
Dr Burrowes also has an online business, 'The FemTech Revolution', which she runs in her spare time, in which she promotes technological devices designed for women such as a fitness tracker worn as a necklace or bracelet, a fertility device that uses cervical mucus to tell women the best time to conceive, and the femfit device, developed by Dr Jenny Kruger also of the ABI. (Described below.)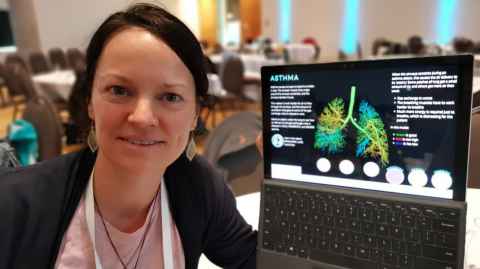 Dr Burrowes' colleague Associate Professor Alys Clark has also focussed on the virtual lung but is also now co-leading a team using the same mathematical principles to create a virtual placenta: that remarkable organ that nourishes and sustains life before birth but is one of the least studied and most poorly understood organs in the human body.
The placenta needs more understanding; in one in ten pregnancies, the placenta functions poorly, leading to pregnancy disorders such as fetal growth restriction (FGR), which puts the foetus at four times the risk of being stillborn. "Our computer-based representation of the organ aims to help clinicians identify which babies are at risk, and before it's too late, giving vulnerable babies a better start in life," says Dr Clark.
Giving birth to a healthy baby can also have its consequences on the mother, and as many women will testify can have a detrimental impact on a woman's pelvic floor muscles leading to urinary incontinence. This is the topic of Dr Kruger's research, which is focussed on understanding the anatomy and function of the pelvic floor muscles in women.
Her research has led to the development of the femfit, a wearable, intravaginal device that is thin, flexible, and embedded with eight sensors. It helps women understand whether they're activating the right muscles when doing pelvic floor exercises which, when done correctly, have been proven to prevent urinary incontinence.
The device measures internal pressure along the wall of the vagina and sends real-time bio feedback to a mobile app. When the user performs pelvic floor exercises, a bird in the femfit app starts to fly and the stronger the contraction the higher it flies. If the exercise is not done correctly, the app will alert the user and give guidance to try again.
Pelvic floor excercises (done correctly) will not only prevent urinary incontinence but "for those who suffer from the condition, to recover from it," says Dr Kruger. "And it's rarely too late." 
Meanwhile, Dr Hayley Reynolds has recently returned from Australia to re-join the ABI where she is the first woman at the Institute to lead a team looking at a condition that affects only men – prostate cancer.
She is leading a project that is working towards a radical paradigm shift in cancer treatment, called biologically targeted radiotherapy (BiRT). "BiRT will allow for a personalised non-uniform dose of radiation to be given to prostate cancer patients, which will reduce unwanted side effects such as incontinence and erectile dysfunction."
The BiRT project is also developing new prostate imaging biomarkers to determine whether patients are responding to radiotherapy, to improve on blood-based PSA testing currently used in clinical practice.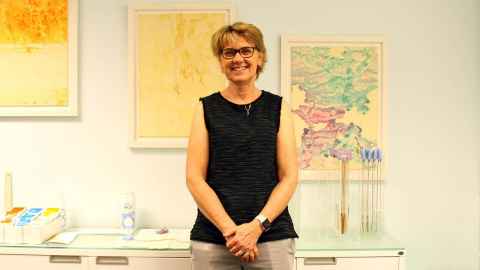 The ABI is a great place for women they all say. Some of their research groups include teams of young women who are using and developing innovative technologies to improve our understanding of human physiology and enhance healthcare.
Yet while there is a good gender balance among postgraduates, there is still a gender imbalance among female postdocs and senior researchers.
"We like to think we have a very inclusive environment and having been here for 20 years, from the start, I think we do," says Dr Tawhai. "I have never actively recruited females, yet despite that I have historically had just over 50 percent female postdocs and students on my team. It may be that some students are attracted to someone with whom they can identify."
"The more senior female staff we have, the more we increase their visibility, and hopefully the more women we can attract. But we have a long way to go."
"Attracting and retaining more women is not just about the numbers: diversity - whether it be in gender, ethnicity, or research background - provides for different perspectives that feed innovation."