Hinrich Scholarships develop global trade leaders
"This is the biggest thing that's happened to me so far." Shweta Rajput is talking via Zoom from Delhi. "It was a big deal to get the scholarship. My father's retired and my brother is pursuing an MBA. So, we both are studying. This scholarship definitely reduced the financial burden on my parents. Now," she says laughing, "I'm the best kid in the family!"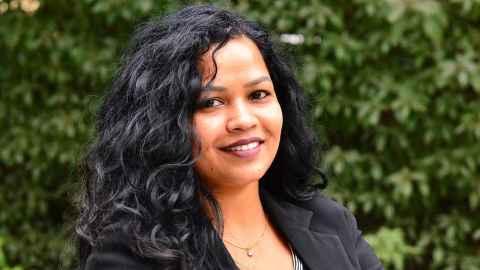 Shweta is one of two international University of Auckland postgraduate students awarded a Hinrich Global Trade Leader Scholarship in October 2021. The Foundation awarded the second scholarship to Xiaohang Zhou (Skyler), and the pair are now part of a select group of nine scholars attending other world-class universities in Singapore, Hong Kong, London, Washington, DC, and France.
The generous NZ$30,000 scholarships are gifts from the Hinrich Foundation, with matched funding from the Li Ka-Shing Foundation. The focus of the Hinrich Scholarships is to develop leaders who will advance sustainable global trade, the driving philosophy of Merle A. Hinrich, chairman and founder of the Hinrich Foundation.
"Central to trade sustainability is the triple bottom line – people, planet and profit. It must be mutually beneficial," Hinrich says. "A positive engagement between buyer and seller, people and nations."
The concept of sustainable trade was not something Skyler or Shweta were familiar with when they began the 18-month Master of International Business degree (MIntBus), designed for talented young professionals. Shweta had graduated in 2015 with a bachelors degree in Electrical Engineering from Noida International University in India and worked in the renewable energy sector for companies across her home country. She started as a technical engineer before beginning the move to more managerial roles.
It was nine years since Skyler graduated with a bachelors degree in International Economics and Trade from Hohai University in China and turned down the offer to do her masters, choosing instead to start her career, focused on exports from Asia to Europe. "I thought international trade required practical experience rather than study," she explains. Now they were both at a point where they wanted more for their career paths. As Skyler says, "I realised that what I needed was the philosophy and theoretical education to go alongside practical experience to improve my management skills. They couldn't be built just from doing."
Covid-19 helped her arrive at that conclusion. In March 2020, she had just arrived in the country at the end of a long business trip when international borders closed abruptly, preventing her return home to Shanghai. Even as she continued to manage business remotely, the break from the frantic pace of life back in China gave her time to think and the realisation she had the perfect opportunity to return to study. Meanwhile, Shweta had just been accepted for the MIntBus degree course. Now the pandemic had shut her out of New Zealand and delayed the start of her study. When she finally began the degree programme, she was among the international students forced to study remotely.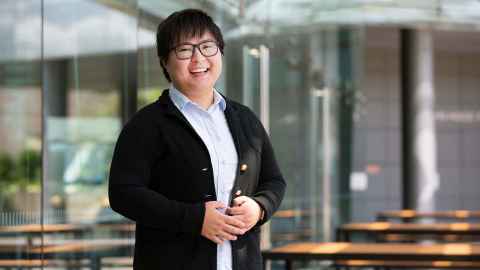 Becoming Hinrich Scholars gave them opportunities above and beyond their graduate studies. The Hinrich Scholarship offers a portal to a wide range of activities and mentorship opportunities in addition to the financial support for their course. Through the Hinrich Foundation, they become part of a growing global network of next-generation trade leaders who they can connect with and learn from through the Hinrich Foundation Alumni Association.
"Everything is interlinked in terms of study, reading and lectures," says Shweta, whose philosophy in life is to "learn by constantly broadening my horizons". Because the scholarship is offered to students in an extremely broad spectrum of trade-related areas, they have the chance to hear from leading experts in fields they often know little or nothing about and to interact with them. Shweta and Skyler have found the scholarship experience exhilarating. It is changing how they imagine their futures.
"Everything is included in the sustainability concept," says Skyler, "and this scholarship is developing my thinking. I intend to take that concept across everything I do. And maybe start my own company."
Shweta says that having concentrated largely on technical roles, she can now think beyond those boundaries. "That was a big change in me. I'm learning so much and that is giving me a different perspective. It's true that the choices we make in global trade today will shape our world for years to come."
Jenny Jefferson, Professional Programme Manager of the Business School's Graduate School of Management says that global perspective is very important when they are with a cohort of people from prestigious universities around the world. "As a scholarship, it's unparalleled in making connections. It's not only what they hope to get from the scholarship, but what they bring to the scholarship community," she says. "I think that's a key part of the scholarship being successful – they want them to be collaborative. And the scholarship's alumni then contribute to following cohorts.
"For the University, it is incredible to be able to offer students such a valuable opportunity. We're so appreciative of our relationship with the Hinrich Foundation and very proud of Skyler and Shweta in their scholarship achievement."
The Hinrich Foundation Global Trade Leader Scholarship is in its fourth year at the University of Auckland. It is open to international students studying full-time for a Master of International Business, who have a strong interest in working in global trade, are motivated to work in Asia, have proven financial need, and agree to become a Hinrich Foundation mentor upon graduating. All Global Trade Leader Scholarship recipients are invited to become lifelong members of the Hinrich Foundation Alumni Association.
A deeply personal scholarship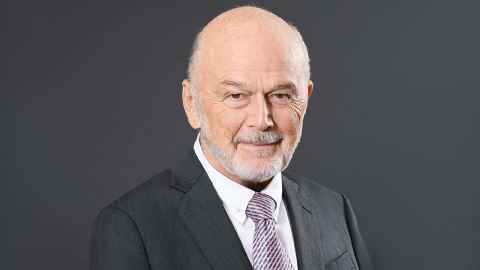 Merle Hinrich's 80th birthday celebration in Singapore last year was, in many regards, a long way from the small Nebraska farming community where he grew up. In the intervening years he built one of the world's largest business-to-business publishing companies, launched the first online B2B platform for connecting global buyers and sellers at the birth of the internet, and breathed new life into one of the oldest forms of cross-border business promotion – trade shows.
In addition, he has consistently supported education by building libraries and information centres, and through the Hinrich Global Trade Leader Scholarship programme, established 20 years ago. For him the scholarship is deeply personal, and the reason he makes a point of meeting every new group of scholars. As a young man Merle did well at college but, when encouraged to go on to university, knew his family couldn't afford it. It was a scholarship that enabled him to earn a graduate degree in International Trade at the Thunderbird School of Global Management. Established post-World War II, the school's core philosophy was that countries that trade together are less likely to go to war with each other.
"Global trade is the single most important driver of development," he says, having witnessed it first-hand over five decades working across Asia. "It has a positive impact on economic growth, living standards and, ultimately, contributes to alleviating poverty."
Merle sums up his commitment to the Scholarship programme, and its 300-plus beneficiaries, quite simply – "Without the generosity of strangers, I wouldn't be where I am today."
At an age when many people are well into retirement, Merle continues to work to ensure the long-term sustainability of the Hinrich Foundation, the Scholarship programme, and the growing network of alumni who carry the philosophy of sustainable trade across global markets.
Media contact
Helen Borne | Communications Manager
Alumni Relations and Development
Email: h.borne@auckland.ac.nz