Auckland Trimble Technology Lab creating next-generation workforce
Creating a next-generation workforce that's equipped and empowered to transform the engineering, architecture, design, arts and business sectors is the fundamental aim of a new gift agreement between the University of Auckland and US-based Trimble Inc.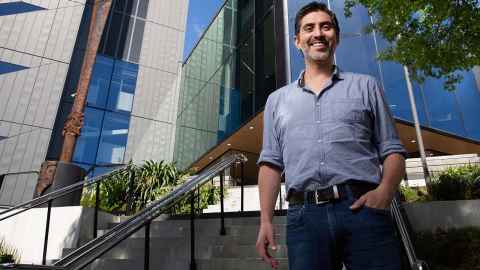 As the largest single gift in kind ever received by the University, the agreement will see the establishment of New Zealand's first Trimble Technology Lab (TTL) which is opening for teaching in the first semester of 2022. "It's going to be transformative from the perspective of using smart and digital technologies in engineering," says Associate Professor Vicente Gonzalez who will become the inaugural 'Faculty Champion' for a lab which will occupy four interconnected spaces within the Engineering School on Symonds Street and have a combined capacity of 225 students.
Sporting Trimble's distinctive blue livery, and with a customised fitout that reflects the key programmes on offer, the Auckland facility joins a rapidly growing community of 28 TTLs in 16 countries which includes the likes of Washington State University and Australia's Swinburne University of Technology.
"We design the labs with a consistent look and feel," says Trimble Inc. Director for Education & Outreach Allyson McDuffie. "These are a global family of tech labs, and that extends into wanting that feeling of community between the faculty and students within each of the universities."
As a world leader in digital technologies for engineering, construction, agriculture, architecture, planning, digital design, geospatial surveying and mapping, Trimble will provide the Auckland lab with cutting-edge software and hardware that will create significant new research activities – and transform the way courses are taught and delivered.
Included in the gift are the Trimble XR10 HoloLens 2 hard hat, the Trimble Connect open collaboration tool, the Trimble SX10 which combines surveying, imaging and high-speed 3D scanning in one instrument, together with many software packages which Vicente says will "enable students to do things that you couldn't do in the past with more traditional approaches".
Having the ability to visualise complex physical phenomena in water, like the mock-up of a dam, augmented reality can be run through the tablets or mobiles of students and help to revolutionise the learning experience.
"That provides a lot of flexibility for academics to run experiments and demonstrations without moving a huge cohort of students to a lab where you have limited space, and you can run these experiments and these demonstrations anywhere and anytime," says Vicente.
Trimble's Tekla building information modelling software and its SketchUp 3D design software are also part of the package, and Allyson says the gift is about bridging a gap that exists between industry and academia where universities sometimes don't have the latest and greatest technology.
"This is why I think universities find it so incredibly valuable to work with us because we have such a broad portfolio of solutions that are used heavily in industry – and students graduating from university programs really need to be up on it."
And because the engineering and construction industries are moving to digitalisation and greater use of smart technologies, Vicente says the opportunity to use Trimble technology can only enhance graduate employment prospects. "We need to prepare students to be ready to use digital technologies whatever the brand is. So I think the prospect of improving the employability of students is significant."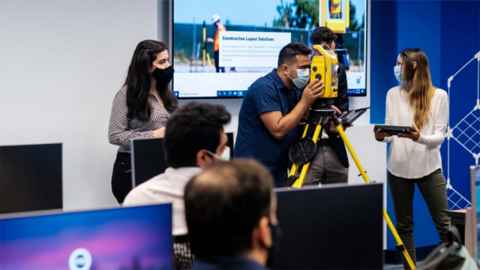 The opportunities created by the TTL will also reach beyond engineering to benefit thousands of students in other disciplines like architecture, computer science and even anthropology where Vicente says the Trimble software could be used to scan ruins and create a 3D model of ancient construction methods.
"They can have access to different hardware and software that will enable them to undertake their research at no cost because the technology will be accessible to the whole university."
Another feature of the gift is the provision of in-person and online training resources from Trimble, and Allyson is looking to expand a Visiting Professionals Program that sponsors industry participants to spend a day on campus talking about their professional lives to help inspire students.
Involving students in 'capstone' projects that require the end-to-end solving of real-world problems under the guidance of industry players is another option. "It's just a really fantastic opportunity that we can develop here in terms of that engagement with industry under the umbrella of smarter and digital technologies," says Vicente.
The gift agreement with Trimble is for an initial five years with the option of a five-year extension, which will also allow time for a deeper engagement in terms of knowledge exchanges, internships and partnerships with other TTLs worldwide.
To that end, Allyson is in the process of planning the inaugural Trimble Technology Lab conference at Scotland's Edinburgh Napier University in mid 2022 which she says will create the perfect networking opportunity. "I know that Vincente in his area of civil construction is going to be very interested in talking to some of our folks at the University of São Paulo in Brazil or Virginia Tech here in the US."
Founded in 1978, Trimble Inc. employs more than 11,500 people in 40 countries including New Zealand where it has offices in Auckland and Christchurch. With a market value of around US$20 billion, Vicente says that attracting sponsorship from such a high-profile Nasdaq-listed company demonstrates Auckland's capability to engage with industry.
"We're getting this massive donation because they believe in what we do, so this is going to really showcase the capabilities of the University of Auckland and how we engage with industry. And I think from that sole perspective this is super powerful."
And as Auckland's TTL Faculty Champion, Vicente aims to develop a "coherent vision" across the entire campus. "I'm still a humble academic," he says, but "this represents a milestone in my academic career because it is going to benefit the whole University."
Media contact
Helen Borne | Communications Manager
Alumni Relations and Development
Email: h.borne@auckland.ac.nz