Women's Mentoring Programme empowers young professionals
Hannah Talbot, a final-year Bachelor of Laws student, is one of 135 young females to benefit from a Women's Mentoring Programme introduced to the Law School two years ago.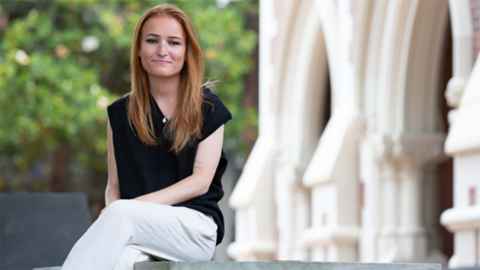 She says having a mentor has helped to demystify the elusive veil between law school and law firms.
"I've gained valuable insight into what life really looks like as a lawyer and what personal qualities can make a great lawyer – two things you don't learn at law school," she says.
The University of Auckland Law School became the first in New Zealand to offer a Women's Mentoring Programme when it was introduced in 2019.
It is designed to help the next generation of female legal professionals make a confident and informed transition to the workforce.
Mentors are successful women with five or more years' experience. While they all have law degrees, they are not all practising as lawyers.
Demonstrating to the students the wide range of roles and industries that people with law degrees work in beyond law firms is a key objective of the programme.
Hannah meets regularly with her mentor, Fiona McMillan, a partner and employment lawyer at Lane Neave, to discuss everything from what a day in her life looks like, to how her firm operates and potential career paths. During lockdowns they keep in touch by email.
The programme is modelled on a similar initiative introduced to the Business School a decade ago by the University's Chancellor Cecilia Tarrant (BA/LLB '84), when she joined the faculty as an executive-in-residence.
Cecilia is well known for helping female students succeed professionally and has been instrumental in establishing both schemes, donating both her time and financial support to the initiatives.
"It's a tremendous programme and I'm thrilled to see law students benefitting from mentoring opportunities alongside Business School students," Cecilia says.
"So many mentors who have signed up to the programme have said to me, 'Gosh! I wish I had had this opportunity when I was at university.'"
Both schemes aim to help address a persistent lack of women at senior levels in the business and legal professions.
Law School undergraduates are overwhelmingly female (64 percent) yet women make up less than 31 percent of partners or directors in New Zealand law firms.
"The programme ensures that when women leave this University they have some of those skills that can take years to acquire without mentorship," Cecilia explains.
"From a curriculum point of view, it is equipping students for the future of work and giving them additional skills to deal with the challenges they might face in the workplace."
Cecilia is the University's first female Chancellor. She has had a successful and high profile international career as a lawyer and investment banker, and was previously a managing director of Morgan Stanley in London.
During her career she didn't feel hindered by her gender until she reached executive-level roles, where the imbalance of females became more pronounced.
"It was probably more of a shock when I hit the glass ceiling – I hit it so hard I reverberated right off," Cecilia says.
She advocates mentoring as an important tool to grow confidence and establish professional networks, for both men and women, and says it is beneficial for students to seek out both male and female mentors.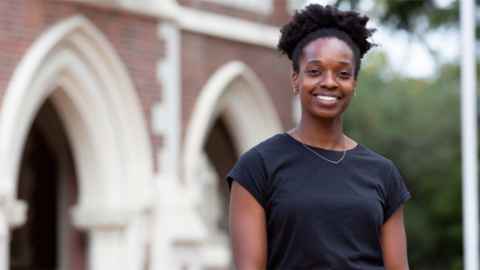 Aspiring criminal lawyer Jayne Iwunze was thrilled to be accepted on to the programme and matched with her "down-to-earth" mentor Anna Devathasan, a prosecutor with Kayes Fletcher Walker.
"Doing things in isolation is nowhere near as fruitful as it would be if it was done with the help, input, encouragement and advice of others," Jayne says.
"We literally discuss anything, from work and study to my extracurricular activities. We talk about practising criminal law alongside some of the challenges that come with it, as well as the benefits of exploring both sides of the field – defence and prosecution," Jayne says.
As well as one-on-one meetings between the mentee and mentor, a number of events and workshops are held for students throughout the year.
"I also got a lot out of the networking workshops combined with the business school mentees, as this allowed for a safe space and opportunity to put into practice what we had learned and just give it a shot."
Jayne volunteers at the Citizens Advice Bureau and at the Auckland Community Law Centre, teaches online classes in her native tongue Igbo, and ranks in the top five female triple jumpers in New Zealand, while Hannah volunteers with Equal Justice Project, a student-led charity that uses law students' knowledge and experience to promote access to the law.
While both students maintain demanding schedules, Hannah shared one of her valuable learnings from Fiona, regarding managing your mental health in a high-stress role.
"She said you need to have something that you zealously guard. For her, that is sleep, and it's a non-negotiable. For me I love reading and journaling, and I don't let anything get in the way of it. It's a small tip, but it's made me a better person and in turn a better law student, and, hopefully, a great lawyer."
Women's mentoring at Business School surpasses ten-year milestone
Successful businesswomen have been coaching female students at the University's Business School since 2011.
He Ira Wāhine, The Women's Mentoring Programme, was established by the then executive-in-residence Cecilia Tarrant, following a suggestion from a group of female students looking for mentoring opportunities.
Each year the programme matches up to 80 highly motivated and engaged female students with a diverse range of women working in business.
The mentors and mentees meet once a month if possible, along with more frequent email or phone communication.
Topics are suggested by programme coordinators to help drive conversation between mentor and mentee, such as making a great first impression, managing conflict, and being resilient.
Regular events bring participants together for networking and to hear from guest speakers, who have included former prime minister Rt Hon Dame Jenny Shipley, alumna Anne Quinn CBE, and Spark New Zealand CEO Jolie Hodson.
Nearly 800 mentees have been through the programme, along with nearly 500 mentors from over 150 different organisations. 
Donor support helps to ensure the continuation of this worthwhile programme, supporting women business students now and into the future.
Media contact
Helen Borne | Communications Manager
Alumni Relations and Development
Email: h.borne@auckland.ac.nz