The healing and inclusive power of dance
For Iatua Felagai Taito, masters student in the Dance Studies Programme at the University of Auckland, dance is a way to explore his many intersecting identities, to express himself as a Christian, as an Aotearoa New Zealand-born Samoan and as a queer man.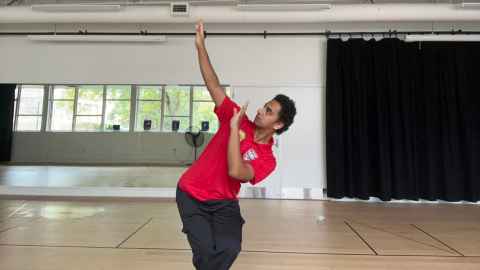 He hadn't planned to study dance when he first left school, Waitakere College. He first enrolled for a bachelors degree at the former Pacific Institute of Performing Arts (PIPA) where he imagined he would major in drama or theatre and/or Pacific Studies, but where dance was a required part of the degree.
He had reservations. "I had danced in Polyfest and enjoyed that, but I didn't think that much of it. I was affirming and reassuring to my Samoan identity, but it didn't spark particular interest in pursuing dance."
As he discovered as a student in contemporary and cultural dance classes at PIPA, dance wasn't all about the aesthetic, or the visually appealing spectacle "but the internal feeling you get from it".
"I had a lot of grief carried in my body and I didn't know that dance could be so healing." The dance solo he performed at the end of his first year was choreographed and performed as a conversation with his mother, who died when he was 11.
It was called Stairway to Heaven, after the Korean TV series that aired in 2004. "Mum and I loved watching Asian dramas, especially this Korean TV series. And the soundtrack was amazing, and I used that soundtrack in my dance solo as a way to pay homage to my mum, as this series is very sentimental to me and to her.
"I wanted to have a conversation with my mum, through dance. What I was telling her is 'I'm okay, I'm safe, I'm following my dreams'. I think she knew I was queer and needed more protection than her other children, so I wanted to let her know 'I'm okay, and you made me feel safe'."
 
I wanted to have a conversation with my mum, through dance. What I was telling her is 'I'm okay, I'm safe, I'm following my dreams'. 
PIPA went into liquidation at the end of his first year in 2017, and Iatua, having found his feet both literally and metaphorically, finished his BA in Drama and Pacific Studies at the University of Auckland.
But the healing power of dance encouraged him to pursue postgraduate studies in the Dance Studies Programme at the University.
He is now studying for his masters degree there and earlier this year took up a tutoring position, teaching Pacific dance in the Centre for Pacific Studies.
Through the movement and fusion of Western and traditional Samoan dance he is exploring ways to express his intersecting identities, the Indigenous, the Christian, the masculine, feminine and queer sides of himself, sides of himself that he was often disliked when he was younger.
"I knew I was different," he says. "I was like, 'Why am I this way? Why am I just more flamboyant? Why am I more feminine? Why can't I be just a normal average male?'"
For this masters, which involves both an academic as well as performance component, he is researching the historical meaning of tauatāne, a word that as he has discovered was once used to describe a 'Samoan standing dance of an unknown nature'.
"It was a term used for a male dance in pre-colonial times but after Christianity arrived in the Pacific the word changed and was used to describe someone who is homosexual."
"I'm researching the meaning of the word through a dance lens because it was a dance before it became a term for a form of sexual orientation, and I'm embarking on reclaiming that word. I want to revitalise and re-contemporise it."
We need new terms, he says, to capture the nuanced varieties of people, including in Samoan culture. "We need more equality in regard to terms for gender orientation in the Pacific. People like to homogenise with terms like faʻafafine, which is usually used for more visibly transgender woman.
"I don't identify as faʻafafine. I'd rather use 'queer' as a Western term for me, but if I was using a Samoan indigenous term, I'd rather use 'tauatāne'. It's about equality. If we keep using one umbrella term, faʻafafine, for anyone who's queer in Samoa, that's not fair."
For his performance output, he will be choreographing and performing a dance solo, through which he will explore his intersecting identities, the term tauatāne and what that term means to him. "And showing that to my family, just to open the conversation, in an open way."