Feeling the fear and doing it anyway
Meteri Araitia was going through a tough bout of imposter syndrome, wondering whether she 'belonged' in her degree and if she was good enough to finish.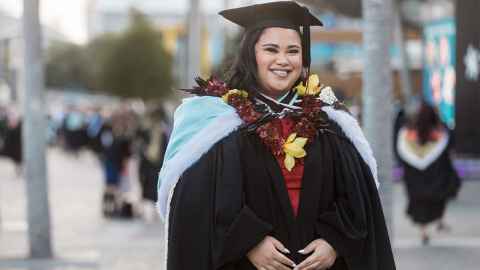 It was during this time that she attended a talk by the formidable Samoan, lawyer Tiana Epati. Meteri recalls that what Tiana said gave her the strength to finish her studies.
"I was in this space, you know when you don't feel smart enough or good enough and then I heard Tiana speak at this event. She said whenever we feel something is scary or something makes us scared, that we should feel that fear and do it anyway. It changed the way I saw myself and I just said to myself, I am going to finish this."
This week Meteri, of Cook Island and Tahitian heritage, graduates with a Bachelor of Arts and Bachelor of Law (BA/LLB) conjoint. An Aorere College alumni, Meteri is a proud South Aucklander, residing in 'the 275', Māngere.
This week, while full of reason to celebrate, is also bittersweet for her, with Graduation day marking two years since her mother passed away suddenly while working overseas. Meteri, however, is determined to continue the celebrations her mother had planned with and for her extended ānau.
"My mother and I had plans for my graduation and I just want to celebrate properly. She was so excited for me and knew I would do it. So this is for her and the village that got me to where I am now."
The journey from being a child living in Rarotonga to a law degree at the University of Auckland grew from a seed planted young by her grandfather. Meteri describes him lovingly. "My grandfather was a 'bush expert' back in the Islands, you know the one who people come to for advice and help even though they do not have degrees."
He was the person people contacted on all sorts of justice and law issues in Rarotonga. Being his 'shadow', Meteri spent most of her childhood watching these interactions and falling in love with the idea of doing the same mahi and becoming a "university-qualified bush expert".
The Law School has not always been inviting for a young Pacific woman finding her feet in academia. But through her challenges Meteri found support in her academic peers, as well as family and friends. She was naturally drawn to inspirational Pacific women such as Tiana Epati, who recently left her position as the president of the New Zealand Law Society, because, as the saying goes, 'you can't be what you can't see'.
Meteri plans to practise in Aotearoa initially to build up her skills and confidence, in family law and youth law. She is at the end of a Professional Legal Studies course which is designed to give entry-level practical skills to becoming a practising lawyer. Her ultimate dream is to return to Rarotonga and practise at home for her people.
While Meteri is not the first in her anau to attend university, she is grateful to have witnessed her ānau experiencing access and success in tertiary education and says it's a privilege she does not take for granted.
She echoes the words of Tiana and hopes that all Māori and Pacific students at the University feeling imposter syndrome remind themselves to 'feel the fear and do it anyway'.