Graduate brothers share plans to help whānau and whenua
Brothers Haukapuanui and Sonny Vercoe graduated together this week, each with a Bachelor of Engineering (Honours) from the University of Auckland.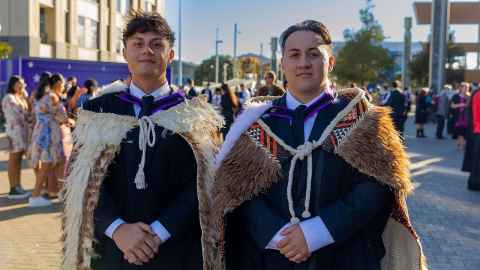 Both are returning to the faculty as PhD candidates and they credit their full immersion te reo school, Te Kura Kaupapa Māori o Te Koutu in Rotorua, for providing solid foundations for their academic achievements.
"Our school played a huge part in shaping me into who I am today, my way of thinking and how I conduct myself," says 24-year-old Haukapuanui.
His comment is echoed by Sonny, who is 22: "Attending both kura and school ensured that my foundations are well-rounded for contributing effectively in both Indigenous and Western worlds."
The brothers, who are from Rotorua, each have a talent for maths which was developed at school and influenced their choice when it came to deciding on a career path.
"I had always been quite smooth with numbers through my years at kura and although I wasn't sure what career to choose, I believed it would be a shame to let my skill go to waste," says Sonny.
"In my penultimate year of wharekura I made the decision to enter engineering which gave me two years to knuckle down and gain admission."
Sonny was attracted to Auckland for the "dynamic, fast-paced and motivating environment" he felt it provided plus the BE (Hons) accreditation to the Washington Accord which makes it a recognisable qualification in many countries.
"This made it the best option for my studies because of the international opportunities it offers," he says.
Haukapuanui made his decision to go into engineering midway through Year 12. He had his mind set on the University of Auckland and his choice was confirmed when he took part in Whāia Te Pae Tawhiti, a programme that gives Māori students from outside Auckland an insight into life at the university.
"On this trip I met Tāmoko Ormsby who was in his second year of engineering and came from a Kura Kaupapa Māori background. I was very inspired and motivated to see a kura kid make it into Engineering School – Tāmoko is only one of a handful of engineering students I've met to this day who have come from a Kura Kaupapa Māori background, and he is now an engineer."
Haukapuanui found out what he needed to get onto the programme – and only had a year and a half left at school to achieve it.
"I had to get a personal tutor to teach me the material. Some weeks I needed two or three sessions a week which was a lot of money for my whānau."
But it paid off, and in just 18 months Haukapuanui completed three levels of NCEA physics and calculus and started on the programme in 2016. After his first year, took up a joint-venture civil engineering cadetship with Rotorua Lakes Council and an iwi affiliation, Ngāti Whakaue.
He worked full-time for two years and returned to university in 2019 by which time Sonny had completed his first year so they started their second year at the same time.
Although the brothers have studied in different areas they have valued sharing the experience. "It has certainly helped to have someone to bounce ideas off and work together in assignments or labs," says Haukapuanui.
For his PhD research Haukapuanui will look into natural hazards and the vulnerability of marae three water infrastructure.
"I want to use my engineering qualification to benefit our people back home and ensure the future of our whenua and taonga. With three waters reform imminent, water supply and waste water needs of marae will be critical where they are not connected to municipal services, and currently there is a void of culturally appropriate alternatives," he says.
"This research will be an opportunity to explore options that prioritise social, cultural and environmental outcomes over economic outcomes."
Strong cultural and social themes will also feature in Sonny's PhD research which is around seismic assessment and design of Māori building structures.
"My plan is to specialise further so I can give back to communities and make a difference," says Sonny.
The brothers also share a commitment to encouraging other young Māori into higher education and careers paths such as engineering and Sonny quotes a Māori proverb for inspiration: "Iti Rearea, Teitei Kahikatea Ka Taea."
* The cloaks worn by Haukapuanui and Sonny are family heirlooms weaved by their great-great-great grandmother, Mere Ngāhuia Mamaeroa Te Ihu Wai Vercoe. Mere was the older sister of Major Henry Te Reiwhati Vercoe OBE DSO DCM, who was born in the 19th century, and she was was married to Morehu Te Kirikau. The cloaks are made of brown and albino kiwi feathers. The pīngao muka (prepared flax fibres) were gathered from the flax bushes that grew in the sand dunes on the coast between Maketū and Ōtamarākau. The tāniko (border for cloaks etc. made by finger weaving) patterns represent their whakapapa (genealogy) and the linkages between their tribes.