Steel industry career swop for osteoarthritis research
Emma Te Tumanako Brown gave up a promising engineering career in heavy industry for a doctoral research project to increase understanding of osteoarthritis.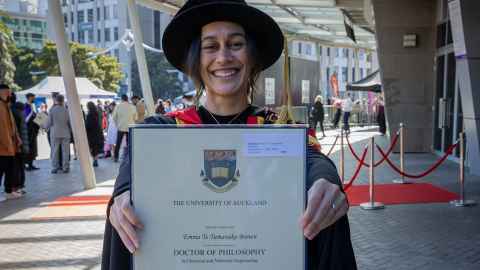 Her four-year commitment to the project culminated this week when she was awarded her PhD in Chemical and Materials Engineering from the University of Auckland.
"It has been a long journey and it is so rewarding to have a definitive end and an occasion that I can celebrate with family and friends, says Emma.
"I can definitely see growth and change in myself, and I look forward to applying the skills I developed throughout the research journey to my future endeavours."
Emma's first graduation was in 2014 when she received a Bachelor of Engineering (Hons) in Chemical and Materials Engineering, also from the University of Auckland. She joined NZ Steel as a graduate engineer and was working as a process engineer in a permanent role when she was attracted back to university to join the cartilage research programme.
"It was a really exciting decision to make," says 29-years-old Emma. "I would be working with biomaterials and I had really enjoyed working in this area for my honours research. I'd only had brief exposure, but I knew it was a very different environment to steel making!"
The biomaterials research that attracted Emma back to the university was about understanding how the collagen network within articular cartilage (the smooth white tissue that covers the end of bones to help joints move easily) changes with time. 
This involved looking at collagen fibres from humans and cows in the nano scale (really close up) and seeing how changes observed at this level were reflected in observable change to the tissue at the macro scale (visible to the naked eye).
"It was about understanding more about how diseases like osteoarthritis progress, and how we might replace these natural materials with high-quality substitute materials in the event of replacement surgery," says Emma.
Giving up an engineering career in which she was progressing did have some challenges, especially when she could see her work peers continuing in their development while she was committed to four years of research.
"At times it was really distracting, but it was important for me to remember the opportunities I was being given. I was able to work as a professional teaching fellow and work alongside some fantastic people.
"I was also able to network within the biomaterials research community, travelling to conferences and present my own work to others in the field. So, while there was some sense of comparison with my industry peers at times, it became a matter of reminding myself that we're on different waka."
Emma is starting a new role as a research analyst and hopes to use her experience of academia and industry to encourage other young Māori and Pacific women to consider a career in engineering.