Doors open for international students
The University of Auckland welcomes the Prime Minister's announcement that borders will open to international students from 31 July 2022.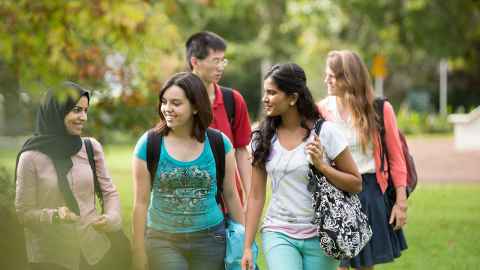 This means the University's approximately 3,500 international students currently studying offshore will be able to apply for a student visa from this date. Once granted they will be eligible to enter Aotearoa New Zealand for the remainder of Semester 2 and beyond.
Director of the International Office, Ainslie Moore, said that students who obtained the visa would be able to able to begin studying on campus and in-person mid-way through the semester.
"This means we will have to move these international students from studying online, to learning in-person - a challenge we are more than happy to take on.
"International students add diversity and richness to our campuses as well as playing a significant role in research and in the workforce outside of the University. They make a real contribution to our campus community and to our city and we are very happy to see them coming back," she said.
For most international students eligible for a Post-Study Work Visa, the duration of that work visa will now mirror the time they study in New Zealand, up to a maximum of three years. However Master's and PHD students, will continue to receive three years' post-study work rights, as long as they have spent 30 weeks in New Zealand undertaking full-time study.