Elam student wins Adam Portraiture Award
Congratulations to Jessica Gurnsey, who is studying for a conjoint degree with Elam School of Fine Arts and the School of Business, and has won the $20,000 Adam Portraiture Award, the youngest to ever win the award.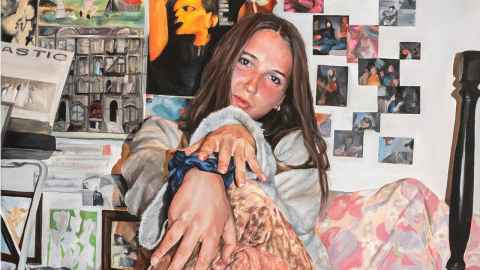 Jessica, 18, won the contest out of 351 entries for her self-portrait, Lady Day, an acrylic on canvas based on a photo taken of her by her friend Wilhelmina Heeringa, sitting in the latter's bedroom.
Jessica painted the self-portrait during the 2021 lockdown after she came across the photo. It reminded her of pre-lockdown freedoms, of being with friends and listening to music. It is titled Lady Day after the Lou Reed song in one of the many albums featured on the wall of Wilhemina's bedroom, captured in the award-winning portrait.

The photo appealed to her for the way it captured her 17-year-old self she says. "It's chaotic and charismatic. I'm wearing my favourite thrifted pants. It's kind of bittersweet ... I was a 17-year-old wanting to do 17-year-old things, like what I was painting."
Jessica hadn't painted self-portraits since at primary school, but likes painting, particularly people. Her painting, Can I Say Something…? of an animated discussion among people around the dining table won the National Youth Art Award in 2021. Her former art teacher at Mt Albert Grammar, Sarah-Jane Gauntlett, contacted her via Instagram and encouraged her to enter the Adam Portraiture Award.


Jessica is currently studying for a conjoint Bacehlor of Fine Arts and Commerce. "When I left high school I was deciding between fine arts and business because they were my strengths at school, but with the Elam course length changing to a three year degree, I thought I'd do both. Why not! I guess so much of the way we live revolves around business so it would be important for me to understand more about that as well as the art world."
The judges of this year's award were Linda Tyler, convenor of Museums and Cultural Heritage at the University of Auckland, and artist Karl Maughan, who selected 45 works for this year's finalists exhibition.
"We were impressed how detailed and revealing this image is of the sitter who reaches out to the viewer as she strikes a pose for the camera in her friend's bedroom," they said in a statement about Jessica's self-portrait.
"She has introduced a detailed view of the bedroom where you can make out photographs and album covers for Lou Reed, Oasis, Talking Heads as well as colourful bedding and cherry red Doc Martens. This is an assured painting which is both compelling and rewards close study."
Find out more about the exhibiton featuring the work of Jessica and other finalists in this years Adam Portraiture Awards, at the New Zealand Portrait Gallery