Brain box: doctoral student Delshad Kalantary's goal to help with memory loss
Delshad Kalantary has adopted a Kiwi DIY attitude and built a light-therapy box she hopes one day could help with memory loss.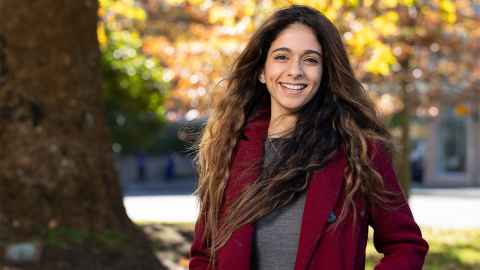 Painstakingly building a state-of-the-art scientific machine was far from Delshad Kalantary's vision of a career in neuroscience when she was younger.

However, her dream of helping humanity almost certainly sprang from a background of hardship. Delshad grew up in Mumbai as a child of parents who had left Iran to start a new life, with little by way of money or education.

Delshad's doctoral project has involved building a platform that beams light onto the brain to potentially reverse memory loss, the main symptom of Alzheimer's disease.

"I wanted to do a PhD in something meaningful," she says. "Finding a cure for something would add meaning to my life. I wake up every day and I look forward to going to the University."

More than 55 million people worldwide suffer from dementia, an umbrella term for conditions including Alzheimer's, and 70,000 Kiwis have the incurable degenerative condition. Drugs are being trialled to slow the progression of the disease, but no one has been able to find a cure.

"This is an opportunity for me to give back to the country," Delshad says.

Delshad arrived in Auckland in 2018 following an undergraduate degree in the United States where she first heard about optogenetics and fibre photometry techniques. When she submitted her research proposal for her PhD in Biomedical Sciences, under the Department of Medical Imaging at the Centre for Brain Research (CBR), her supervisor, Dr Andrea Kwakowsky, said no one had ever built a machine like the one she was suggesting.

"The main problem with fibre photometry is you can only analyse it through coding," says Delshad. "That's why people, specifically neuroscientists, are scared to use it, because they don't have a background in engineering. I've always loved to code. So, I told my supervisor 'that won't be a problem'."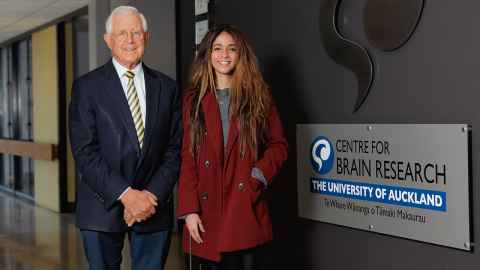 Ultimately, doing this could potentially reverse memory impairments. It's a cutting-edge technique that could become a therapeutic approach to treat the disease.
Delshad speaks slowly when explaining the complex process, as well as producing a helpful 'dummy' diagram.

"The word 'opto' basically means light and 'genetics' means genes. So, in optogenetics we transport a specific gene into a specific brain cell. In this case, the gene is a piece of DNA that instructs the brain cells to produce light-sensitive proteins. Using the light, I can manipulate and reverse the activity of specific brain cells – those involved in Alzheimer's.

"Ultimately, doing this could potentially reverse memory impairments. It's a cutting-edge technique that could become a therapeutic approach to treat the disease."

Delshad built the optogenetic and fibre photometry machine from scratch and it was funded as part of her research by the Freemason's Foundation, longstanding philanthropists for the University. The machine has a patch cord, which is a single strand of optical fibre, that can be attached to the hippocampus of a mouse model of Alzheimer's disease, into the region of the brain primarily affected in humans.

"The patch cord has LED lights and when we switch on the machine, it sends light into the region where the gene is present.

"The gene basically turns the cells on and off. The light energy is converted to electrical activity, which is the language of the brain."

It is still quite confusing for the average person, but, "basically what this machine could ultimately do is allow us to 'hack' into brain cells and eavesdrop on brain activity".

The fibre photometry analyses the electrical activity of the brain in code, which is where Delshad's passion for maths and coding comes into play.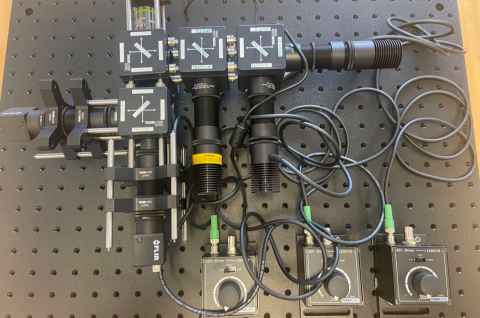 Over the past four years, Delshad has had the twin challenges of conducting challenging research and enduring Covid-19 lockdowns and isolation. There have been times when she considered giving up and returning to Mumbai.

"But this research is my dream and I kept holding on to that dream. The biggest challenge is definitely emotional support because when you do a PhD, you don't get those constant dopamine hits. You have to come home and there's no one to talk to. It is really, really hard."

The next stage of her research is to develop an experimental plan.
"The machine is good to go, so the experiments will involve mouse models of Alzheimer's disease, followed by fibre photometry recording and optogenetic manipulation to reverse the memory loss."

Delshad hopes to have completed her PhD in 2023. She says the CBR has been a supportive environment and director Distinguished Professor Sir Richard Faull has been a mentor and father figure.

Sir Richard says Delshad has all of the attributes to become a world-leading researcher.
"She has a scientific mind, she's a genius at maths and physics, she wants to do her very best and she has the commitment to never give up."

Delshad's hope is she will continue to develop the potential for her platform as a postdoctoral researcher, as well as provide a base for future generations of researchers.

As Sir Richard puts it: "Delshad has a dream of helping people and she's going to do her very best to make that dream come true."
By Jodi Yeats.
This story first appeared in the June 2022 issue of UniNews.