The Malosi Project encourages Pacific youth to study law
An initiative led by Auckland Law School students is aiming to inspire Pacific youth to learn more about the law and to encourage them to pursue tertiary education when they leave high school.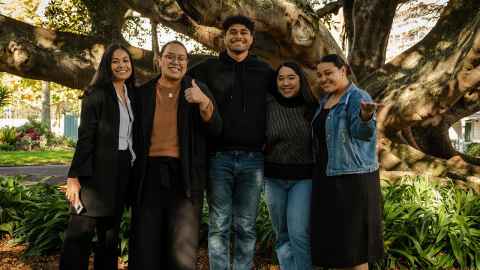 The Malosi Project, established in 2016, is run by Pacific Law student volunteers. The organisation's name is inspired by its founding patron, Judge Ida Malosi, New Zealand's first female Pacific judge. "Malosi" also means "strong" or "strength" in Samoan and serves as an acronym for Movement for Action and Law to Overcome Social Injustice.
Now, thanks to generous support from litigation firm Meredith Connell, the project has just been given a funding boost which will cover its costs for three more years.
David Tupou, the organisation's co-president, says a large part of the project is focused on outreach programmes at low-decile high schools that have a large population of Pacific students. By showing these students that it's not only possible for Pacific youth to attend university but to thrive there, David hopes the Malosi Project volunteers can act as role models and encourage more students to study law at a tertiary level.
"It's really about making it accessible and showing that they can study law if they want to," he says. "They just need that confidence."
David, who is currently in his final year of studying law, says he has been involved with the Malosi Project since 2019 and relishes being able to act as a positive role model for the participating high school students.
"The main reason I joined was because I thought it was a good opportunity to give back," he says. "I'm from a decile-one school and I know how important these opportunities are."
As well as conducting one-off visits to schools, where members participate in career events, tertiary fairs, Q&A sessions and legal activity workshops, the Malosi Project also holds mooting competitions between schools, giving students the chance to develop some basic legal skills in a fun way.
The project also interacts with the wider community through placements at the Community Legal Services South Trust in Ōtara (formerly the Ōtara Community Law Centre) where law students can give back to disadvantaged communities through pro-bono volunteering while also gaining work experience by assisting practising lawyers with research and administrative tasks.
By encouraging a greater knowledge of the law, David hopes the Malosi Project will help promote discourse on legal and policy issues affecting Pacific people and educate more young people about their legal rights and entitlements.
David says the high school students who have been involved in the programme so far have "absolutely loved it", with many taking the opportunity not only to ask about legal matters, but also about what daily life at university is like for Pacific students.
The Malosi Project currently has six law students on its executive team, and around 50 members in total. And David says although the volunteers are so passionate about what they do they would fund the whole operation themselves if it were possible, they were overjoyed recently to receive the support from Meredith Connell.
"We were ecstatic, we were absolutely so excited."
The focus now, he says, is to continue to find ways to connect with young Pacific people across Auckland and to extend the mooting competition so more schools can take part.
"I want to see growth every year," he says.
Media contact
Helen Borne | Communications Manager
Alumni Relations and Development
Email: h.borne@auckland.ac.nz