Kitiona Pasene's message to youth: 'You can do this'
Kitiona Pasene is part of a new approach to engaging with young people to boost their knowledge of university's benefits.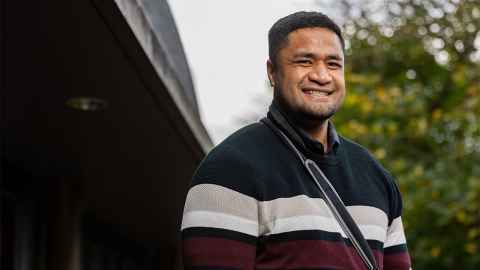 If ever you want to get out of changing nappies, Kitiona Pasene has a tip.

All it takes is a fractured scapula, 13 screws in your shoulder, and an arm in a sling for six weeks.

Kitiona, known as Kiti, is the Te Terenga Kaitiaki, the Schools and Community Engagement manager for the University, and also dad to a three-year-old son and baby daughter. His daughter was just six weeks old when Kiti wrecked his shoulder, playing rugby league for the Point Chevalier Pirates.

Let's just say league is not really an option for him now. "I got the hard word from my wife Laina straight away. I was like 'Okay, do I go home? Do I stay in the hospital?'" he laughs.

"The timing wasn't great … but there are only so many times I can say, 'I can't help with that nappy, I'm on ACC'."

But Kiti isn't a shirker and was back in the office a few days after a major operation to repair his injury. "The surgeon told me it was a five-and-a-half-hour surgery."

It would be six weeks in the sling, and full recovery will take six to eight months.

Kiti leads a group of staff in the new Schools and Community Engagement Team (SCET) that has evolved from the former Schools Partnership Office (SPO). Within his team of six is a Moana Tupu (Pacific) adviser and a Māori adviser, and one team member is based in Wellington.

What differs from the SPO model is the approach. "Previously it was quite transactional. We mainly went into schools to speak to Year 13 students. Now we go in at Year 9 which is awesome because we want them to choose the correct subjects to get into the courses they may want to do."

The SCET, led by associate director Liletina Vaka, has three arms to it. Along with Kiti's team, there's another team of six, Schools and Community Recruitment managed by Cheryl Martin, which is faculty-embedded and mostly works with Year 13 students. The other arm is Schools and Community Outreach, managed by Kate Ricketts, who liaises with community groups and industries to explore how the University can work better with groups on the outside.

"There are youth groups interested in what the University can offer and we've tapped into a few already. We explain what opportunities are on offer, including support and scholarships, to get them to think about trying uni."

Kiti knows the situation, being first in his family to graduate. The former PE teacher at Onehunga High did his undergraduate degree at Otago, then his graduate diploma in secondary teaching and masters at Auckland. His thesis followed the 'I, Too, Am Auckland' campaign launched in 2015, modelled on a similar campaign at Harvard. Kiti's research explored changes that had been made, or not, in response to racial discrimination experienced by Māori and Pacific students.
We go in at Year 9 which is awesome because we want them to choose the correct subjects to get into the courses they may want to do at university.
After leaving teaching, Kiti became the Pacific Adviser for the old SPO team. He then spent several years as a schools liaison officer for Otago, before returning to Auckland to his current role.

Kiti says he owes part of his career path to one influential teacher – Mr Dempster at Mt Albert Grammar, who is still there.
"I was part of a group of boys, just mucking round playing ball. I played rugby then, in the first XV, and sport was all we wanted to do. But Mr Dempster said 'guys, if you can apply yourself like this to sport, you can apply yourself in the classroom. You can be just as dedicated to that'. He was always lifting us up, saying 'you can do this'."

When Kiti was teaching at Onehunga High, he tried to echo Mr Dempster's message to have an impact on some students who were 'a bit rough around the edges'.

Kiti seems to have the dream attributes to be a teacher, so why did he leave?
"I was lucky to get the Onehunga High role, but budget restraints at the time meant each year was a one-year contract. I felt it would be better to have something long-term."

While he's a loss to the teaching profession, Kiti now has the best of both worlds – he can still connect with teachers and students, building relationships.
"We go into schools to promote the University but also to support kids to reach their aspirations. We give them a preview of university life – including its support services and extracurricular activities. Sometimes questions can be as simple as, 'is university nine to three?'"

Kiti has shown a sample university timetable before and been asked 'what are these gaps'?
"I say, 'They're not gaps – they're independent study periods. You're an adult learner now. This is how the university works'.

"We also talk to parents and quite often those are difficult conversations because a parent wants their child to do a particular degree. We go back to the student and ask, 'yes, but what do you want?'"

The SCE team travels a lot, to careers events all over the country and school careers expos all over Auckland. The team is also working collaboratively with the office of the PVC Māori and the office of the PVC Pacific.
"We need to ensure we're not going off and doing our own thing – we're working together with the respective offices. It's about collaboration and providing a seamless experience for our schools and community groups.

"The University is a big place but we're getting coordinated to all be on the same page."

Story by Denise Montgomery
This story first appeared in the UniNews July 2022 edition.