Translation celebration: researchers win big
Business School academics win the overall award in the 2022 New Zealand Business Research Translation Competition.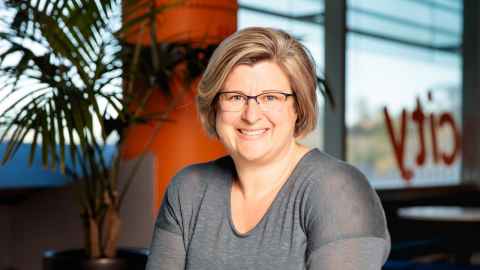 Painstakingly referenced and researched, academic papers are often impenetrable and unappealing to the average reader, however, an annual competition, won by a University of Auckland team this week, is making research more accessible.

The New Zealand Business Research Translation Competition, held this year at AUT, challenges academics from business schools across the country to translate a recently published research paper, typically ranging from 4000 to 8000 words, into a 700-word article that is easily understood by a non-academic audience – no mean feat.

The 2022 overall winning entry, which explores how Aoteroa New Zealand's agricultural cooperatives are positively impacting climate change by getting farmers, managers and scientists in the same room, was awarded $1500 and high praise on Tuesday evening.

University of Auckland senior lecturer in management and international business, Lisa Callagher, says she and her team were elated and surprised to take out the overall award.

Their translated paper is part of an ongoing project that has spanned seven years and investigates producer cooperatives, how they organise for innovation, and the potential this can have for important issues like sustainable development.

"We are a team of four, two of whom are now in the UK, and we worked hard to relate what we are doing in a language that doesn't rely on academic concepts," says Callagher.

"I have been practicing translating what I do and explaining our findings to research participants. Checking that what the results are telling us make sense to our participants is an important step in the process."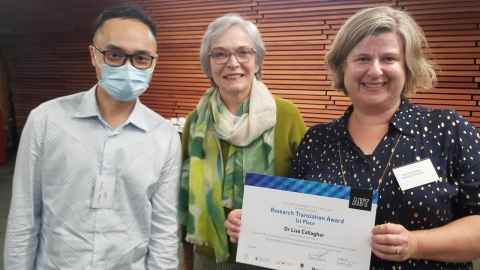 In the winning article, Callagher, with fellow University of Auckland academic Stefan Korber, and Frank Siedlok of Heriot-Watt University as well as Ziad Elsahn of Northumbria University, succinctly details the value of agricultural cooperatives in facilitating and orchestrating collaborative innovation towards addressing one of the country's most pressing challenges: land and water use.

Although innovative actions to counter and limit climate change are often associated with investor-owned multinational corporations such as Tesla, Callagher says the often-overlooked cooperative model is beneficial for attaining and sharing knowledge and innovative solutions to develop new farming practices that can reduce environmental harm.

"The value they bring is the coordinating function they perform between members, who in the most part are businesses in their own right. If you want a group of organisations to change or shift in the same direction - cooperatives can perform the coordinating function to help make that happen.

"It can take a while to get everyone on the same page, but they are internally organised in a way to disseminate information quickly, to support members, and enable members to help each other to develop methods and approaches to respond to issues pro-actively."

The research translation competition was open to research-active academic staff currently employed in any of the eight business schools in New Zealand.

The papers submitted were assessed blind by three judges who marked them on the likely interest and value of the findings to the business community, as well as whether the research addressed a significant issue.

They also gave marks on how easily a non-specialist could understand the research, how easily it could be applied to add value to a business or policymaker community and the quality of the writing.

Three categories were available to enter into: Overall research, Māori and Pacific research and Early Career research.

Anil Narayan of AUT took out first place in the Māori and Pacific research category with a piece titled Enhancing Pasifika Students Success in Accounting Education.

Meanwhile, Joya Kemper and Sam White of the University of Canterbury and Lincoln University won the Early Career research category with their article Food Fad or Future of Food? Flexitarianism and Young Adults' Fight for Climate Autonomy.