PM Scholarships support learning abroad
Waipapa Taumata Rau, University of Auckland excels in the latest round of the Prime Minister's Scholarships to support learning abroad in Asia and Latin America.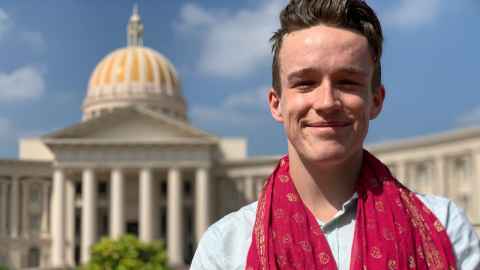 Waipapa Taumata Rau, University of Auckland has been awarded more than a million dollars (approximately one third of the total pool) in the latest round of the Prime Minister's Scholarships for Latin America and Asia. This will support 105 students to take up international learning experiences in Mexico, Brazil, Vietnam, India, Thailand, Taiwan, and South Korea this coming summer, through group programme offerings.
The Scholarships are funded by the New Zealand Government and administered by Education New Zealand Manapou ki te Ao to support learning experiences for New Zealanders in Asia and Latin America. This is the first time they've been offered since 2019 following the lifting of Covid travel restrictions.
The aim of the Prime Minister's Scholarship programme is to strengthen Aotearoa New Zealand's connections with Asian and Latin American neighbours, heighten student understanding of cultures and business practices, and send students as educational ambassadors to showcase the quality of New Zealand education.
Our target is for at least one in four undergraduates to have a learning abroad experience.
Director, International, Ainslie Moore says that the University places real value on students being able to connect internationally.
"We want to our students to benefit from an international education, through an internationalised experience on campus as well as learning abroad experiences with our partners worldwide. Our target is for at least one in four undergraduates to have a learning abroad experience. Covid has provided challenges, but virtual opportunities have helped students remain globally connected, and these scholarships provide a tremendous opportunity to provide more in-person learning abroad experiences. "
"Research confirms the value of learning abroad for developing invaluable skills for young graduates such as adaptability, self-awareness, communication, problem solving and intercultural skills. We know this can lead to positive career and employment outcomes. Being able to offer more short-term opportunities also increases accessibility and inclusion for students of diverse backgrounds including Māori and Pacific ."
The University is also committed to meeting Te Tiriti obligations by ensuring Māori students have an equitable access to these scholarships. Each programme has dedicated spaces for Māori student participation, along with pre-departure support delivered in partnership with the Office of the Pro-Vice Chancellor Māori.
"We know that the experience and learning gained from these international programmes help Māori students understand how their te ao Māori skills and knowledge can be applied globally," Ainslie says.
In one of the nine group projects scheduled for this summer, Waipapa Taumata Rau has partnered with the University of Waikato to give Māori and Pacific students from both institutions the chance to work collaboratively to help address real issues faced by a local indigenous organisation in Brazil.
And another partnership, with Waikato and Victoria, University of Wellington, will see participants 'Reimagine India' on a six-week study tour across the continent, immersed in its innovation, corporate and start-up ecosystem. There are also three internship programmes to India, Thailand, and Vietnam aimed at developing the capabilities needed to operate in today's globally connected world, along with two language study abroad programmes in Korea and Taiwan and two study tours with partner institutions in Mexico.
Zak Devey, a 2019 University of Auckland participant in the Prime Minister's Scholarship programme with IndoGenius, said that the experience was life changing.
"You come away from this experience understanding where New Zealand is located on the world stage, how the future of the economy stands with its face to the East, and why cultural consciousness is essential to our respective careers."