Cook Island Dr Caleb Marsters the newest lecturer in Pacific Studies
Dr Caleb Panapa Edward Marsters is the newest lecturer in Pacific Studies and is a proud Cook Island Māori man. This week he is celebrating epetoma o te reo Māori Kūki Āirani with his family, especially his two-year-old son Joseph-Te Ariki.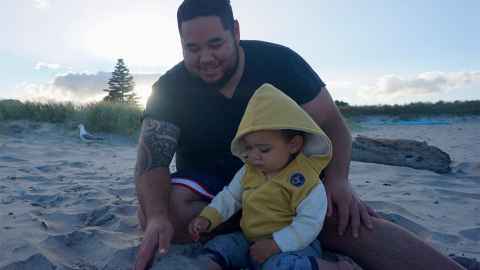 Born and raised in Auckland, Dr Caleb Marsters' whakapapa extends from Palmerston in the Cook Islands on his grandad's side to Rarotonga on his nan's side. The name Marsters is synonymous with the island of Palmerston.
A coral atoll northwest of Rarotonga, Palmerston has a population of around 40-50 people at any one time. Almost everyone who lives there is a descendant of the English sailor William Marsters.
"My grandad grew up on Palmerston and when he was 12 or 13 he jumped on a ship and left," says Caleb. "He was a young man on a small island, and they get to that age where they need more, so he left and our family ended up here in Aotearoa."
Caleb has a young family. His partner Alex is a doctor in Tāmaki and their son Joseph-Te Ariki is two. Caleb was recently appointed as a lecturer in Pacific Studies, a dream he has had for a while. He is not only excited about the role but excited to be a Cook Island male in the role. It can be hard to get into academia and Caleb is ready to be, unapologetically, himself.
My dad is one of ten siblings and only one of them is still fluent today. That is how quickly we have lost our language, half a generation.
"I was so nervous during the whole process from applying to even receiving the news. I think it just reinforces to me that the team in Pacific Studies really believes in me and my skills as a researcher and a lecturer. It's that kind of weird feeling of validation but also backing myself and knowing this is where I am meant to be."
Being from the Cook Islands, Caleb is celebrating Cook Island Language Week and shares his whakaaro on the theme of this year's Epetoma o te reo Māori Kūki Āirani, 'Ātuitui'ia au ki te Oneone o tōku 'Ui Tupuna, which means, 'connect me to the soil of my ancestors'.
"Connect me to the soil of my ancestors, in my view, isn't even a physical thing. For lots of Cook Islanders, our connection to our metaphorical soil is within our language, arts, dancing and singing. Some of us may never touch our soil in the Cook Islands, so for me it is about connection through that which we can touch and have access to, but also remembering how amazing it is to be Cook Island."
We are all entitled to our language no matter how far away we are from our islands.
Caleb explains the tension between church and Indigeneity for his people.
"We are, as a people in the diaspora, quite disconnected from what was our Indigenous culture and I can honestly say the church has played a huge part in that disconnection. Many may see the church as part of our culture but that can be problematic.
"It is an erasure of our Indigeneity in many ways. It is hard to have these conversations sometimes because of the depth of belief in the church, but it is important we discuss it. We just had a celebration that is meant to be for our Indigenous Ariki, but it always ends up being about the church and that is a very real tension for many."
Becoming a father has strengthened his resolve to learn his reo.
"Growing up I was part of the generation who didn't want to learn our language because it just wasn't a thing back then like it is now. But maturing and having a son, I knew I had to give him a Cook Island first name and it is something I am proud of.
"Being proactive and speaking what limited phrases I do know to him helps me keep the reo alive in our family. Sometimes I think why am I even speaking to him in reo when he doesn't really have anyone around him to converse with, but I know in the long run it will help him.
"My dad is one of ten siblings and only one of them is still fluent today. That is how quickly we have lost our language half a generation. So I will keep speaking it to my son because we need to keep it alive."
One thing Caleb loves about his people is the creativity of Cook Island youth.
He says they have a "loud, proud energy" when it comes to being Cook Islanders in Aotearoa and it is infectious. When you're disconnected from your culture they find ways to explore it, which makes him extremely proud, a message he has for all Cook Island youth.
"I hope our young people can learn to accept and come to terms with the diasporic identity. You can still be proud of who you are as a Cook Islander even if you do not have your language. Use this time to learn, every word counts, every moment with your family counts, you are allowed to make mistakes and learn not everyone can be a tohunga all the time.
"We are all entitled to our language no matter how far away we are from our islands. At the end of the day, the Cook Islands are the best part of the Pacific."