Tangatakiikii is celebrating her reo Māori Kūki Āirani
Epetoma o te reo Māori Kūki Āirani (Cook Islands Language Week) runs from Sunday 31 July to Saturday 6 August. The theme, 'Ātuitui'ia au ki te Oneone o tōku 'Ui Tupuna, translates to 'connect me to the soil of my ancestors'.
Tangatakiikii Pauline Teura'atua-Rupeni is the Events and Programmes Coordinator for the Te Tai Tonga campus at Waipapa Taumata Rau, University of Auckland. Her Dad, Anthony Poti Araepu Teura, has whakapapa from Rarotonga through Titikaveka (Ngāti Raina line), Takuvaine and also from Ngāti Tipapa from the Metuariki family, Mauke (part of the Nga-Pu-Toru islands) Ngatiarua district and Tahiti from the island of Raiatea. Her Mum, Tangatakiikii Patricia Teura, has whakapapa from Atiu / Enuamanu (Part of the Nga-Pu-Toru Islands) Ngāti Te Akatauira (Ngamaru), Ngāti Paruarangi (Rongomatane), Ngāti Nurau (Parua) and the villages of Mapumai-Nui-O-Ruavari and Teenui-Kurukava.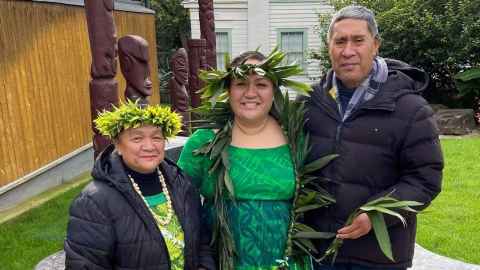 Born and raised in South Auckland, Tangatakiikii is the fourth child in an all girl gang. Alongside her role at Tai Tonga she also works as the Tertiary Foundation Certificate (TFC) Pacific Studies Convenor and is part of the Pro Vice-Chancellor Pacific team. As a Pacific leader, Tangatakiikii is confident in her position as a learner. 
"I am confident in being a learner of our reo, sometimes we can feel akamā, especially when we are attempting our reo in front of others. But it is important to remember we cannot know it all, and we are not supposed to know it all. It is ok to make mistakes, the main thing is that we are trying our best. I feel like it is a never ending train ride and I just need to stay on board". 
Tangatakiikii's Masters research was based on reo Māori Kūki Āirani and what community groups in Tāmaki were doing to retain the language. Sports groups, churches, cultural groups and youth groups were all part of her research. Her findings showed that there was plenty of unconscious language teaching and retention but not much that was intentional or conscious. It brought about questions around accessibility, intentional learning and also leadership. Which in turn led Tangatakiikii to further her own language journey. 
"Part of learning the language has meant that I am now able to do more for our community and share with our young people. There was a point in time where Kūki Āirani youth were disconnected and disengaged with our language and just not willing to learn. But we are in a time now where youth are standing up and are proud to be learners, so my role as a leader is to know that I have knowledge that I am going to pass on to our youth on our endless train journey of learning".

Our language week is the best time for us all to come together and celebrate ourselves
A little under ten percent of the Kūki Āirani population in Aotearoa speak reo Māori Kūki Āirani. While this is a concerning statistic, Tangatakiikii explains that now there are increasing numbers of younger people willing to learn. they are they are seeing larger numbers in language classes and more young people engaging with elders to learn she said, and even within her own home her nine year old niece is learning their reo.
"My niece just last week did a speech in our reo, there were nine of them and she was the only one to do it in the language. It is a privilege and one we do not take lightly but one we are so grateful for in our household. She was so excited to learn and I think that is a reflection of this new generation. It also helps our old people too, they're excited about doing something for and giving the gift of language to our tamariki".
When Tangatakiikii was growing up there wasn't much support for language learners, apart from the Church. For those in their own households it could be really tough to find support. There has been some intergenerational distance in learning and like many migrant populations, when tangata Kūki Āirani arrived in Aotearoa many chose to speak English to their children in order to fit in.
While this was believed to be the best decision at the time the Community now acknowledges the distance in language knowledge between generations and so many are learning in the community through language classes. Tangatakiikii is no different and is a graduate of the MIT Level 3 reo Māori Kūki Āirani language class.
Her message to her community is to remember that you are a representation of your ancestors and you are entitled to your language.
"Our language week is the best time for us all to come together and celebrate ourselves. It is the best time to share our knowledge whether we are family or not and know that we are all worthy of our language always".