Adapting an ancient Chinese construction technique
For her Master of Architecture thesis, Rosemary Li revived an ancient Chinese construction technique to acknowledge and reflect on the impact of the pandemic.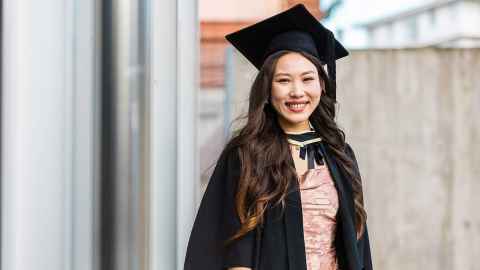 Architects often turn to the past for inspiration and for her Masters of Architecture thesis, with which she graduated in August, Rosemary Li turned to an ancient Chinese construction technique, Dou Gong.
Dou Gong is a building technique that consists of interlocking wooden brackets that was a significant feature of traditional Chinese architecture, first appearing in buildings of around 3,000 years ago.
Rosemary traces her interest in it back to an exchange experience in her fourth year of studies, to Tsinghua University in Beijing, China. "It really opened my eyes to architecture on an international platform. I also travelled around which exposed me to a lot of fascinating traditional Chinese architecture."
The beauty of the ancient artform of Dou Gong lies within the craftsmanship that demands high precision cuts for each piece to perfectly join, she says. "I was fascinated by the fine detailing of the magnificent structures and how long-lasting a self-supporting building can be."
"I felt an immense sense of respect to the people who built it at a time before technology and when everything was so tediously labour-intensive. Reviving Dou Gong was a meaningful way to bring back this long-lost building technique, the valuable skills and knowledge, and make it applicable to modern designs to appreciate the past."
For her thesis Rosemary posed the question: "How can we employ the advancement of modern technology to revive a long-lost ancient building technique of the traditional Chinese joinery system, and create a monumental piece in commemoration of the Covid-19 global pandemic?"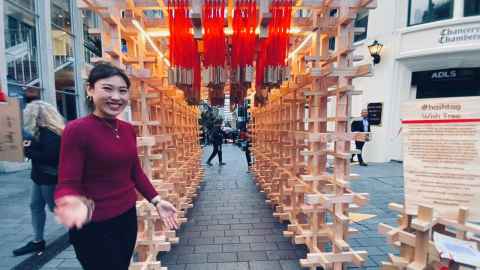 Her response was the design and construction of the 'Hashtag Wish Tree' for the annual Auckland Art Week in October 2020, which was later exhibited at the Kaipara Coast Sculpture Gardens Exhibition.
The installation consisted of 3,084 interlocking wooden pieces, and was four metres long and 2.5 metres high, which was high enough for people to walk through the self-supporting structure held together without a single nail or drop of glue.
In 2020 people were adapting to the 'new norm' of the pandemic. The structure represented strength in numbers, how smaller interlocking parts could be bought together to create something stronger and bigger than their individual parts, she says.
It was also a way to use architectural language to reference the data and curves associated with the pandemic as a symbolic experience. Every hour a box of red ribbons was put out, and visitors were invited to write their experiences of the pandemic and lockdowns on the tags of the ribbons, which were then tied to the installation, collectively creating a New Zealand Covid curve.
As she explains, in traditional Chinese temples people would tie red ribbons to structures and trees, as a ritual form of prayer for good health and fortune. With this interactive element she hoped to revive a sense of public community in a creative manner.
The red ribbons and the traditional Chinese joinery were symbolic of China, as one of the first countries severely affected by the pandemic. "It was an important moment to stand up and be proud of my own Chinese ethnicity. It was a way to suggest that all the xenophobia caused by this catastrophe will eventually fade away, that design can bring people together – bridging the traditional and the modern, the east and the west, architecture and sculpture." The Hashtag Wish Tree has won both national and international design awards.
Asked what first attracted her to architecture, Rosemary says like most people attracted to architecture she had a dream, to design her own home. "My dad, a builder/carpenter played a major role in helping me find this passion of mine. As a little girl I would follow him around renovating homes, surrounded with all sorts of architectural tools and help him paint, hammer, and whatnot - it was so much fun! It was a lot of hard work, but it came with a great sense of accomplishment."
Ever since, she's been a hands-on sort of person, with a particular interest in design and how spaces are formed and experienced. "That small spark has now turned into something much bigger, and I truly thank him for that."
After completing her thesis, Rosemary was given the chance to work for architectural firm, Warren and Mahoney. "Now that I'm officially graduating, I've started to freelance as an architectural designer, hoping to start my own practice, which is very exciting and will be a new challenge to look forward to."