Graduate goes for gut feeling as one half of sibling duo
Having trained as a classical pianist from the age of five, Danielle Hao-Aickin is now one half of the sibling pop duo Ersha Island.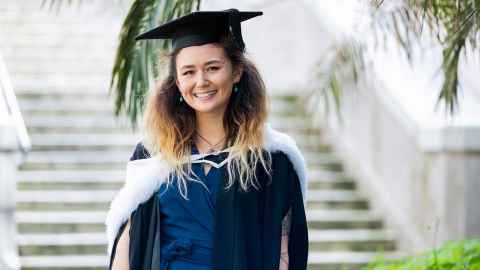 Danielle Hao-Aickin, who graduated with a Bachelor of Music majoring in popular music (song writing), is already establishing a name for herself one half of the Chinese-Pākeha singer-songwriter duo Ersha Island.
The siblings formed the duo in late 2021, releasing their 'double single' Gut Feeling and Good Day on a date and time that played with the number two - on Tuesday, 2 February 2022, with videos coming out at 2:22pm.
Having recently rediscovered their passion for their Chinese heritage their next project is an EP called Back to Our Roots which will feature a blend of modern pop, classical and Chinese music, instruments, and sound. They have recently received funding from Creative New Zealand and Foundation North for the album.
"We will be exploring what it means to be Chinese, what it means to be Kiwi, what it means to be bi-racial and have so many cultures within us – what is our identity and the different things that make us make us who we are. We describe ourselves as third culture kids."
Danielle was born in Adelaide, before the family moved to Ersha Island, in the Guandong Province, China. As this was where her and Tee's musical journey began, where they both went to music kindergarten, they named their duo after the island.
"Also, nobody else is likely to have that name or handle – which is useful if when you're trying to promote your music on social media," says Danielle.
Danielle began to play classical music at the age of five and Tee at the age of three, both learning the piano and violin, with Danielle later focussing on piano and Tee on violin. Both attended the Chinese Conservatory of Music in Beijing, having practised up to six to eight hours each day to prepare for the audition for the school.
Danielle and her family moved to Aotearoa New Zealand in 2014, where she attended Solway College in the Wairarapa. Aged 15 and having played and studied classical music for most of her life, she was then ready to "quit the music".
"I had really lost my passion for it because from a very young age, we were forced to do so many hours of practice."
She also felt she had a lot of catching up to do in subjects other than music.
"I was home-schooled from the age of 10 to 13, then went to a music conservatory, so there was a lot of knowledge that I didn't have, such as maths and history. I wanted to focus on that for a couple of years."
She graduated from the school as Dux. As did Tee, a few years later.
By then Danielle had gravitated back to music. "I had discovered contemporary music and song writing which revived my passion for music."
Having been awarded a University of Auckland Top Achiever's Scholarship, she had considered studying politics, or global studies, or one of the STEM subjects – and most of her schoolmates encouraged her to do so rather than pursue a creative career.
"But then I thought, I have a music foundation, and I've got this this drive and emotional desire to express myself through creativity."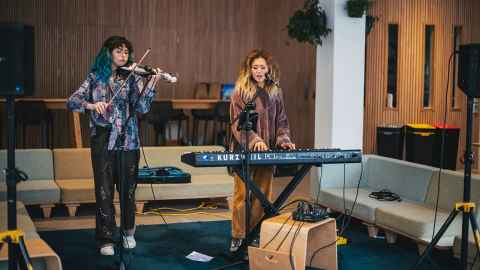 Asked what she most valued about her degree, she says learning how to develop a musical career, along with the writing and making of music.
"It was about business, about marketing, about putting yourself out there, about New Zealand funding opportunities. It was about learning about what it takes to be a musician beyond your musicality. That's what I value most about the degree."
This year Danielle started her new role as Project Lead at Youth Arts New Zealand, an organisation set up to support other young people to follow their creative instincts as a career and as a means of self-expression.
"It's fantastic. I work with three other people around my age who are absolutely amazing entrepreneurs, who started a company that is advocating for young people and making sure their creativity is recognised and compensated and represented ethically."
Before forming Ersha Island, Danielle had planned to make a career as a solo artist, but having recorded with her sister, she realised their shared history – including their shared griefs, frustrations, and joys – presented a rare opportunity.
"This is really weird to say, but Tee is like the Yin to my Yang. We are so aligned with our history but we're actually very different in our personalities and our opinions. Tee is very much someone that loves to dream and look at the horizon, whereas I'm someone that looks down and focuses on my footsteps - metaphorically, obviously.
"We started living together this year in January, and we are still learning so much about each other – and what it means to be sisters and what it means to be friends and co-writers.
"We work really well together, and it's really nice to have a support person alongside your music journey."