Scholarship helps spark students' interest in cleantech
Two students studying computer science and software engineering have been given a helping hand with their studies, thanks to a scholarship created in memory of a University of Auckland Professor of Information Systems and Operations Management.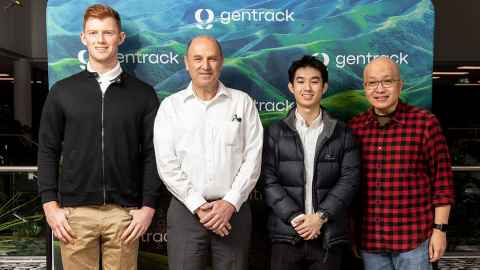 Thomas Holdom and Matthew Wai are the 2022 recipients of the Gentrack Professor Victor Portougal Scholarship. The scholarship was established last year and is open to any student completing a Bachelor of Commerce or Bachelor of Commerce/Bachelor of Engineering (Honours) in Information Systems and/or Software Engineering.
Funded by Gentrack, a New Zealand technology business specialising in innovative cleantech solutions, the scholarship was set up in memory of the late Dr Victor Portougal, a Professor of Information Systems and Operations Management, and aims to
encourage and support students of Information Systems and Software Engineering who have an interest in cleantech and sustainability.
As part of the scholarship, Thomas and Matthew were given the chance to visit the Gentrack Auckland offices earlier this year and meet with the company's chief operating officer Dr Zeev Berkowitz and Dr Anson Li, a professional teaching fellow in the University's Business School.
As well as hearing about Dr Berkowitz's time at University and how he was inspired by his mentor and PhD supervisor Professor Portougal, the students said the visit was also a great opportunity to find out more about the cleantech industry.
Although both second-year students are keeping their options open as to where exactly their studies will lead in the future, Thomas, who is studying commerce and computer science, says he currently has a particular interest in machine learning and artificial intelligence, with a focus on decision-making and data analysis.
Having moved to Auckland from Tauranga to complete his studies, Thomas says that having a bit of financial support through the scholarship makes living in the big city easier.
"Things like textbooks, general uni supplies and my laptop, they're all sort of starting to add up," he says. "The scholarship has allowed me to work a little bit less and focus on my studies a bit more."
His view was echoed by Matthew who says the financial boost has also taken some of the pressure off his student loan.
Matthew, who is studying software engineering and finance, says having the support of Gentrack also plays to his interest in clean technology.
"I do like the cleantech side. I think it's a big part of the future and how the world is going to go – so I want to get more involved with that."
And while the future may hold plenty more opportunities for Matthew and Thomas, both say the priority at the moment is to focus on their studies and make the most of their time at university.
"I think it's most important for me just to finish my degree for now and then see what the world is like in two years' time when I'm out – because in the technology business especially everything's changing so quickly that something I might want to do now might not even exist in two and a half years," says Thomas.
Media contact
Helen Borne | Communications Manager
Alumni Relations and Development
Email: h.borne@auckland.ac.nz