How Tongan science graduate helps homeland after disaster
A Tongan science graduate is helping to investigate the world's biggest recorded explosion.
"I was driving along the shore to a friend's house when I noticed ash clouds," recalls Pupunu Tukuafu, 28. "Then the loud explosion happened. I switched on the car radio and the tsunami warning came a few minutes later."
He ran for higher ground.
The eruption of the underwater Hunga Tonga-Hunga Ha'apai volcano on January 15 sent a plume of ash 58km into the air and unleashed ocean and atmospheric waves felt around the world, killing at least four people in Tonga and drowning two people 11,000 km away in Peru.
Now, Tukuafu, a University of Auckland science graduate, is one of the Tongan scientists investigating the explosion and aiding the island nation's efforts to prepare for future disasters and assess where villages might best be relocated.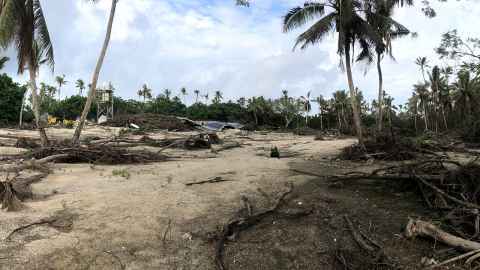 In the immediate aftermath of the eruption, he delivered relief supplies to the Ha'apai chain of volcanic and coral islands and piloted drone surveys to assess the disaster. Mapping the upheaval involved photogrammetry – 3D modelling from photographs – and quickly recording how far tsunami waves had penetrated inland (before erosion and plant regrowth removed evidence of the waves).
Field surveys involved clambering around obstacles such as damaged buildings, fallen trees and piles of tsunami debris.
"It's terrific to see the level of scientific skill now on the ground in Tonga," says Professor Shane Cronin, the University of Auckland volcanologist who led the island kingdom's post-eruption scientific work. "Pupunu was one of our two core experts in geographic information system (GIS) mapping and the chief problem solver for plotting and organising data back in the lab."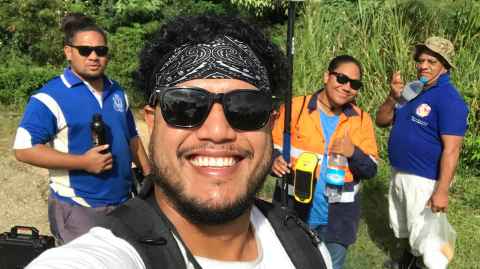 For Tukuafu, the work built on a passion for mapping and 3D modelling that developed at high school (Auckland's Wesley College) and blossomed at the University's School of Environment..
"I'm a proud Tongan, born and raised, from the village of Kolomotu'a and the youngest of three," says Tukuafu. "Dad worked the farms while mum worked for the government to support our family.
"Money was tight, we would sell fresh farm produces -- taro, yam and bananas -- on Saturdays on the roadside for extra cash to sustain us through the dry weeks.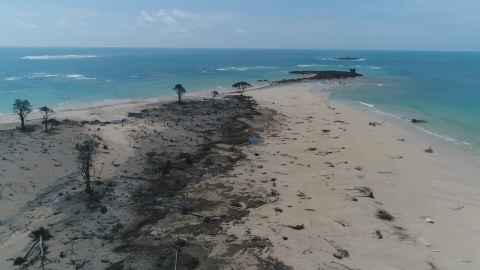 "Education has always been number one priority for my parents. They invested all they had into our schooling. I wasn't the brightest kid in my young school days but I was always willing to learn 'brick by brick' to become better each day.
"I'm blessed now to be part of the family of young geologists working for the Tonga Geological Services unit."
Tukuafu credits a teacher at Wesley College – Warren Togiatama or "Mr T" – with fostering his love for geography, especially as it related to mapping and modelling. Teachers Joe Fagan and Barry O'Connor fuelled his enthusiasm for geography and environmental science at the University.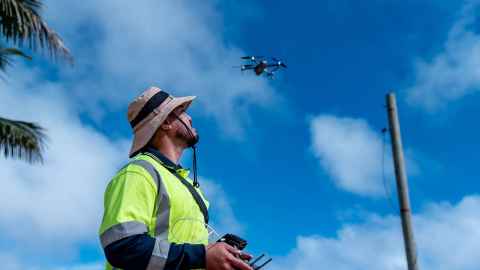 Media contact
Paul Panckhurst | media adviser
M: 022 032 8475
E: paul.panckhurst@auckland.ac.nz