Expert panel gives verdict on mayoral debate
A lively debate hosted by the University and Newsroom put the Auckland mayoral candidates through their paces.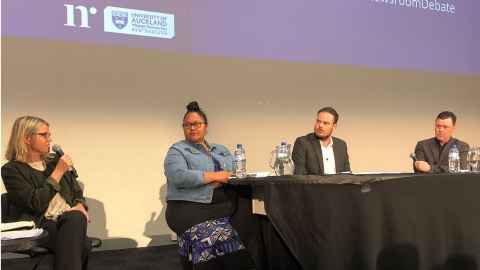 The four top polling candidates for the Auckland mayoral election faced scrutiny at a debate hosted by Waipapa Taumata Rau, University of Auckland, and Newsroom.
An expert panel comprising Jennifer Curtin, Professor of Politics and International Relations and director of the School of Public Policy, AUSA (Auckland University Students Association) president Alofa So'olefai and Newsroom managing editor Jonathan Milne gave their verdict after the candidates had their say in the debate held at a lecture theatre in the Owen G Glenn Building. Click on the video to hear the candidates on reaching underserved communities and climate change along with the expert panel's verdict on the debate.
So'olefai said of the candidates," None of the candidates said anything to appeal to younger voters." With a debate held at a university that seemed a definite miss. She also said that Viv Beck, the only woman candidate had failed to appeal to female voters. "I'd expect as the only woman candidate that she'd have more to say."
Professor Curtin said, "For me the big gap in the debate was housing." She said it was the number one issue for voters and the issue was particularly pressing in Auckland. Yet none of the candidates addressed this.
When asked for their verdict all three panelists gave the debate to Efeso Collins, with the MC broadcaster Lloyd Burr calling it a draw between Collins and Wayne Brown.
The debate ended with a strong plea for people to vote. Voting papers are being sent to all enrolled voters from the 16-21 September. Voting closes on Saturday 8 October 2022.
Update: Viv Beck withdrew as a candidate on 16 Sept.