Talking about the Queen and death, with children
Death is a complex concept for everyone to acknowledge and discuss. Elisabeth Price considers how we should talk about the Queen's death with children.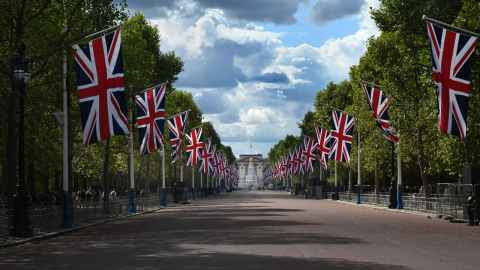 The Queen's death can't have escaped children's notice with blanket media coverage, television presenters dressed in black, and billboards showing photographs of the Queen.
How do we talk about the Queen's death with children? For many decades and across the globe, Her Majesty Queen Elizabeth II has been a constant part of life. She is often mentioned in children's books, such as in David Walliams' Gangsta Granny in which she is a prominent character. The Queen features on our coins and bank notes. She is said to have been the most photographed person in the world.
In the past, adults have wanted to protect the innocence of children by not discussing death. It is inevitable though that as children progress through life they will be faced with the death of a whānau member, friend, or pet; or a friend of theirs will experience the death of someone close to them.
Death is difficult to comprehend for both adults and children. In A Teacher's Handbook of Death, authors Maggie Jackson and Jim Colwell write that, "Getting it wrong is not a problem, as long as you tell the truth, answer real questions and do not leave the child confused". They suggest four simple rules to consider when talking about death with children.
Firstly, they recommend being honest and clear, and not evasive. Children need honest information about what is going on around then. When this is absent, children tend to try to make sense of the situation alone. In her book, With the End in Mind – How to Live and Die Well, British retired palliative care doctor Kathryn Mannix agrees. By openly and honestly talking about death, we make it safe for children to ask questions, voice their anxieties and recognise their sadness. She writes, "Every family will find its own way to deal with the Facts of Life; we need to remember that the Facts of Death are just as important to acknowledge and discuss".
Secondly, choose words carefully. The notice placed outside Buckingham Palace on 8 September 2022 read, 'The Queen died peacefully at Balmoral this afternoon'. Grief specialists strongly discourage the use of euphemisms like 'passed away', 'gone to sleep', 'lost' or 'gone to the stars' as these can confuse children and lead them to think that the dead person could come back. When talking about death with children, they believe that it is important to use the words, 'death', 'dying' and 'dead', and not to resort to substitutes which in some cases are used because of an adult's awkwardness. By avoiding its very mention, death can be conveyed by the well-meaning as so scary that it cannot be named.
 
We need to have courageous conversations about death with children. The death of the Queen, a significant yet remote figure, will prompt questions from children. It is the job of adults to find a response that is true.

 
Thirdly, children need time to make sense of new information, which means leaving space for questions. If questions aren't answered, or if conversations don't take place, this can lead to children making up their own stories about death.
Lastly, adults need to be aware of their own anxieties and worries. Talking about death can be difficult for everyone and can be emotionally exhausting. To quote Kathryn Mannix again, when talking to children, "We want to protect them from sadness, but prepare them for life."
Psychologists agree that a child's understanding of death will vary depending on their age. Research suggests children under the age of five see death as reversible and therefore, do not understand that death is final.
Between four and six, children will start to understand that the body and its parts all have one common goal; to sustain life. Between five and ten, they begin to realise that death is irreversible, and they start to consider others' perspectives, allowing them to feel more compassion towards those who have been bereaved.
At around seven, children are reluctant to think about their own death but understand that death is unavoidable and universal. From the age of ten, the concept becomes more abstract, and children are able to understand the long-term consequences of a loss. Children also reflect on death in relation to matters such as injustice and fate. Apart from general cognitive development, children's understanding of death also seems to reflect their own experiences linked to death and dying.
How people discuss death will be influenced by their culture, as well as  their religious and spiritual beliefs. In Last Words - Approaches to Death in New Zealand's Cultures and Faiths, Māori health advocate, Paratene Ngata (Ngāti Porou, Ngāti Ira) wrote that for Māori death and grieving "centre on notions of unity and balance, whereby a person lives in harmony with the natural, physical and spiritual world".
Ngata said that death, dying and grief are a central part of Māori life; imbued with tapu (sanctity) and kawa (ceremony). The rituals are elaborate, and the reo (language), karakia (invocations) and waiata (chants and songs) are symbolic and poetic, encouraging emotions to be openly expressed.
A study by University of Waikato researchers, 'Māori children and death: Views from parents' concluded that, "Death was not hidden from children, that parents talked with their children in very open and age relevant ways, and considered their children's participation in tangi an important way to grieve and ensure continuity with kinship networks and support".
Death is a complex concept for everyone to acknowledge and discuss. We need to have courageous conversations about death with children. The death of the Queen, a significant yet remote figure, will prompt questions from children. It is the job of adults to find a response that is true.
 
Elisabeth Price is a doctoral candidate in the Faculty of Education and Social Work. 
This article reflects the opinion of the author and not necessarily the views of the University of Auckland.
Media queries
Margo White I Media adviser
M: 021 926 408
E: margo.white@auckland.ac.nz