Students reflect on their te reo Māori journey
To support the revitalisation of te reo Māori, Waipapa Taumata Rau offers a full immersion programme, Huarahi Māori.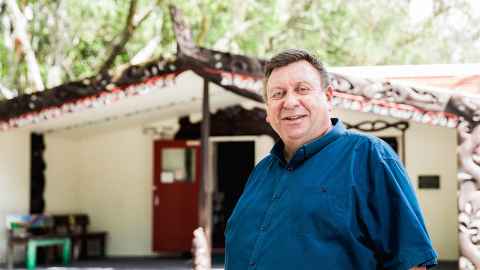 The three-year degree, provided by the Faculty of Education and Social Work, is for people who are already proficient in te reo Māori. It educates people to teach in schools where students learn in te reo Māori most of the time.
Graduates will be qualified to teach in the whole range of primary and intermediate schools including mainstream, and the degree can also lead to careers in education management, curriculum development and working with iwi and community groups.
Principal lecturer Hemi Dale (Te Rarawa, Te Aupouri) says that te reo Māori is the essence of identity.
"Ko te reo Māori te manawapou o te tuakiri.
"Our Te Wiki o te Reo Māori celebrations around the country last week highlighted the importance of te reo Māori and its significance in Aotearoa's identity.
"We are all part of the revitalisation of this taonga, from those who are just beginning their te reo journey, to those who are well under way, and those who are proficient speakers. Kia kaha tātou katoa, kia kaha te reo!"
The pieces below are written by Huarahi Māori tauira (students) sharing their reflections on their Māoritanga.
I grew upon in the Pākehā world but here I am, standing strong to speak, read and teach the Māori language
"Ko te pae tawhiti whāia kia tata, ko te pae tata whakamaua kia tina."
Koinei te wā ka taea e au te hoki mahara ki taku haerenga i runga i te huarahi o te ao Māori.
I tipu ake au i te ao Pākehā engari kei konei au e tū kaha ana ki te kōrero, ki te pānui me te whakaako i te reo Māori. I taku haerenga reo, kua kite au i ngā hua o te whakaaro Māori me ngā kōrero a ōku tūpuna. I taku tamarikitanga i ako au i te reo Pākehā. I muri i te kura tuarua, i whakarumaki au i ahau anō ki te reo Māori me ōna tikanga.
Kua hīkoi au i runga i ngā huarahi e rua. Ko te ao Pākehā tētahi, ko te ao Māori tētahi. Kei te kite au i ngā hua o ia huarahi. E pātata ana ēnei ao e rua ki tōku ngākau, koirā te take e pīrangi ana au ki te whakaako ki tētahi kura auraki. Ko taku hiahia kia poipoia te kākano Māori kei roto i ngā tamariki o ērā kura nā te mea kāore te nuinga o rātou e mōhio ana ki tō rātou taha Māori. Kei te kite au i ahau anō i roto i ia tauira - kāore au i hono ki te tōku taha Māori kia tae mai ahau ki te whare wānanga.
He wāhi pai whakaharahara te ao Māori, he wāhi mō ngā tāngata katoa. Mehemea, kei te pīrangi koe ki te ako, ki te wheako i ngā hua o te ao Māori, kotahi noa iho taku kōrero ki a koe, "Karawhiua!" Ko tētahi o ōku wawata kia hōrapa te reo Māori ki ngā tōpito katoa o te ao. Hei whakatepe i aku kōrero ka waiho au i tēnei whakataukī hei whakaaro mā koutou.
"Ko te manu e kai ana i te miro, nōna te ngahere. Ko te manu e kai ana i te mātauranga, nōna te ao."
"Seek distant horizons and cherish those you obtain."
This is the time where I am able to look back at my journey upon the road that is the Māori world.
I grew up in the Pākehā world but here I am, standing strong to speak, read and teach the Māori language. In my language journey, I have seen the fruits of the Māori way of thinking and the words of my ancestors. In my childhood, I learnt in the Pākehā world. After high school, I immersed myself in the Māori language and everything to do with it.
I have walked on two roads. The Pākehā world is one, and the Māori world is the other. I am able to see the fruits of both pathways. These worlds are close to my heart, that's the reason that I want to teach in a mainstream school. I want to plant the Māori seed inside all of those children because, most of them don't know their Māori side. I am able to see myself in all of them - I didn't connect to my Māori side until I reached University.
The Māori world is a wonderful place, it is a place for everyone. If, you want to learn and experience the Māori world, go right ahead! One of my dreams is that the Māori language is spread throughout the world. I'll leave you with this whakataukī as a thought to ponder.
"The bird that feasts on the miro berry, theirs is the forest. The bird that consumes knowledge, theirs is the world."
Nā Ke'arn Peters (Ngā Rauru Kītahi).
Te reo Māori is connection, to whakapapa, to ancestors, to identity.
"Ko te reo Māori tōku āhuru mōwai."
He taukaea te reo Māori. He hononga ki te whakapapa, he hononga ki ngā tūpuna, he hononga ki te tuakiri
Ahakoa taku kore i tupu ake ki te reo Māori i kitea tonutia, ā, ka rangona tana karanga e mātou ko tōku whānau. I te wā i whā tau te pakeke o taku mātāmua ka tīmata taku haerenga ki te kura pō - kua 10 tau ia ināianei, ā, e haere tonu ana ahau ki te kura pō. He taimaha rawa atu tēnei mānuka, heoi ko te hanga a te hua ka pahawa. He haerenga mutunga kore, heoi nā te rite tonu o te haere ka whakaaturia atu ngā hua matahīapo o te kōrero Māori ki āku tamariki, arā, ko te tū māia me te kī atu (ki te reo Māori) He Māori ahau. Kia mōhio kehokeho rātou ki ngā painga nui o tērā. Nōku te whiwhi kia tutungia te ahi kā, kia whai hoa tata, me ngā angitu kāore au e whiwhi i te korenga o te reo Māori.
Nō te kitenga atu i āku tamariki e kōrero ana ki reo Māori, ka poho kererū ahau me te mōhio hoki ka korowaitia āku mokopuna e te taonga kāmehameha nei , nā konā makere tonu ngā here.
E rua ngā mata o tēnei taiaha. Ka hinga au i te whai i te reo Māori. Ka hinga au i tōna tōrire me ōna akoranga huna. Ka tawari aku waewae i te roa o te haerenga, manohi anō pērā i ngā hua o te puehu, kāore he painga atu.
Tē taea te karo ēnei wero, te rite tonu o te haere ki ngā akomanga, te mahi aromatawai, te kawe haepapa whānau, haepapa mahi hoki me te aha atu anō. Ahakoa te taimaha o ēnei kawenga ko te taimahatanga nui rawa atu ko te pōhewa i tētahi ao kore reo, kore hononga, kore tuakiri hoki.
Ko tēwhea uauatanga ka whiriwhiria e koe?
"Te reo Māori is connection."
Te reo Māori is connection. It is connection to whakapapa, connection to ancestors, connection to identity. Te reo Māori Is my sanctuary.
Although I never grew up with te reo I always noticed it and I knew I wanted that for my own family. So, when my eldest was four I started going to night classes - he is now 10 and I'm still going. It's challenging to say the least but super rewarding. It is a never-ending journey, but it allows me to show my children the inherent benefit to being Māori and speaking it. I have been rewarded with reconnection to my whakapapa, rewarded with lifelong friends, and opportunities I wouldn't have had without te reo Māori.
Seeing my children converse with each other fills my chest with pride and knowing that my mokopuna will get to share this precious gift makes it all worth it. It's a love hate relationship I have with te reo Māori. I love it for its elegance and all lessons hidden within. I hate how hard it is to learn, but like all good things in life it's worth the struggle.
It's hard, the constant struggle of going to classes and doing assignments while juggling every other area of life, work, kids, you name it. But for me it is much harder to imagine a life without te reo Māori, without those connections, and without my identity.
Which hard will you choose?
Nā Piripi Cotter (Ngāti Raukawa ki te Tonga)
Media queries

Te Rina Triponel | Kaitohutohu Pāpāho Māori
M: 021 029 90650
E: te.rina.triponel@auckland.ac.nz