Troublesome women and Italian horror: NZ Opera does Macbeth
The School of Music's Dr Morag Atchison has stepped back on stage on the Zealand Opera's season of Verdi's Macbeth, as Lady in Waiting, one of two females roles in the opera.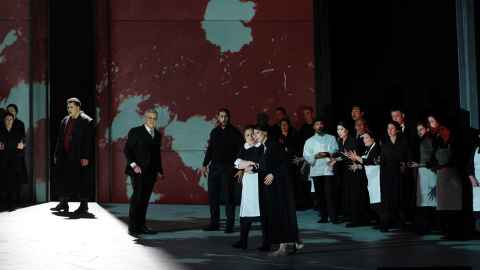 After more than two years of lockdowns and regular concert cancellations, soprano and School of Music senior lecturer, Dr Morag Atchison, is singing again on stage, and without a mask.
As Lady-in-Waiting, Dr Atchison is one of two female roles in the opera which opened on 21 September, one in which she supports Lady Macbeth both as a character and a singer.
"She has a double purpose, as an emotional support for Lady Macbeth but also to double her in the ensemble singing," says Dr Atchison." The role of Lady Macbeth is massive, so having another voice doubling some of the really high Bs and Cs is critical."
Atchison is familiar with the role, having played her in the 2010 NZ Opera production of Macbeth. "Although in that version she was a lady-in-waiting very much in the traditional sense, as part of the court, so I got to go to the ball and wear a sparkly dress. In this version she's very much the housekeeper. There's a definition class difference between the two. Let's say I don't get to wear a sparkly dress.
"It's wonderful to be able to revisit a role, work within a different dynamic, and find a new personality to play with," she adds. "With Shakespeare's extraordinary story shaped by the genius of Verdi's score, there is always another layer to peel back, another emotion to find, and another way to explore the fragility of the human condition."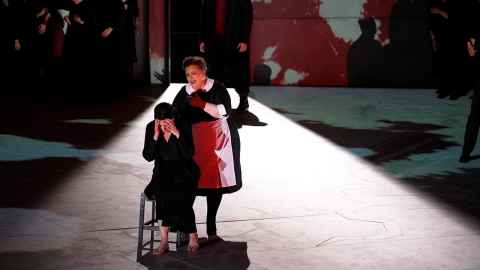 Dr Atchison is one of New Zealand's leading sopranos. In Macbeth she will be performing alongside close to 20 former and current vocal students who sing in the chorus, including the chorus of witches that perform, in Verdi's version of the Scottish Play, the role of the three witches.
"It helps students to see their teachers do their craft," says Atchison. "We're pedagogues and practitioners, and it also keeps us on our toes because we must make sure we're doing what we teach them to do! On the other hand, I need to remind myself that we're all performers, and that in this context, I'm not their teacher."
The last significant opera role Dr Atchison performed was Berta in The Barber of Seville in pre-pandemic times, 2019, for which she received critical acclaim. Since then, a lot of events she was scheduled to perform in were cancelled, and this is the first time for over two years she'll be performing on stage, singing unmasked and with an unmasked cast. "It is slightly nerve-wracking going out on stage and on tour without any traffic lights," she says.
She's looking forward to it though. "Singing in a mask is really hard. But for those of us who get to be singers, we know how fortunate we are, because it's such an exciting job. We've learnt how to sing in masks because we have had to."
She and the cast are taking all precautions, wearing masks during rehearsal, taking daily RAT tests and limiting social life. "I've had Covid twice, and I'm up to date with my boosters, so I think if I got it for a third time, I'd be terribly unlucky. But we're all being careful. If even one of us come down with Covid it puts everything and everyone else in jeopardy. That's the way it is for every performing group now."
Macbeth is directed by leading international opera, performance, and media director and designer Netia Jones, and promises to be a visual and cinematic feast that also speaks to issues of gender and power afflicting our world.
Says Jones: "As a director I am interested in wider social ideas and in the role of women, and the witches in this production represent women who are troublesome and disobedient. They are doppelgangers of Lady Macbeth, who has a central role, which is unusual in opera."
New Zealand Opera's general director Thomas de Mallet Burgess said the overall look and tone will be that of an Italian horror movie, "abstract and cinematic and rife with symbolism, darkness and light, and exploring themes of derangement and paranoia and how they relate to our current time".
The production features New Zealand-born baritone Phillip Rhodes (Ngāti Awa and Ngāti Kahungunu) and South African soprano Amanda Echalaz in their international debuts as Macbeth and Lady Macbeth.
Dr Atchison would recommend everyone tries to get to the opera. "Opera is often shuffled into the world of the elite, but opera was designed for the masses. It tells human stories, in a way that can touch people's soul."
Find out more about New Zealand Opera's season of Macbeth.