Making art from sound, Tongan style
Sione Faletau's practice has shifted and evolved over the years of his studies, and across myriad media, but it has always been grounded in Tongan culture and concepts.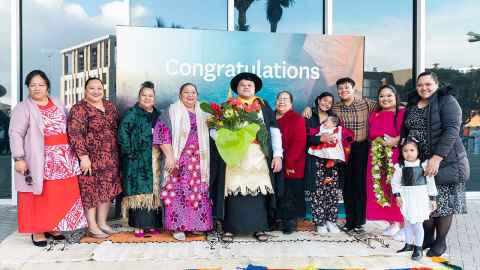 "Yeah, it's quite big to get to this level," agrees Sione Manu Finau Faletau, of being awarded a Doctor of Fine Arts this week. That he would choose to study fine arts at university 'has been a bit of a learning for my family', but as he progressed through his studies 'they got on board'.
Sione has links to the villages of Taunga, Vava'u and Lakepa, Tongatapu, Tonga, and lives in Ōtara, South Auckland. He got interested in art in his final year at high school, although then he thought of it as subject in which he could 'kick back' and draw and paint with his friends.
That was when, having planned to study architecture, music or possibly English literature, he discovered that art was a subject he could actually study at a university level, and he enrolled in Elam in 2010.
He graduated with his Bachelor of Fine Arts in 2013, which was followed by a Masters degree in 2015. Having been awarded a Prime Minister's Youth Award and offered a scholarship by Elam, he returned to study for his Doctor of Fine Arts in 2016.
His practice has changed, shifted and evolved over the years, across a myriad media, but has always been grounded in Tongan culture and concepts. He initially started out as a painter; having gone to a school with limited resources he thought of art to be largely about drawing and painting. "Elam opened up a new world of art. It was like a different language as well."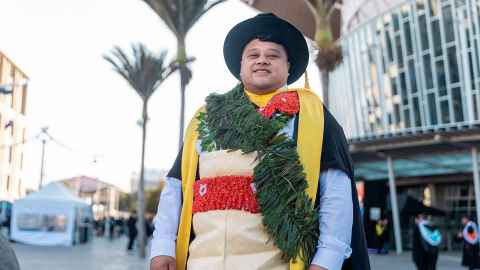 Through his studies and practice he used performance, video, drawing, sculpture, and installation. He finished his masters degree as a performance artist, drawing on Tongan identity as well as lived experiences as a Tongan performer and drummer. "Performance has always been part of my personal life, and came naturally to me," he says. "So I began to include it in my art practice."
In his final year of his Doctoral studies, he began to move toward a digital-audio practice. "This was during Covid and lockdown, which affected by practice. I couldn't go to a studio." The University provided him with computer, which he used initially to create sketches or draw ideas for performance works quickly. "At first it was about speed and efficiency, but digital became my thing," he says.
"I was still doing our performance works, but I started focusing on different aspects of performance. Sound has always been implemented into my performance practice, but I became more focused on the sound."
Or more specifically the Tongan concept of ongo, meaning sound, hearing, and feeling, in which he began to use the audio waves spectrum as a material to create kupesi (patterns), visual representations of sound and of talanoa (the sharing of ideas).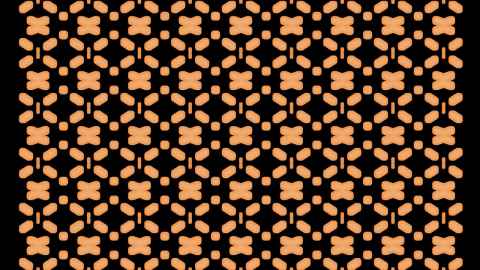 He has used the sound of the wind, the sound of musical instruments, the sound of his daughter eating coco pops.
In 2021 he was one of two successful Elam student proposals selected to develop a work for public viewing on The Lightship, the 110-metre-long light wall the Ports of Auckland built on their new car handling building; his work featured a massive sisi (garland) of lights, composed from the sounds of the site, the Ports of Auckland and the Waitematā.
Sione has been making a number of audio-visual statements cross Tāmaki Makaurau as an exhibiting artist. In 2022 he was also invited to create an exhibit for Britomart's Atrium on Takutai which, called Ongo mei he tapa fa (sounds from the four corners), featured patterns created from the sounds recorded in the atrium.
A video entitled Ongo Ongo shown at the Gus Fisher Gallery at the same time featured patterns based on the sounds of people visiting the gallery, the sounds of the world outside such as the sounds of nearby construction, patterns that feature in the video.
The work also drew on the decorative elements within the television broadcasting building, which referenced the building's history as a building for purpose-built television and broadcasting studios.
For his Doctor of Fine Arts Sione explored through his art, concepts, expressions and expectations of Tongan masculinity. "It was a personal exploration for me, growing up in a masculine-dominated environment, but also a subject that hadn't been explored or researched before."
He has been a long time studying, and a Doctorate meant "a lot of open water, that was sometimes daunting. But at that level you really are on your own. Doing my Doctorate was a new level of discovery for me, especially with my subject."
Sione is currently working as gallery coordinator at the Māngere Arts Centre and an artist, but his aim is to return to Elam School of Fine Arts, as a lecturer. "I did a bit of teaching while I was studying and really enjoyed it. Education is key. I want to be able to give back, to our arts community, to our university community."