Former lawyer rekindles love of law by teaching it
After practising as a lawyer, it took a return to study to rekindle Nikki Chamberlain's love of the law.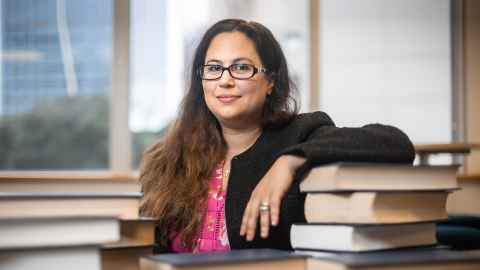 In a theatre brimming with third-year law of torts students, senior lecturer Nikki Chamberlain's lecture is in full swing.

Lots of questions are posed but no pressure applied to answer, resulting in conversation and constructive debate using a teaching style she describes as the "soft Socratic" method.

"I don't think putting people on the spot is helpful in a learning environment," says Nikki, who was honoured for her teaching with a Faculty of Law students' choice teaching award in 2021.

"If a person is anxious about being called on to speak in public, they're not going to be present in the room and learning and engaging with the topic; they're going to be stressed about being singled out."

US-born Nikki tries to foster a lecture environment that allows for informed debate, something the former commercial litigator and current Associate Dean of Equity says has suffered in the public domain in recent years.

"In the context of the United States, and being an American, I believe we have lost the ability to constructively debate issues in a measured way.

"There has to be a way for us to hear viewpoints that don't align with our own without the debate escalating. In these situations, we need to be open to listening to and learning from each other, even if we don't necessarily agree with a person's perspective."

In her teaching and day-to-day interactions, there's a contagious air of enthusiasm about Nikki that makes it easy to see why she took out a students' choice award.

But the learners who experience Nikki's classes are lucky their lecturer's childhood dreams of a career as a veterinarian were thwarted by her loathing chemistry. Debating and writing, however, came naturally and on leaving high school she pursued a conjoint Bachelor of Law and Arts, majoring in film, television and media studies at the University of Auckland.

"I thought I might want to be a reporter and to present a current affairs show, but I had some excellent teachers and a natural aptitude for law, so that was the path I embarked on."

While studying at Auckland, Nikki particularly enjoyed the engaging, interactive lectures presented by University of Auckland associate professors Paul Myburgh, Scott Optican and Bill Hodge, which would later inform her teaching style.

In 2006, in the penultimate year of her studies, Nikki scored a summer job as a clerk in the dispute resolution department at Minter Ellison Rudd Watts, a commercial law firm in Auckland city.

It went well and she ended up working there for eight years, forming lasting friendships with colleagues and practising in a number of areas, including tort law, contract law, company law, insolvency law, relationship property litigation, trust and estate litigation.

In the end, she was a senior associate when she made a change. "I was looking at partnership and basically decided I wasn't sure I wanted to continue on that track.

"I had an opportunity to get my masters degree at Vanderbilt University in Nashville and I thought that would give me a chance to pause and consider what I wanted to do with my career."
I believe we have lost the ability to constructively debate issues in a measured way.
Nikki, who was born in Miami and moved to Aotearoa New Zealand with her family when she was 12, says her experience at Vanderbilt reignited her love of law.
"It was phenomenal. I had lost some of my love for law during my time as a senior associate. When dealing with certain commercial and family law matters, the day-to-day grind of legal practice and the lack of a consistent work-life balance, you can lose some of the rigour and enthusiasm you might have had before."
The passion for law returned and with it came opportunities and awards. As a masters student, she received a scholastic excellence award and was given a chance to teach the following year. Her experience at Vanderbilt made her consider a career in academia.
"Because of my litigation background and having appeared in the Court of Appeal, High Court, District Court and Family Court over my eight years as a lawyer, I wasn't too worried when I started teaching, although I had a few nerves, which I think is helpful as it gives you an edge.
"The experience helped me realise I would really like to teach, and when I reflected on what I enjoyed most about my job at Minter Ellison I thought about my experiences mentoring and training junior solicitors. That's when I made the final decision to go into academia."
Now Nikki lectures in theatres of up to 500 students on tort law, complex litigation, family property law and privacy law.
Outside of teaching, she has a full schedule of research that has been both recognised and utilised. In relation to her research in complex litigation, Nikki was invited onto an expert panel advising the New Zealand Law Commission on its review of class actions and litigation funding. Class actions are also at the heart of her current PhD research, looking at how civil procedure affects legal outcomes for healthcare consumers taking medical device misadventure cases in different jurisdictions.
Privacy law protections are not keeping up with advancements in technology. Children are particularly vulnerable in the social media sphere.
Nikki authored the first empirical study on class actions in New Zealand and, in 2021, was awarded a CABLE Research Impact Award (Creative Arts, Business, Economics, Law, Education and Social Work) for her work in the area.

She also co-edited Privacy Law in New Zealand, the third edition of which is due for release.
In a chapter in the book titled 'Privacy and Children' she delves into the country's lack of safeguards amidst our changing social media landscape. She details the phenomenon of 'sharenting' – parents and caregivers sharing their children's images on social media.
Nikki says this practice has proliferated through 'mummy bloggers' and the use of 'child influencers', culminating in 'generation tagged', but little thought is given to issues that may arise.

"A child has a distinct lack of control over how their image is used because the legal authority for decision-making primarily vests in the parents or legal guardians," she writes.
There are few legal protections in place to prevent children's images from being used by third parties in exploitative ways. Nikki says legislation is needed to expand the protection powers of the Privacy Commissioner, for example, in relation to the use of a child's image on social media.
"Privacy law protections are not keeping up with advancements in technology," she says. "Children are particularly vulnerable in the social media sphere."
Outside of academia, Nikki is an enthusiastic dog-mum to Monty but has no problems with sharing his image online. In fact, he played a starring role in a video in which Nikki appeared for ACC, talking about her recovery from a serious ankle injury in 2019.

She says that experience, and her rehabilitation, made her appreciate New Zealand's healthcare system, compared to the US where without healthcare insurance most would struggle.

"If I tell my friends in the US my experience with ankle surgery and ACC, they're just like, 'when can we move to New Zealand?'"

By Sophie Boladeras