Remembering Queen Elizabeth II at the University of Auckland
Tribute: Queen Elizabeth delivered her first Christmas message from what is now Old Government House in 1953 and officially opened two key medical education sites.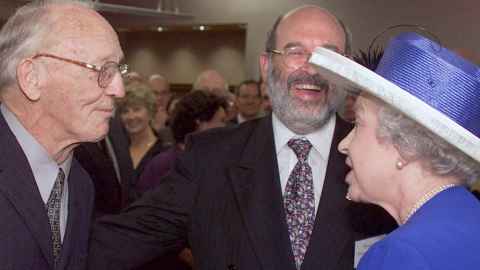 Her Majesty Queen Elizabeth II made several visits to the University of Auckland during her reign.

The first was to stay in Government House in 1953 for several days during her royal visit with Prince Philip in 1953-1954. They arrived in the country on 23 December and left on 31 January, visiting 46 towns or cities as part of a six-month tour of the Commonwealth.

While Government House wasn't yet part of the University – that didn't happen until 1969 – it was an important visit. It was Elizabeth II's first trip away as Queen, and she delivered the Queen's message from the venue, six months after her coronation.

Two days earlier there had been a garden party, for which the head gardener had planted begonias, geraniums and echeveria as well as carnations in the borders around the main lawn area. Around 1,000 gladioli bulbs had been planted to provide cut flowers for the royal residence, and 550 canna lilies were planted on the terrace border as well as 50 tubs of hydrangeas.
Queen Elizabeth II herself added to the University's gardens on 30 December 1953, by planting a rimu tree which still stands today.
On 24 March 1970, the Queen officially opened the School of Medicine, unveiling a commemorative plaque and meeting with students and staff including the School's inaugural dean, the late Professor Cecil Lewis.
The school had opened its doors to students in 1968, and one of the highlights was a tour through a teaching laboratory, where students from the inaugural intake, now in their third year, had been briefed to act normal and not to look up from their microscopes as the Queen entered.

A report in the FMHS history blog has Professor Denys Boshier, from the Department of Anatomy, recalling what happened as she visited the lab and looked through one student's microscope.
"The topic we were doing for that particular day was the human ovary. Of course, queens never look at ovaries. There was a picture in the NZ Herald a day or two afterwards with the caption: 'Queen looks at blood smear in University class.' I really don't know what the Queen might have thought when she found she was looking at a human ovary."

Not everyone was enamoured, of course. Craccum columnist and prominent protestor Tim Shadbolt, now mayor of Invercargill, wrote in the student magazine on 26 March that while the Queen was "inoffensive", "the whole concept of the monarchy is basically pretty sick".

In February 2002, Queen Elizabeth II was involved in another event on campus, this time the official opening of the Liggins Institute, at Park Avenue in Grafton. Liggins had been in operation since the previous year as the University's first large-scale research institute.

The Queen was escorted by then Prime Minister Helen Clark, Vice-Chancellor Dr John Hood and Chancellor John Graham. Among those she met were Professor Sir Peter Gluckman who was the founding director of the Liggins Institute, the Institute's namesake Professor Sir Graham (Mont) Liggins, his wife Lady Celia, who was Auckland's first female obstetrician and gynaecologist, and Professor Dame Jane Harding who presented her research to the Queen, observed by a child called Bridget, one of many children to benefit from Professor Harding's research.

Queen Elizabeth II was the reigning monarch of all of New Zealand's universities in their current form, since the disestablishment of the University of New Zealand in 1962.

Her Majesty was Patron of the Association of Commonwealth Universities which champions higher education as a force for good and the role of universities in addressing global challenges and improving people's lives. The Queen Elizabeth Commonwealth Scholarships were named after her in 2019, as a tribute to her immense contribution as head of the Commonwealth and her dedication to education and youth.
This item first appeared in the October 2022 edition of UniNews.