Blues Award winner to design a wharenui for Auckland high school
ELAM student Emma Ormsby (Ngāti Maniapoto, Ngāti Porou, Tainui) is in her final year of Bachelor of Fine Arts - but her journey is just getting started.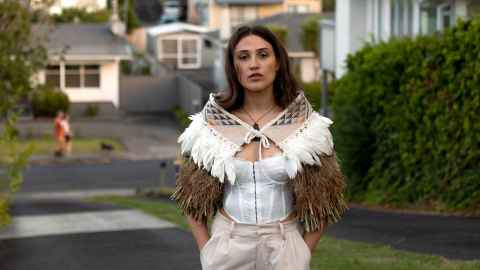 On September 23, 2022, Emma was awarded the Blues Major Māori Award, one of nine major categories, as recognition of her contribution to toi Māori and a 60-metre mural she created on Auburn Street, Takapuna.
The Blues Awards is a tradition from England which recognises students who excel across four categories, including Arts and Cultural, Innovation, Service and Leadership, and Sports.
"It was a surprise because I wasn't expecting to win the Major Māori category. It feels like it validates the work that I do and I feel appreciated," she said.
"I'm super humbled and grateful in that regard and it shows I'm on the right track."
The 60-metre mural, called 'E hara taku toa i te takitahi, he toa takitini', was derived from drawings from more than 50 students from nine local primary, intermediate and secondary students, and was revealed just before Christmas last year.
It received the support of mana whenua, local iwi and Auckland Council and allowed Emma to bring out her creative flare.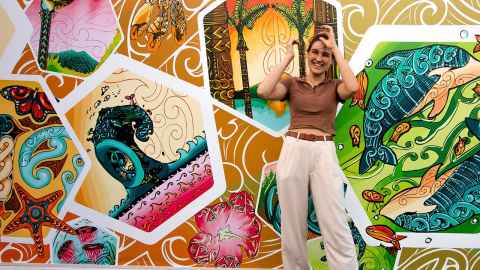 Now, Emma is focused on designing a wharenui for Westlake Girls' High School where she was a former student. Her aim is to introduce Hine-Atua (Māori goddesses) as Pou (pillars) to reflect the nature of the school and the different realms of te ao Māori.
She describes this project as the "capstone" of her final year.
"It will be a very feminine space, as often a whare can feel like a very masculine domain. It's stepping on toes a little bit because there will be some debate around it but I feel confident.
"Kaumātua have reassured me and told me: kia kaha girl!"
Emma is also passionate about Māori in screen production and has created short documentaries that focus on toi Māori as a point of healing.
"I've personally seen how it has changed gang members and how they can transmute their pain into healing through whakairo (Māori carving)."
"I've been fortunate to kōrero with a former gang member who used drugs as a gateway to deal with the loss of losing a child, but changed his life around completely when he discovered whakairo. Those are the stories I want to keep sharing."
Outside of her studies, Emma has a large following of 75,000 people on TikTok where she's created a series of educational videos to understand motifs and significant Māori markings.
"I started the series in my first year of study during the country's first lockdown. It was a way to stay connected with my passion and actively engage with followers who would give toi Māori a go and share with me.
"I'm passionate about sharing these things because it's been an avenue in which I can connect to my whakapapa. Before I got into toi Māori, I participated in kapa haka and learning te reo Māori, but toi Māori has been a powerful tool for me and my identity and I'd love to inspire others to get into it if they feel it's the right path for them."

You can follow Emma on TikTok on @emmajane_ormsby