Macawa ni Vosa Vakaviti with Emmaline Pickering-Martin
Emmaline Pickering-Martin (Nauluvatu, Nakelo, Sawaieke, Gau) is embarking on a PhD journey exploring skin markings across the Pacific, with a core focus on Fijian women.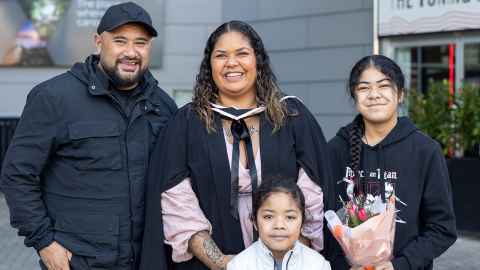 Emmaline Pickering-Martin recently graduated with a Masters in Arts with a focus on the mental health system in Fiji and wellbeing. This was the beginning of her journey towards understanding how Fijian skin markings can positively impact women's mental health.
"When I did my masters, I focused hard out on mental health. Before and during that process, I was receiving my markings and would notice some significant changes in my life. I was interested to see if that was a theme for other women too," she says.
Key themes Emmaline will explore for her PhD include the impacts of connecting to culture and ancestors and the various markings that exist across the Pacific (including Māori), particularly for those in the diaspora.
However, she says the research will come with challenges - traditional Fijian skin markings for women (known as Veiqia) came close to dying out and have only seen a resurgence over the past six years, thanks to a project led by Fijian women called The Veiqia Project.
After Fiji became a British Crown colony in 1874, and post the introduction of christianity, much of the traditional culture died out and traditional practises like Veiqia stopped. Emmaline is hopeful that her PhD journey will spark decolonisation conversations – at the very least.
"I'm one of eight women who have full Veiqia, and together we're working on a full revival which currently consists of in-depth research and exploring the knowledge in our books.
"While I've faced resistance in the past, I'm fortunate to have such a solid foundation with my family. I grew up in Fiji, speak the language, and no one can tell me I'm not Fijian. I know it would be different if I had the pain from being disconnected, which I can see in a lot of our young people across the Pacific."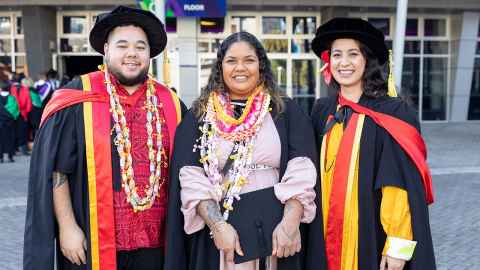 Emmaline says that skin markings, especially for an Indigenous person, are an appropriate avenue to connect to culture and roots if people see fit.
"My hope is that we see a positive connection to our culture through the revival of our skin markings.
"Religious influences are so entrenched in our culture that we've completely forgotten what Fiji looked like in pre-colonial times, apart from what missionaries recall and what colonisers have told us.
"In Sāmoa, you see so much grace towards the malu and the pe'a, and they're also hugely religious people. Traditional markings are a big treasure to the Sāmoan community, and despite the influence of Christianity, they were kept alive. But it's not the same in modern-day Fiji."
Emmaline is the third person in the world to receive full Veiqia Fijian skin markings after watching a short documentary on skin marker and dancer, Julia Mage'au-Gray who is also an advisor for Emmaline's thesis and a professional teaching fellow in Pacific Studies. Emmaline connected with Julia through social media, and they developed a close relationship. Julia has marked all of the women who wear Veiqia currently.
"My skin markings symbolise the journey of my whānau and people across time," says Emmaline.
Well-being, community, and the people of Te Moana Nui a Kiwa are of utmost importance to Emmaline, who is the Media Adviser Pacific for Waipapa Taumata Rau. She's also a regular guest lecturer in Pacific Studies (Faculty of Arts), a former professional teaching fellow in Design, the Communications Advisor for Hapai Te Hauora, and Policy and Advocacy Lead for E Tipu E Rea.
Her mahi focuses on storytelling and advocacy in all areas of life for Māori and Pacific people.