What a difference a mayor could make
Opinion: Auckland is not Copenhagen is the common point made should anyone compare the amount of bike infrastructure and the number of people that cycle in each city, but it could be a lot more like Copenhagen, should our new mayor choose to make it so, says Dr Timothy Welch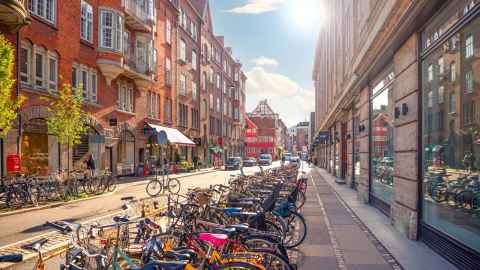 Today, Copenhagen has over 350km of protected bike lanes, with bikes comprising about 34% of all trips and people cycling a total of 1.2 million kilometres per day.
But Copenhagen wasn't always one of the bike capitals of the world – and it was a mayor that helped implement the vision of Copenhagen as it now exists.
In the 1950s, across the globe, cities were rapidly adopting motor vehicles as a primary mode of transport. As the car became more ubiquitous, it was followed by an exodus from city centres into surrounding neighbourhoods as residents used their vehicles to drive to and from work and to live outside the city centres, where they could find bigger and more affordable houses.
To accommodate the new traffic flows into and out of downtowns, many cities built massive highways in the CBD, decimating entire neighbourhoods to allow drivers a speedy commute. Even Copenhagen joined the bandwagon as its city council approved a major roading project called The Lake Ring – a six-lane highway cutting through the city's centre.
However, in the early 1960s, the highway project was halted following protests at the construction of a relatively short six-lane elevated section of the road. Soon after the highway construction was stalled, the city converted one of the main thoroughfares, Strøget street, into a pedestrian-only plaza.
Drivers protested, but city leaders persevered. While most 'western' cities were following American-style suburbanisation and car dominance, Copenhagen chose to prioritise other modes of transport. It developed a raft of policies to increase bike infrastructure, reclaim public spaces that had been converted to car parks, and lure families back into the city with high-quality, affordable housing.
Today, it's completely normal for people to ride a bike in Copenhagen. Nobody gears up in Lycra or specialised shoes. The cycling infrastructure makes it so safe to ride a bike it's rare even to see a bike helmet. People just get on their bikes and ride. And, because cycling is so normal and ubiquitous, people who must drive in the city know how to do so safely around people on bikes.
 
Today, Copenhagen has over 350km of protected bike lanes, with bikes comprising about 34% of all trips and people cycling a total of 1.2 million kilometres per day.

Copenhagen didn't build its brand as a cycling-friendly city overnight. They slowly constructed cycle tracks in bits and pieces over a couple of decades, and enshrined the ideas of a multimodal city in two planning documents, the 1997 Traffic and Environment Plan and the Cycle Track Priority Plan. And most importantly, its residents elected city officials with the will to implement these plans.
The next Auckland mayor will hold the reins as the city works to implement its climate obligations, its efforts to eliminate road deaths and address broader issues of housing affordability and the economy.
All of these things were addressed by the mayors of Copenhagen. It also had a housing crisis in the 1980s and in response they committed to building affordable, high-quality housing. Young families moved back into the city, taking advantage of more affordable housing and the ability to save on vehicle expenses. Auckland's next mayor could help Auckland do the same thing.
By building better cycling infrastructure, Copenhagen trips to work and school by bike increased from 10% to 30% in just 15 years (between 1980 and 1995), and the rate of severe injuries to cyclists fell from 292 per year to just 96. Currently, bikes are just 1.2% of work and school trips in Auckland, and so far this year, we are experiencing nearly twice the number of deaths of people on bikes (all from cars) in the past five years.
The next mayor has the opportunity to push forward with a more extensive network of protected bike lanes to increase cycling rates and reduce injuries and deaths. Which is what the mayors of Copenhagen did, overseeing the city's work to drastically reduce greenhouse gas emissions, reduce air pollution, and help make the city a healthy and much quieter place to live, and put a city of 1.3 million residents in a county of five million people on the global map.
Auckland has echoes of Copenhagen in its size, in its ambitions and in the plans already set forth for the city, but it needs our next mayor to commit to this vision to bring these plans to life.
 
Dr Timothy F. Welch is a Senior Lecturer in the School of Architecture and Planning at the University of Auckland's Faculty of Creative Arts and Industries.
This article reflects the opinion of the author and not necessarily the views of Waipapa Taumata Rau University of Auckland.
This article was first published on Newsroom, What a difference a mayor can make, 5 October, 2022
Media contact
Margo White I Media adviser
Mob 021 926 408
Email margo.white@auckland.ac.nz